RBNZ's Grant Spencer says the Govt should reconsider potential policy measures to tackle the tax-preferred status of housing investment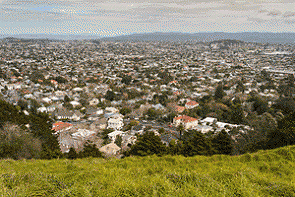 The Reserve Bank is calling on the Government to reconsider potential policy measures to address the tax-favoured status of housing investment, and wants land bankers tackled and more high density apartments built in Auckland.
In a speech to the Rotorua Chamber of Commerce, Reserve Bank Deputy Governor Grant Spencer said the Reserve Bank was itself assessing other macro-prudential tool options in addition to restrictions on banks' high loan-to-value ratio home loans, including in relation to investor lending, to tackle an overheating housing market.
"However, such tools are not a panacea - their impact is inevitably smaller than the main drivers of the current housing market imbalance," said Spencer.
The hot housing market is highlighted by Auckland house price inflation running at 17% percent per annum and median price-to-income multiples over seven, he said.
"The increasing degree of stretch in prices means that an eventual market correction is increasingly likely to be disruptive to financial stability and the economy."
Sights on investors
Thus, fresh consideration of possible policy measures to address the tax-preferred status of housing was desirable. Spencer is also calling for a review of taxes and other incentives affecting land banking, and an increase in apartment building in Auckland.
"Investors are often setting the marginal market prices that are then applied to the full housing stock within a regional market. Indicators point to an increasing presence of investors in the Auckland market and this trend is no doubt being reinforced by the expectation of high rates of return based on untaxed capital gains," said Spencer.
Reserve Bank governor Graeme Wheeler last month said lending to investors was running at about 35% of residential mortgage lending nationwide, and about 40% in Auckland. Spencer said an increase in investor demand in Auckland can be inferred from various indicators, which he detailed.
"We have seen a continued decline in the rate of home ownership, which reached a record low of 61.5% in 2013; there has been an increase in the share of house sales going to investors since October 2013 - from 33.8% in September 2013 to 37.4% in February 2015; and rental inflation has remained considerably below house price inflation. Average rental yields in Auckland have fallen from 4.6% in 2010 to 3.7% in 2014. Residential investors have continued to expand their interest in housing as rental returns have declined. This points to an excess demand for home ownership over and above the simple excess demand for accommodation," said Spencer.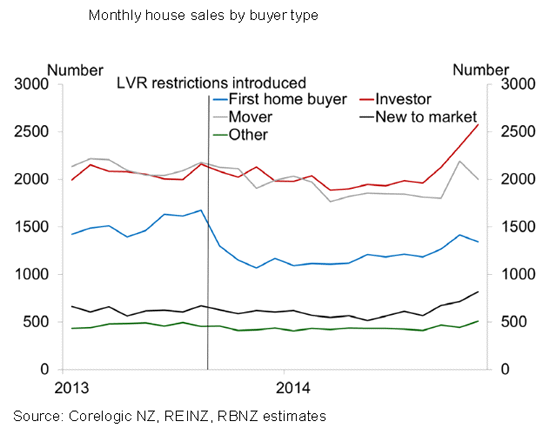 Spencer also noted that since late 2014 housing market imbalances have "become more accentuated," especially in Auckland where the supply shortage is greatest, and house prices are "particularly stretched," having trebled in value since the start of 2002.
"New Zealand is one of the few advanced economies that has not had a major house price correction in the past 45 years," said Spencer, adding a downward correction in house prices could be prompted by a range of potential shocks, such as rising global interest rates, or a downturn in the global economy and financial markets.
"With 60% of its lending in residential mortgages, the New Zealand banking system could be put under severe pressure in such a downturn. The resulting contraction in credit would amplify the impact to the domestic economy and financial system, making it more difficult to avoid a severe downturn," said Spencer.
"Irrespective of the mix of demand and supply-based factors, the longer the excess demand persists, the further prices will depart from their underlying fundamental determinants, and the greater the potential for a disruptive correction."
Hot, hot, hot
Spencer's speech comes a day after the latest Real Estate Institute of New Zealand monthly sales figures - for March - show fresh national and Auckland median price records, and the strongest sales volumes in any month since May 2007.
In the red hot Auckland market the March median sales price of $720,000 smashed the previous record high by $42,000, or 6.2%. The Auckland median price rose 13% in the year to March, and 11% in the three months to March. And the REINZ Stratified Housing Price Index, which adjusts for some of the variations in the mix that can affect the median price, shows a 20% annual rise in its Auckland Index.
Although the national median price was up $35,000, or 8%, to $475,000 in the March year, when the Auckland effect is stripped out the national median was up just 1.4% year-on-year.
The national Stratified Index, meanwhile, was up 9.5% year-on-year to a record high, and March's 8,803 sales is the highest monthly sales in a March since 2007, and the highest since 9,285 in May 2007. There were 10,989 sales in March 2007.
At $8.8 billion, the value of residential properties sold in March was a new record, smashing the previous high by $590 million, REINZ said.
More apartments, please & tackle land bankers
Although policies to ease supply constraints must be the main priority, they are unlikely to provide quick results, Spencer suggested.
"Considerable scope exists to streamline the multiple approval processes required to complete a residential development. There is also a need to adopt a more integrated approach to the planning and funding of new infrastructure. The proposed Resource Management Act reforms have the potential to significantly improve the planning and resource consenting processes," said Spencer.
"The best prospect for substantially increasing the supply of dwellings over the next one to two years appears to be in apartment development. The Government and the Auckland Council might consider focussing their efforts on simplifying the approvals process and increasing the designated areas for high-density residential development."
He also said an improved supply of useable land is essential, noting the land component of New Zealand housing costs has grown considerably over the past 20 years, and now accounts for more than 60% of the total cost of a new dwelling in Auckland, and about 50% elsewhere in the country. 
"The Auckland Plan establishes a Rural Urban Boundary that provides scope for urban growth outside of the old Municipal Urban Limit. However, land blocks with disparate ownership and speculative investment in 'land banking' continue to tie up large areas of buildable land," said Spencer.
"Other measures to facilitate residential development might include a review of taxes and other incentives affecting land banking. Measures to increase productivity in the construction sector would also help facilitate larger scale and more affordable housing development. Housing is the most tax-preferred form of investment, particularly when it is highly leveraged."
"The relatively high cost impost for apartments is due to a raft of height, area and other planning restrictions that appear to have contributed to the relatively low number of apartment consents in Auckland over recent years. Auckland also has a relatively low proportion of apartments compared to Sydney: 25% versus 39% of total dwellings. While apartment construction has picked up recently, the evidence suggests that more active encouragement of apartment development could be an effective means of easing the housing supply constraint in Auckland," Spencer said.
Practical difficulties in using migration to manage housing cycles
On the demand side, Spencer said there were "practical difficulties" in using migration policies to manage the housing cycle, including that policy can't influence the volume of New Zealanders moving overseas or returning home to this country.
Spencer estimated that more than half of the current record net migrant inflow, more than 55,000 in the year to February boosting the population by more than 1%, have settled in Auckland.
"This is providing a major boost to Auckland's population, which grew by nearly 34,000 people in the year to June 2014," Spencer said. "Although consent issuance of new dwellings in Auckland has continued to increase, reaching 7,700 in the year to February 2015, this has been insufficient to match the surge in population, let alone cut into Auckland's housing shortage. We estimate the shortage of houses in Auckland has increased over the past year to between 15,000 and 20,000 houses."
Monetary policy can't be used, but macro-prudential tools can; dollar up
 Monetary policy, via the Official Cash Rate, can't currently be used to dampen housing demand, Spencer added, given CPI inflation at 0.8% during 2014, is below the Reserve Bank's target range of 1% to 3% on average over the medium term. But, he said, measures should be considered to counter the growth in investor and credit based demand for housing.
ASB chief economist Nick Tuffley said the Reserve Bank was effectively ruling out increasing the Official Cash Rate to combat a financial stability problem when the inflation outlook doesn't warrant it. The New Zealand dollar had risen to US75.40 cents from US74.90c by mid-afternoon following Spencer's speech.
"The Reserve Bank is stressing that added action beyond the Reserve Bank's mandates is needed to help reduce the imbalances, and associated risks, in the housing market," Tuffley said. "The Reserve Bank is very much putting the onus on central and local government to take more concerted action.  And those actions would more directly address the fundamental causes, rather than leaving the Reserve Bank dealing with the flow-on symptoms."
"At this point the Reserve Bank does not seem close to taking added prudential action outside of the current LVR restrictions and the looming treatment of residential investor property," Tuffley added. "We don't see any fresh market implications from the speech."
For his part Spencer said macro-prudential policy is a potential tool to help restrain credit-based demand pressures and improve the resilience of bank balance sheets to a potential housing downturn.
"The introduction of loan-to-value ratio restrictions (LVRs) in October 2013 helped to moderate housing market pressures despite strong net inward migration and the ongoing shortage of housing. The LVR restrictions have also improved the resilience of bank balance sheets. They will be removed or modified as market conditions allow."
"Other macro-prudential options are being assessed, including in relation to investor lending. However, such tools are not a panacea - their impact is inevitably smaller than the main drivers of the current housing market imbalance," said Spencer.
Meanwhile, house prices as multiples of income and rents are already near record highs, and further increases will increase the risk of a sharp price correction once demand and supply align.
"New Zealand's house price-to-income ratio in 2013 was 30% above its historical average. Only Norway had a higher historical deviation," said Spencer.
The chart below features in Spencer's speech, which is available in full here. And here's an interview he did with Radio NZ on the speech.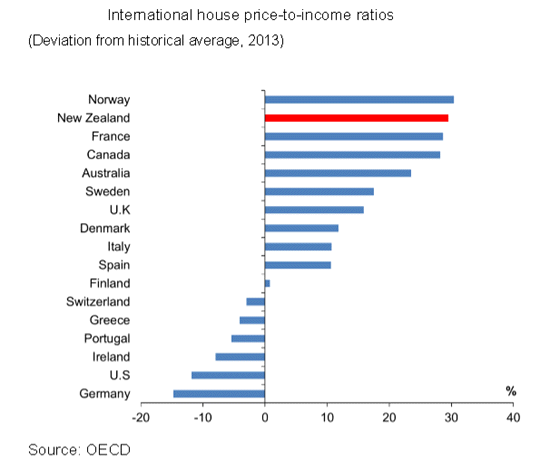 Here's Labour's Andrew Little on Spencer's speech
The Reserve Bank's most scathing critique to date of National's inability to handle the housing crisis shows the Bank is sick of having to pick up the pieces, Labour Leader Andrew Little says. 

"John Key continues to deny there is a housing crisis – to the shock of anyone trying to buy their first home. That's why he refuses to do anything.

"Now the Reserve Bank deputy governor Grant Spencer has weighed in, saying 'housing market imbalances have become more accentuated, especially in Auckland'. That's Reserve Bank language for, 'We have a Housing Crisis'.

"He has been scathing of National's response, saying 'the shortage of housing is getting worse'. He says the Special Housing Areas have led to few completed homes and the shortage increased over the past year to between 15,000 and 20,000 houses. That gap will take years to plug.

"The Reserve Bank is still gamely trying to stem the flow of problems in the housing market by looking at options to make it riskier for banks to lend to investors lend to than the average family looking to buy a home.

"But as we saw with loan to value mortgage restrictions, Reserve Bank tools can be too blunt and hurt first home buyers and the regions. The Bank is rightly wary of weighing in.

"It's the Government's job to fix the housing crisis. That's what the Reserve Bank is saying today. John Key hasn't listened to anyone else. Hopefully he will listen to Mr Spencer," Andrew Little says.