Labour's David Shearer targets high bank profits; says they need to 'back off' dairy farmers in debt trouble; criticises high credit card margins; says banks "making a mint out of New Zealanders"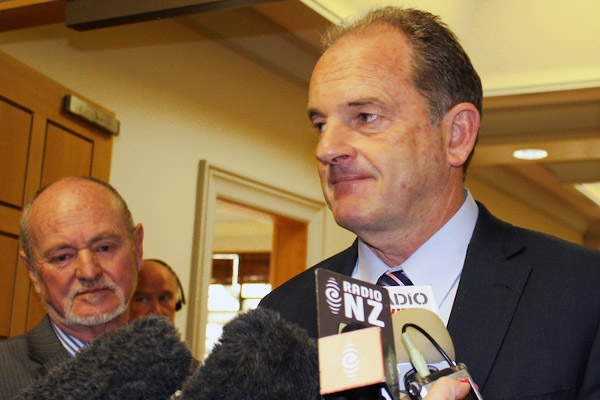 By Bernard Hickey
Labour's Consumer Affairs Spokesman David Shearer has called on New Zealand's big four Australian-owned banks to "back off" putting pressure on heavily indebted dairy farmers, saying banks should instead dip into their record high profits to share the pain.
In a broad attack on the profitability of the big four banks, Shearer also said they had not passed on most of the falls in interest rates since 2008 to credit card customers and were not paying enough to term deposit savers.
He pointed to bank sector profits rising from NZ$3.6 billion to NZ$4.4 billion between 2013 and 2014 and that the profitability of the Australian banks in New Zealand was higher than their parents in Australia, and those of banks in other developed markets.
"The percentage returns as a percentage of assets is much higher in New Zealand than it is in Australia," Shearer told Interest.co.nz.
"These Aussie banks are making a mint out of New Zealanders," he said.
Shearer pointed first to credit card interest rates, which had only dropped to around 17.5% from around 18.5% in 2008, while the Official Cash Rate had dropped from over 8% to 3%.
"Credit card interest rates have dropped a measly 1% while the banks have made a cool 5% drop in the cost of the money they borrow," Shearer said.
"That's a massive hit considering there is NZ$6 billion on credit cards at the moment and NZ$4 billion is bearing interest payments," he said.
Charged an exception fee
Shearer said he had decided to look more closely at bank profits after he was personally charged a NZ$10 fee for three months running for accidentally exceeding his overdraft limit, "even though they knew I was a safe bet."
"I bet lots of other New Zealanders are getting hit as well," Shearer said.
"I looked at what the Australian banks earned in New Zealand and what they earned proportionately in Australia, and found the returns in New Zealand are much higher than what they are in Australia," he said.
"It seems to me that the Australian banks are literally using New Zealand as a cash cow to increase their profits, and I think that's wrong."
'Most profitable in developed world'
Shearer said research from the Parliamentary Library showed the big four Australian-owned banks made profits equivalent to 1.6% of assets in New Zealand, while their parents were making 1.28% in Australia. Their peers in the United States were making 1.1% and bank profits were 0.37% in Britain.
"Other than third world countries, it seems to be one of the highest in the western world. When the same banks in New Zealand and Australia have such different margins then it's pretty important," Shearer said.
He called on the Government to push the banks to not make such high profits.
"The Government doesn't want to get involved with this, but I do think they ought to be sending the banks some pretty strong messages," Shearer said.
'Cosy group giving each other winks and nods'
He said the big four banks appeared to be reluctant to compete hard by dropping their rates, apart from in specific areas such as fixed mortgages.
"The four big banks that take about 86% of the banking industry, none of them is going to be dropping their rates significantly and being an outlier, because everybody will end up dropping their rates and everybody will end up losing," he said.
"It looks like it's a cosy agreement between the four banks to keep looking like you're in competition around the margins, but they're actually all kind of giving each other a wink and a nod and making sure that everybody remains profitable," he said.
Shearer said he did not have any evidence of collusion or cartel behaviour, but he pointed to similar floating mortgage rates, term deposit rates and credit card rates, while competition was fiercer on fixed mortgage rates.
"The credit card rates all stay up around the same. The deposit rates, which are generally pretty low, mean that the banks are not paying out as much as they would otherwise do if they were really in competition," he said.
Shearer agreed that New Zealand's banks were robust and had strong capital levels, but the profit growth of NZ$800 million in a year had been too strong. He pointed in particular to ANZ's profit doubling to NZ$1.4 billion in less than a decade.
"That's taking it to extremes, and particularly now with farmers facing a real crunch with dairy prices falling, they should be taking a very careful look at how they respond to this," he said.
"It would look very bad if they started foreclosing on farms when many of those agricultural advisers those banks had put out there had been encouraging them to take on more credit."
Call for closer look from Govt and RBNZ
Shearer called on the Government and the Reserve Bank to take a closer look at bank profits.
"Those agencies should be taking a much closer look at our banking sector than they have been. I know Bill English has spoken to the banks about farmers, but he should be giving a pretty clear steer of what he expects from banks," he said.
"I'm happy for them to make a profit and be successful banks, but do they have to increase that profit year on year on year? It can only come out of the pockets of Kiwis who use those banks and they control 86% of the total banking sector."
More capital for Kiwibank?
Shearer said Kiwibank appeared in recent years to have joined the major banks in not competing aggressively across the board as the Government demanded it made profits and started paying dividends.
"Obviously Kiwibank has been told to make a profit and give a dividend to the Government, so there's not much pressure from Government to be more competitive," he said.
"By increasing Kiwibank's capital that would allow it more leeway to be more competitive," he said, adding however this was not Labour's formal policy.
NZ Bankers' Association responds
New Zealand Bankers' Association CEO Kirk Hope said bank profits were not high compared to other major companies operating in New Zealand and that returns on assets of 1.1% were the lowest of any industry.
"Bank returns on equity fall in the middle of the pack when compared to major companies listed on the NZX," Hope said, adding banks invested heavily in New Zealand and shareholder returns were needed to finance that investment.
Hope pointed to NZ$6.6 billion contributed to the New Zealand economy in 2014 in wages to 25,000 employees and other spending, along with NZ$1.8 billion paid in taxes.
"As businesses supporting our economy, banks needs to make a profit to stay strong and keep investing in New Zealand. Most New Zealanders welcome the fact our banks are strong," Hope said.
"The alternative, if you look at the banking sector in countries like Greece, is pretty catastrophic. We had no bank failures or bailouts during the GFC. That's down to our banks' strength and good management," he said.
Hope said banks were working closely with their farming customers to provide options including funding working capital in times of financial stress.
"Ask most farmers about how banks are supporting their business and you're likely to hear a good story. It's easy to take pot shots from afar but the reality is that banks and farmers are working together closely to get through what is going to be a challenging season or two," he said.
Responding to the criticism of credit card margins, Hope said the lending was unsecured and the higher risk was reflected in the higher interest rate.
He said between 1% and 3% of New Zealand credit card customers paid just the minimum each month, which was significantly lower than in the United States and Britain, and over 50% of customers paid off their balance in full every month. In the United States only a third of customers paid off their balances in full.
Hope rejected the idea that banks had a 'cosy' agreement.
"Our banks operate in an intensely competitive environment, not least because of the requirements of the Commerce Act, but also because of the business they're in," he said.
"We see that in practice with mortgage rates falling recently and the way in which banks have moved quickly to retain and build their market share," he said, pointing to higher customer satisfaction ratings for banks than other service industries.
Moody's points to strong 'pricing power'
Earlier this week Moody's Investors Service pointed to the strong profitability and pricing power of New Zealand's biggest banks as a factor supporting its stable outlook for the sector.
"The banks' strong market positions have supported their pricing power, allowing them to achieve strong returns compared to the relatively low risk profile of their business models," Moody's said, adding however that competitive pressures remained high, particularly in housing lending in Auckland.
"On the other hand, competition for deposits has softened as deposit growth remains strong, while banks have met all regulatory liquidity and funding requirements," it said.
Moody's said it expected profitability to remain strong as efficiency gains and lower funding costs would offset pressure on loan margins and credit costs.
"We expect profitability to remain strong, but to stabilize after recent improvements. The profitability of New Zealand banks improved steadily from 2011-14 and compares strongly to their peers," it said, referring to the charts below.
"New Zealand banks boast above-peer margins and operating efficiency which reflect the industry's concentrated structure and banks' considerable pricing power."


(Updated with NZBA response, Moody's comment and charts)