Budget 2018 - Summary of all spending plans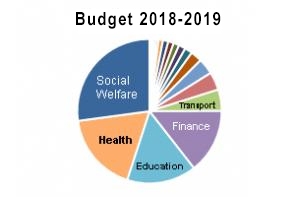 This table outlines the New Zealand Government's planned spending for the 2018/19 budget year.
Actual spending for the previous four years is on the left.
The numbers are drawn together from data released by the Minister of Finance on May 17, 2018.
Links to the primary sources used, from Treasury's website, can be found at the bottom of the page.
Click on any heading to drill down to what makes up these numbers. Figures for each allocation are in millions of NZ$.
Actual 2014/15
Actual 2015/16
Actual 2016/17
Actual 2017/18
 
Budget 2018/19
%
NZ$m
NZ$m
NZ$m
NZ$m
 
NZ$m
 
349.9
217.5
-
-
Canterbury Earthquake Recovery (old)
-
-
3.2
3.3
3.4
3.4
Parliamentary Commissioner for the Environment
3.8
0.0
5.4
4.7
4.7
5.3
Women
5.4
0.0
9.2
9.1
9.5
11.2
Serious Fraud
9.8
0.0
8.6
8.9
9.3
10.9
Pacific Peoples
10.4
0.0
-
-
-
4.2
Pike River Re-entry
17.1
0.0
12.2
12.5
15.0
18.6
Ombudsmen
21.7
0.0
20.1
20.3
22.9
23.6
Office of the Clerk
22.6
0.0
18.6
19.2
21.8
23.3
Parliamentary Counsel
23.3
0.0
28.8
29.6
28.4
33.7
Education Review Office
30.1
0.0
40.7
41.4
44.0
64.8
State Services
60.0
0.1
56.8
61.2
66.8
68.8
Attorney-General
70.9
0.1
46.3
60.0
110.4
136.8
Prime Minister and Cabinet
76.7
0.1
44.8
50.2
57.1
68.6
Security Intelligence
81.8
0.1
89.5
84.2
89.2
89.2
Sport and Recreation
89.2
0.1
87.4
89.4
90.9
95.2
Audit
94.3
0.1
-
-
-
-
Forestry
138.5
0.1
86.8
132.9
114.0
138.6
Communications Security and Intelligence
153.3
0.1
122.0
143.5
156.3
209.0
Statistics
154.6
0.2
142.0
148.8
150.0
172.3
Parliamentary Service
155.7
0.2
192.3
193.3
197.5
219.3
Customs
230.6
0.2
399.2
227.5
299.6
251.7
Defence
314.6
0.3
214.0
240.9
291.8
328.7
Maori Development
316.4
0.3
283.2
274.6
326.6
300.4
Arts, Culture and Heritage
322.7
0.3
165.7
474.8
176.1
349.7
Treaty Negotiations
401.1
0.4
438.5
529.9
525.1
551.1
Justice
479.0
0.5
392.2
416.6
440.0
448.0
Conservation
491.1
0.5
442.1
441.8
456.3
478.2
Foreign Affairs and Trade
549.6
0.5
219.5
216.3
292.3
550.4
Lands
598.2
0.6
546.1
556.3
625.0
710.8
Internal Affairs
666.0
0.7
410.7
259.2
316.8
491.7
Building and Housing
732.9
0.7
629.9
703.9
719.3
1,014.4
Agriculture, Biosecurity, Fisheries and Food Safety
745.4
0.7
568.2
592.1
592.2
713.5
Official Development Assistance
768.4
0.8
643.7
673.5
690.8
751.2
Courts
776.4
0.8
254.7
295.7
442.8
955.2
Environment
813.3
0.8
-
-
156.6
884.3
Oranga Tamariki
951.9
0.9
1,595.7
1,626.3
1,679.9
1,775.3
Police
1,873.6
1.8
1,493.4
1,543.3
1,601.7
1,794.0
Corrections
1,965.7
1.9
1,360.5
1,532.7
1,704.3
1,877.5
Labour Market
2,004.1
2.0
-
-
-
2,358.5
Social Housing
2,772.3
2.7
1,963.7
2,068.2
1,934.3
2,491.3
Business, Science and Innovation
3,040.6
3.0
2,983.1
2,876.2
3,010.8
3,149.0
Defence Force
3,440.1
3.4
2,999.8
3,029.6
2,991.8
3,228.4
Tertiary Education
3,444.2
3.4
3,959.3
3,514.6
3,667.9
5,619.1
Transport
5,373.5
5.3
5,308.8
7,097.4
5,307.7
5,303.4
Finance
5,996.8
5.9
6,064.9
5,696.8
5,663.7
5,917.1
Revenue
7,223.1
7.1
10,243.6
10,741.7
11,094.7
11,777.4
Education
12,260.2
12.0
15,033.7
15,279.8
18,395.0
16,544.1
Health
18,225.4
17.8
23,221.3
23,978.9
24,861.5
22,908.4
Social Development
24,284.9
23.7
83,200.2
86,218.5
89,455.5
94,919.7
Grand Total
102,281.4
100.0
245,013
257,716
274,290
290,750
GDP (nominal, per RBNZ)
303,700
E
34.0%
33.5%
32.6%
32.6%
Govt spending - % of GDP
33.7%
E
and this compares with taxes collected as follows:
83,199.9
88,230.7
93,623.8
97,949.5
Total tax collected
103,329.4
 
 
 
 
 
click on this link for details
Sources: You can download the data behind these tables from the NZ Government website here»