Opinion: The Govt and RBNZ may be uninterested in introducing a deposit insurance scheme, but there's nothing stopping banks from offering secured deposits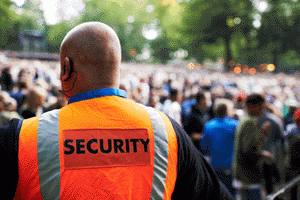 By Gareth Vaughan
The haircuts of up to 60% on Cypriot bank deposits as part of a bailout of that country's failed banking system and the subsequent spotlight placed on the Reserve Bank of New Zealand's Open Bank Resolution policy, have confirmed for New Zealand depositors that their savings won't be getting guaranteed, or insured, any time soon. That said, there's nothing stopping the banks from offering to secure their depositors' deposits.
The latest Reserve Bank figures show a record high NZ$110.284 billion worth of New Zealand dollar term deposits. Deposits provide a major and important chunk of banks' funding, which they on-lend to customers.
Since 2010 New Zealand's big banks have been borrowing money from institutional (or professional) investors, mainly European ones, through issuing covered bonds. These covered bondholders get a specific chunk of the bank issuer's assets, some of its residential mortgages, ring fenced for their security should the bank default on its covered bonds. Kiwibank recently became the fifth New Zealand bank to issue covered bonds. (See more on covered bonds, and the security granted to covered bondholders, here in what covered bonds mean for ma and pa.)
Banks could provide the same security for the depositors they borrow off as they do for their covered bondholders by ring fencing some of their home loans as security for deposits.
This doesn't, however, appear to be on the agenda. New Zealand Bankers' Association CEO Kirk Hope told interest.co.nz he didn't think the concept of secured deposits in general was something the banks had really looked at.
"Mainly because banks all have high quality credit ratings and are generally in pretty sound shape," said Hope.
The big four banks - ANZ, ASB, BNZ and Westpac - have AA- credit ratings from both Standard & Poor's and Fitch Ratings, and Aa3 ratings from Moody's. Kiwibank has an AA rating from Fitch, A+ from S&P and Aa3 from Moody's. Rabobank NZ has an AA- rating from S&P, TSB has BBB+ from S&P, SBS has BBB from Fitch, the Co-operate Bank and Heartland Bank both have BBB- ratings from S&P. All are investment grade ratings. See credit ratings explained here.
A secured deposit offered by a bank would presumably pay depositors a lower interest rate than unsecured deposits. And if one bank was to take the plunge and introduce a secured deposit product, would its competitors feel compelled to follow, or be forced to do so by their own depositors? See all advertised bank deposit rates here.
Not common overseas, IMF prefers deposit insurance
Secured bank deposits aren't common overseas. Asked whether the International Monetary Fund was aware of them being offered anywhere, an IMF spokesperson responded, after consulting colleagues, saying the IMF isn't aware of countries where secured deposits are widely offered.
However, as demonstrated by the Reserve Bank of Australia sourced chart below, many countries have deposit guarantee, or insurance, schemes.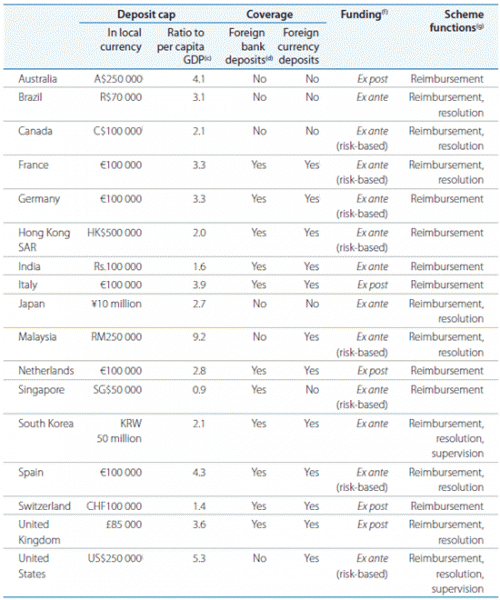 The IMF spokesperson added that secured bank deposits probably couldn't serve as a substitute for deposit insurance.
"In general, small depositors are not able to negotiate the setting aside of collateral against their investment. Large depositors may be better able to secure assets against their deposits - but this will not reproduce the benefits of a broad-based deposit insurance scheme and in fact work against the interests of small depositors in the absence of deposit insurance."
But that's not to say that if retail depositors were offered the option of a secured deposit, alongside unsecured deposits, there wouldn't be takers for them.
Local depositors wanting their New Zealand bank deposits to be covered by deposit insurance would be advised not to hold their breath whilst waiting for this to happen. In fact it appears they'll need a change of government.
Prime Minister John Key says a deposit guarantee scheme would prove too costly for consumers because banks would pass on the cost of any deposit insurance levy to consumers. And the Reserve Bank says New Zealand authorities put more weight on the moral hazard argument than their overseas counterparts, with our government having "looked hard" at deposit insurance schemes and concluded they blunt the incentives for investors and banks to properly manage risks, and may even increase the chance of bank failure.
Things may change if Labour and the Greens get into power. Green Party co-leader Russel Norman wants an Australian style deposit guarantee scheme and Labour's finance spokesman David Parker says a Labour-led government would ensure the first NZ$30,000 of all bank deposits were protected and not subject to a haircut in the event of a bank failure.
Aussie depositors' preferred status
In Australia bank deposits are protected up to A$250,000 per person per institution. The Aussie scheme evolved out of the country's retail deposit guarantee scheme, which was introduced at the height of the global financial crisis in October 2008.
Aussie depositors also benefit from the preferred status granted to Australian depositors over other unsecured creditors in the event of the insolvency of an Australian authorised deposit taking institution. This legislative provision is referred to as depositor preference.
New Zealand's own Crown retail deposit guarantee scheme ran for 38 months from October 2008 until the end of 2011, when the Government chose to end it. Despite hundreds of millions of dollars in fees collected from the participating financial institutions such as banks and finance companies, it cost taxpayers the thick end of NZ$1 billion largely due to the demise of South Canterbury Finance.
My wish is that New Zealand's never again in the position of having to deal with the collapse of a major bank, or banks. But it's worth remembering that as as recently as 1990 the Government used NZ$620 million of taxpayers' money to rescue BNZ. And it's worth noting that if a major bank, or banks, went belly up, we'd probably have bigger things to worry about than deposit haircuts.
That said, I don't believe the Government would simply stand back and allow a bank to fail and this is where banks can be seen to have an implicit guarantee. That means institutional investors, or indeed depositors, may lend money to a bank because they believe if the proverbial hit the fan, the Government wouldn't let it fail.
So in the absence of a deposit insurance scheme putting depositors on something resembling a level playing field with covered bondholders, perhaps the opportunity to invest in secured deposits could be offered.
This article was first published in our email for paid subscribers. See here for more details and to subscribe.