As the arguments continue over 'how much is enough?' Auckland's residential construction market IS now seriously ramping up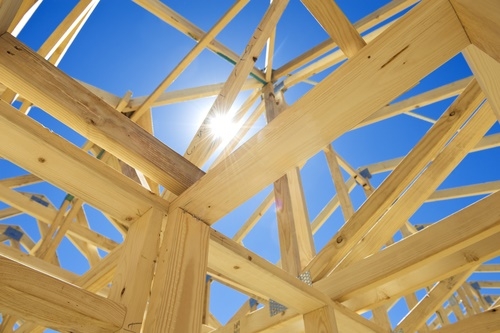 By David Hargreaves
One of the interesting things about engaging in carping/whingeing/bleating about how a problem is not being dealt with is that you can deafen yourself to the sound of progress actually being made on said problem.
I think it is time to acknowledge that genuine progress IS being made on Auckland's perceived shortage of new housing.
As my first paragraph indicates there has been, and continues to be, a terrific amount of noise around this issue. First there was the cacophony of: "Auckland's not building enough houses!!!!" And general shrieking and carrying on.
Then there's been Government Action Man Nick "I'll get stuck in and crack heads together" Smith with the noise around the Auckland Housing Accord and his efforts in generally seeking to insert a broom under the Auckland Council's sensitive bits in order to elicit the desired urgency of response.
Then there's been the ever-trying (take that expression as you will, it has two potential meanings) efforts of the the Labour opposition to point out that the welter of new sites approved under the housing accord is not translating into things actually being built (just perhaps overlooking the fact that even a fast-tracked approval process has a lag between something appearing on a drawing board and a house appearing in a new street).
So, between all this, and the comments of all and sundry that even a huge acceleration in the numbers of new Auckland houses being built won't, probably ever, never, till the end of time, get rid of the shortage, it is very easy to miss the fact that already Auckland's housing construction figures are now starting to approach historic highs.
The latest figures from Statistics New Zealand showed a big surge in the number of approvals for new Auckland dwellings in July.
It's worth putting the 1116 dwelling consents for July into some historic perspective.
Stats NZ has break-out figures for Auckland only as far back as March 1991. In that time the record high number of consents for a month is 1945 recorded in October 2002. It is to be assumed that month probably included fairly major apartment and/or retirement village projects because it's an absolute stand-out. Otherwise no other month has seen the figures exceed 1400, while that 1116 figure for July was the highest for any month since March 2005 and the third highest ever figure for a July.
That big July surge took the total number of Auckland dwelling consents for the first seven months of this year to 5149, which is up 22.2% on the 4214 recorded at the same time a year ago. As an indication of how far things have gone, for the first seven months of 2011 there were just 1959 dwellings approved.
If, and of course it's a big if, the 22.2% improvement in this year's figures compared with last year's was maintained for the full calendar year, we would be looking at around 9325 dwelling consents this year compared with the actual total of 7632 in 2014.
A figure in excess of 9000 would be easily the most since 2004 and would in fact be the fifth highest ever since the start of the break-out figures in 1991. The most ever recorded was 12,182 in 2002, which was to be the start of three consecutive years of in-excess of 11,000 consents. The trough was 2009 following the Global Financial Crisis, when there were just 3475 consents.
So, it can be seen that while the carping continues about Auckland not building enough houses, the numbers are already much higher than they were not so long ago and are moving Auckland toward historic highs.
The Ministry of Business, Innovation and Employment has been putting out reports on the 'pipeline' of building activity, the most recent of these in July.
Its forward projections for Auckland were revised upward from the forecasts of a year earlier. Auckland's forecast to get 80,000 new dwellings in the six years to the end of 2020, which would blow all other historical rates of building in the city out of the water. Activity is projected to peak at 14,000 new dwellings in the 2017/18 period.
At the current rate of progress, it certainly looks like those figures will be attained - particularly as the Christchurch residential rebuild appears to have peaked earlier than was originally forecast - so potentially freeing up more resources for the Auckland market.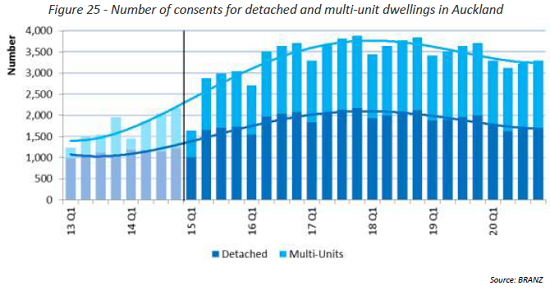 So, this is all good news. Whether of course even 14,000 new dwellings a year in Auckland is enough to keep up with the demand is something that people will continue to discuss/argue.
The probably key factor that wasn't really an issue (or not to the extent it is now) when the first serious discussions about ramping up Auckland residential development were being undertaken is the rising tide of inbound migration.
It's a fair bet to say that when the August figures are released later this month they will show annual net inbound migration to have topped 60,000, which compares with a fairly long-held previous high water mark of around 42,000 from the early 2000s.
Statistics NZ figures show that for the year to July, out of the more than 59,000 net immigrants into the country, more than 27,000 of them were recorded as settling in the Auckland region. That's consistent with recent patterns of close enough to 50% of new migrants coming into the largest city. And 27,000 new people to house is a lot, let's face it.
While the Government is now making efforts to encourage new migrants to go to other parts of the country (a long overdue move in my opinion), you suspect that more will need to be done. And how long can it be before the Government is forced to concede that our current immigration settings are too loose. Quite simply, with economic conditions in Australia and the world in general not looking buoyant, it is hard to see the normal strong outflows of Kiwis resuming in the foreseeable future.
So, while progress is really being made, and the Auckland housing machine is starting to crank up, thanks in reasonable part to Government efforts, it's probably over to the Government to give matters a further helping hand. Quite simply, around 14,000 new houses a year will make a big difference in Auckland on current rates of expected natural population growth. But keep adding a net 27,000 people from outside every year and no, not so much.
It will be very interesting to see how this all develops.