Personal Finance
/
news
ASB economists see a $15 bln hit to NZ's household budgets this year, with housing costs spiking 8%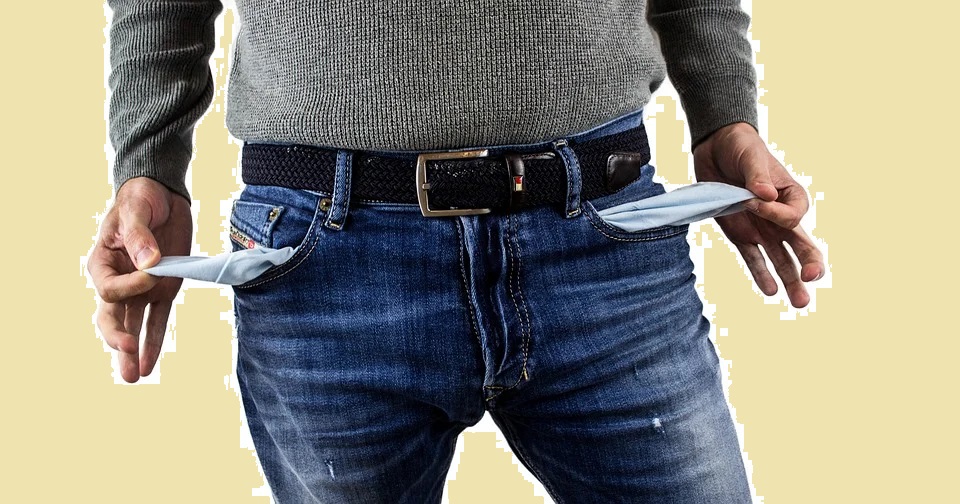 Rising costs are likely to see average household budgets hit by a "significant dent" of about $150 a week this year, according to ASB economists.
The economists say this would equate to an extra $15 billion households will have to find over the next year - equivalent to about 7% of household disposable incomes.
Housing costs are likely to be about 8% higher.
In a detailed crunch on the household living cost outlook, ASB senior economist Mark Smith says households built up a larger saving buffer in the 2020 and 2021 lockdowns. Household deposits have jumped by about $25 billion since early 2019, though the build-up in savings "is unlikely to have fully dispersed across the household sector and many households would still be living pay cheque to pay cheque".
"Nevertheless, if current spending patterns are broadly maintained, rising costs look set to place a significant dent in household budgets," Smith says.
And while he says "for the average household", the increase in the 2022 calendar year would be $150 per household per week compared with 2021 "some households would experience much steeper increases, including more heavily-indebted households". Others would not see as sizeable an increase.
"For most households, we don't expect household disposable income growth to increase by as much as the cost of living.
"With a shrinking savings buffer, difficult choices and potential trade-offs lie ahead.
"Households will either have to dig into their saving, sell assets, increase their borrowing or cut back on spending. Discretionary (i.e. non-essential) spending is likely to be the first in the firing line and consumers will also look to economise spending on the essentials. We suspect the penny is starting to drop now."
Smith notes that borrowing costs "are also ratcheting up" and are expected to move sharply higher over the course of 2022.
"RBNZ [Reserve Bank] figures suggest that the average mortgage interest rate charged on the total stock of mortgage debt troughed at around 2.83% in September 2021. Average borrowing costs are now on the way up, with carded mortgage interest rates rising and approximately 60% of current fixed-rate loans due to be reset over 2022, often at much higher rates.
"Our latest mortgage interest rate forecasts flag further increases ahead. All up, the average mortgage interest rate facing borrowers will likely increase by roughly 150 [basis points] over 2022, ending the year at just over 4.5%.
"That would push household debt servicing back towards historical averages from a record low share of household income."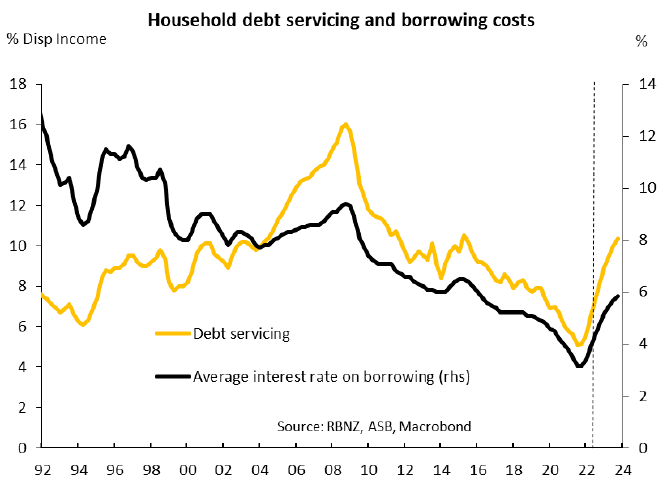 On general housing costs, Smith says costs of building a new home have "rocketed" with higher costs and shortages of labour and materials.
"There are hefty increases for dwelling maintenance services. Local authority rates look set to rise steeply for a second successive year. What's more, annual dwelling rental inflation looks to be accelerating as landlords recoup rising costs. An 8% annual increase in housing costs looms."
On climbing inflation, Smith says consumer prices have "rocketed", with the sources of price rises become increasingly broad-based.
"After ending 2021 at more than 30-year highs (5.9% yoy) we expect annual consumer price inflation to remain elevated over 2022, coming in just under 6% per annum. Broader living costs for households have also risen, with a less stratospheric 5.2% annual rate over 2021, though with household interest payments advancing at a close to 8% annual rate after troughing at the end of 2020.
"Viewing the increases (see chart below) suggests that the lifts post COVID-19 have been more pronounced for the essentials – food, fuel and shelter – than the nice-to-haves. Further volatility lies ahead, but we expect consumer prices to continue to ratchet higher, with debt-servicing costs sharply increasing. Both will place household budgets under pressure."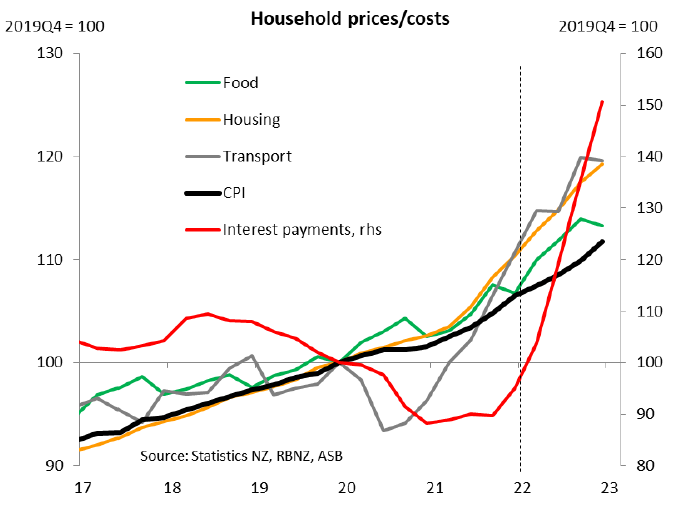 Smith says in order to to estimate the cashflow impact on household budgets the ASB economists use Stats NZ's NZ household economic survey, which records what households typically spend each week.
"The latest survey was taken in the March 2019 year, but we have updated the figures to reflect more recent spending patterns using a combination of consumer spending and consumer price data. Household spending patterns have clearly been impacted by Covid-19. For example, retail sales and traffic mobility data indicate lower household fuel usage.
"Household debt has rocketed since early 2019, tempering the benefit provided to debt-servicing costs (including principal repayments) provided by lower borrowing costs."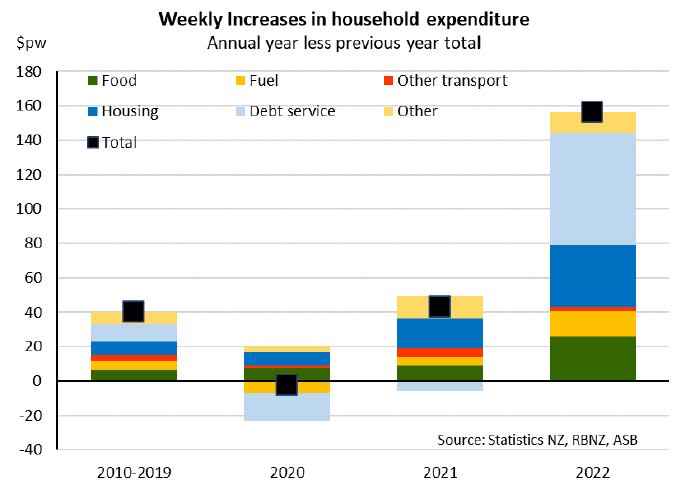 Smith says with household balance sheets no longer benefitting from rising asset values, consumer spending is unlikely to be as robust or as resilient as it was in 2021.
"The economy will need another driver of economic activity," he says.
A more sluggish outlook for household spending may well temper the extent of OCR [Official Cash Rate] tightening required by the RBNZ.
"We expect consecutive 25bp hikes and an OCR peak of 2.75% this cycle.
"Still, there is the clear risk that the RBNZ hikes by more if they deem their inflation mandate to be under threat."