ANZ says it's number one in the Auckland mortgage market with marketshare up since end of National Bank brand announced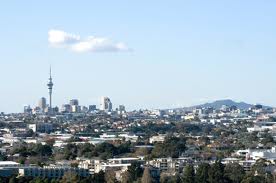 This article was first published in our email for paid subscribers this morning. See here for more details and to subscribe.
By Gareth Vaughan
ANZ New Zealand says it's winning the biggest slice of mortgage business in Auckland with CEO David Hisco saying "a lot" is coming from ASB, which he describes as "an Australian bank like us" with "no territorial rights over Auckland."
The investor presentation accompanying ANZ's parent's annual results yesterday included charts sourced from Terralink showing it winning the biggest number of Auckland customers switching between banks and the biggest slice of new Auckland mortgage registrations. (See below).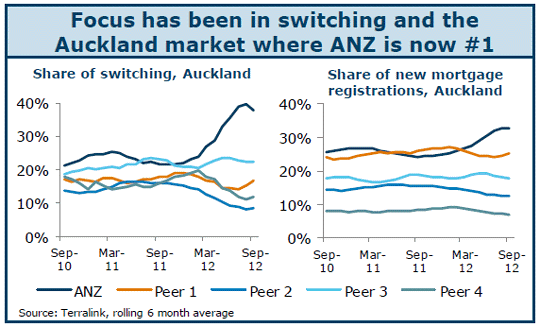 Asked whether ANZ NZ, including both the ANZ and National banks, had been number one in Auckland before, Hisco said not during recent years. He told interest.co.nz that moving the bank's head office to Auckland from Wellington, which happened after he took over as CEO from Jenny Fagg in September 2010, had sharpened the focus on Auckland.
"Generally because we used to have a head office in Wellington, we didn't have the focus on Auckland that we could have had," said Hisco. "And banks tend to be like that. They tend to be strong where their head office is."
"And so one of the reasons we moved up here and put the management team in Auckland was because we felt there was an opportunity up here that we weren't quite getting into. And certainly once you immerse yourself in the territory, you start to see where the gaps are and that's what we've been doing. So we've been slowly, methodically, working our way through fixing that."
'A lot of customers coming from ASB'
Hisco said customer switching data showed that over the last six months "a lot" of business had come across from ASB, the former Auckland Savings Bank with a traditionally strong presence in the Auckland market.
"You can tell from the switching numbers. We have a look at the switching numbers that come through and yeah, over the last six months, particularly, a lot has come from them (ASB)," said Hisco.
"I think the thing with ASB is they're an Australian bank like us. And at the end of the day people will decide to choose the bank that's most convenient. And we don't think that they (ASB) should have any territorial rights over Auckland. In fact we'll have more branches, and more staff, and more mobile mortgage managers running around Auckland. So we suspect over time that (overall marketshare) should even out."
For the June quarter, the last period for which all the major banks have issued General Disclosure Statements, ASB was the only one of the big five to record a decline in the size of its residential mortgage book, dropping NZ$39 million to NZ$37.391 billion. In the same period ANZ's rose by NZ$1.09 billion to to NZ$52.5 billion, with its growth more than three times the NZ$326 million recorded by second placed Westpac.
ASB targeting growth in Auckland mortgage market too, which it's 'a big part of'
In August ASB CEO Barbara Chapman told interest.co.nz, that after a flat performance in the June year, ASB was looking to grow its home lending at above the growth rate of the overall market in the year to June 2013. Chapman said that with the Auckland market strong, and ASB being a big part of it, there was "some geographical tailwind" for her bank. 
As for the September quarter, Hisco said ANZ had probably done "okay" in mortgage lending. Its annual results (see more on them here) show net loans and advances rose NZ$1.048 billion, or 1.1%, in the September quarter to NZ$96.094 billion. However, Hisco said ANZ had staff training on new systems during August and September, which may be reflected in settlement figures in November-December.
ANZ, which announced a two-year phase out of the National Bank brand on September 26 and plans to switch ANZ to the National Bank's core 'Systematics' banking IT platform this weekend, also issued a chart showing recent weeks have seen it increase its share of mortgage approvals. (See below).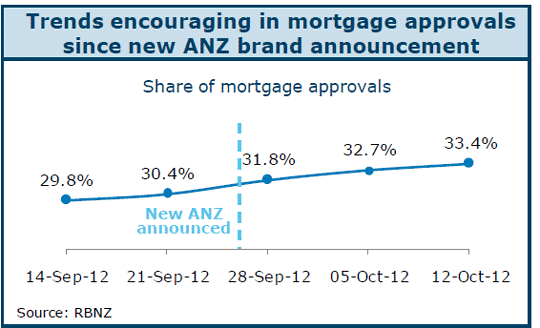 Hisco said the plans for the big IT switch were "pretty tight."
"We expect it should work as planned."
'No appreciable change in National Bank customer numbers'
Despite an advertising blitz from rivals targeting National Bank customers over the past month, Hisco maintains there has been no "appreciable change" in the bank's customer numbers.
"I think there might be the odd person that wants to protest and generally what we're finding is there have been a few small accounts where people haven't had a banking relationship with a person and so they've decided they'll protest," Hisco said. "But it has been very small numbers and at the end of the first week it was pretty much all over."
National Bank customers had got the message that nothing's really changing around their banking relationships, he maintains.
"People value their banking relationship. That was what our research always told us. That if we kept the front line people intact and kept those relationships there and minimised the impact for them, that they (National Bank customers) would give us a go. And that's precisely what they're doing," Hisco said.
'Clear air to crank it up'
As for ANZ customers who'll be introduced to new banking technology from this weekend, Hisco said they would find things like internet banking will change.
"The National Bank internet banking has been number one in customer satisfaction ratings (so) ANZ customers will get to use that," said Hisco. "It's a bit like buying a new PC at home. There's always a few things that work a little different, but a week later you'll be over that and you'll appreciate the new functionality."
Hisco said that once ANZ got through this weekend, staff wouldn't have to focus on brand or systems changes and would have "clear air" to "really crank it up" and "just do things for customers."
Meanwhile, chief financial officer Nick Freeman said ANZ NZ was about one-third pre-funded for its September 2013 financial year. Its "funding gap" had improved by NZ$1.6 billion in the year to September 2012, with its loan to deposit ratio down 6 percentage points to 145%.
ANZ's core funding ratio, which sets out that banks must secure at least 70% of their funding from either retail deposits, or wholesale sources such as bonds with durations of at least a year, stood at 87.6% at September 30. The Reserve Bank mandated core funding ratio will be lifted to 75% from January 1 next year. See more on this here.