ANZ, BNZ increase low equity margins on low deposit home loans, Kiwibank cuts low equity fees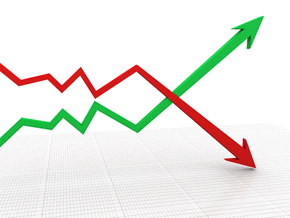 By Gareth Vaughan
Two of the country's biggest banks have increased low equity margins on high loan to value ratio (LVR) residential mortgage lending, and introduced new ones, blaming imminent new Reserve Bank mandated regulations. However, Kiwibank has cut low equity fees.
ANZ says from September 16 it's introducing a 0.25% margin on home loans with LVRs between 80.1% and 85%. It's also increasing low equity margins on lending with LVRs between 85.1% and 90% to 0.75% from 0.50%, and on lending at LVRs above 90% to 2% from 1.25%.
"Increases to the low equity premium payable by customers with small deposits reflect new costs associated with the Reserve Bank's requirement for banks to hold more capital on above 80% LVR loans," an ANZ spokesman told interest.co.nz.
Effective August 28, BNZ reintroduced a low equity margin on loans with LVRs between 80% and 85%, setting it at 0.35%. BNZ has also increased the low equity margin on loans with LVRs between 85.01% and 90% to 0.75% from 0.40%, the margin on loans with LVRs between 90.1% and 95% to 1% from 0.50%, and on loans with LVRs above 95% to 1.15% from a minimum of 0.50%.
BNZ said the changes were a result of increased capital requirements for high LVR lending.
A low equity margin is added to the mortgage rate and stays on the mortgage until the borrower has gained enough equity in the property for his/her loan to drop below the high LVR threshold.
Kiwibank cuts
As of August 24, Kiwibank also made changes. Its low equity fee on loans with LVRs between 80.01% and 85% dropped to 0.25% from 0.50%, and its fee on loans with LVRs between 85.01% and 90% reduced to 0.50% from 0.75%. It also has a low equity fee of 1.25% on loans with LVRs between 90.1% and 95%.
A low equity fee, as opposed to a low equity margin, is a one-off charge that can be added to the mortgage so the borrower doesn't have to cover it upfront.
 Interest.co.nz reported last month Kiwibank has begun self insuring new high LVR home loans after Australia's QBE Insurance stopped underwriting new lenders' mortgage insurance in New Zealand on August 31. A Kiwibank spokesman told interest.co.nz the recent reductions in the bank's low equity fees stemmed from its self insurance costs being less than the QBE "pass through" costs. However, he said Kiwibank's low equity margins were under review.
ASB says it's not making changes to its low equity fees. And Westpac says it's not changing its low equity margins. In April Westpac introduced a 0.25% low equity margin for lending done at LVRs between 80% and 85%.
The Reserve Bank announced last month banks must restrict new residential mortgage lending at LVRs of over 80% to no more than 10% of the dollar value of their new housing lending flows from October 1. Allowing for exemptions, the Reserve Bank estimates this 10% "speed limit" will effectively restrict the banks' high-LVR lending flows to about 15% of their new residential lending. It says about 30% of new residential mortgage lending has been high LVR lending over recent months.
And in May the Reserve Bank said the big four banks - ANZ, ASB, BNZ and Westpac - must hold more capital against residential mortgages with LVRs above 80% from September 30. This will force the big four to hold an average of 12% more capital against their housing loans, or about $500 million between them, or an average of $125 million each.
'Complying with the spirit & the letter of the law'
Andy Symons, BNZ's director of retail banking, said via a spokeswoman that BNZ was mobilising quickly to ensure it's compliant with the new regulations, and will do its best to help high LVR customers, including first home buyers.
Symons described new low equity margin pricing from the banks as a sign of market movements saying, like all other pricing decisions, it's regularly reviewed and changed in line with market fluctuations.

"BNZ will comply with the spirit as well as the letter of the Reserve Bank's new LVR regulations while working as hard as ever to meet the aspirations of first home buyers and other borrowers in a highly competitive market," said Symons.
Where the big five stand on low equity margins/fees
| | | | | | |
| --- | --- | --- | --- | --- | --- |
|   | ANZ | ASB | BNZ | Kiwibank | Westpac |
|   | Fee | Margin | Margin | Fee | Margin |
| where the LVR is ... | % | % | % | % | % |
| 80.01% to 85.00% (new) | 0.25 | 0.25-0.50 | 0.35 | 0.25 | 0.25 |
| 85.01% to 90.00% | 0.75 | 0.50-0.75 | 0.75 | 0.50 | 0.50 |
| 90.01% to 95.00% | 2.00 | 1.00 | 1.00 | 1.25 | 0.60 |
| above 95% | 2.00 | 1.20 | 1.15 | 1.25 | 0.75 |