Public Policy
/
analysis
Finance Minister Grant Robertson not (yet at least) signalling intent to respond to the Reserve Bank's call for help tackling inflation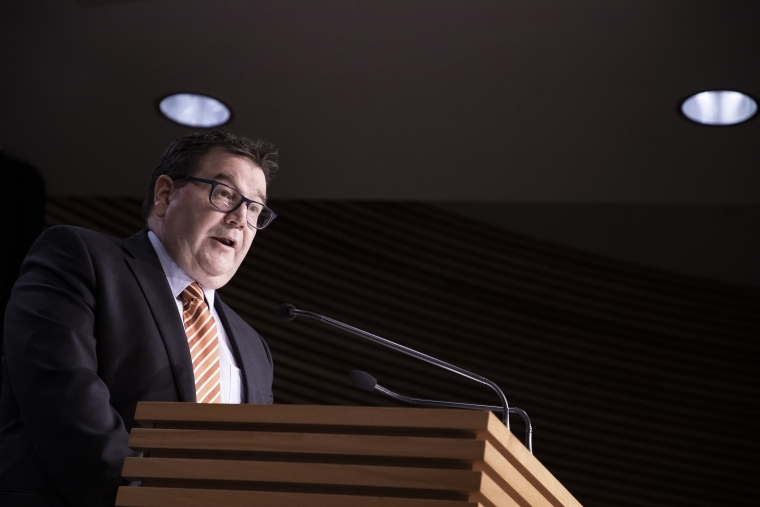 The Government isn't (at this stage) changing its agenda in light of rising inflation, despite a call for help from the Reserve Bank (RBNZ).
Finance Minister Grant Robertson hasn't identified ways the Government can address the high cost of living, beyond cutting fuel taxes and halving public transport fees for three months. 
He hasn't hinted at whether further relief, directly in response to the current macroeconomic climate, is on the way in the May 19 budget. 
Nor has he suggested he will reduce the big increase in operational expenditure pencilled in for the budget, largely to pay for the health and water reforms and contribute towards yet-to-be-unveiled climate-related initiatives.
Robertson is, rightly or wrongly, pushing on with commitments Labour made ahead of the 2020 election, despite the economic and geopolitical landscape changing markedly since then. 
RBNZ considering what it'll do "in addition" to the Govt
RBNZ Governor Adrian Orr, in an interview with the International Monetary Fund released on Tuesday, didn't hold back asking the Government to help it meet its inflation target. 
In fact, Orr put quite a bit of weight on government's role, saying, "We have to work very closely with the fiscal authorities to understand what they can do and can't do, and hence what we need to do in addition with monetary policy."
Orr delivered a similar message during a different part of the segment with the IMF.
"We are going to need support," he said. 
"Central banks are going to have to communicate very clearly about our purpose and why we are looking to lift interest rates in the current environment.
"We are going to have to be very clear with our fiscal authorities around what we are doing and how they could assist around more targeted effective fiscal policies."
No change from Robertson 
When interest.co.nz spoke to Robertson on Thursday about the effectiveness of high interest rates in addressing the supply-side factors contributing towards high inflation (Covid and the war in Ukraine affecting supply chains and oil prices), he didn't hint at the Government taking action. 
He repeated the lines he's been using for some time around inflation being an international problem and his approach towards economic management being a "balanced" one. 
While Robertson will be acutely aware of the political damage rising inflation is doing ahead of an election year, his comments suggested he wasn't changing his approach in response to the economic climate in any significant way - yet at least.
Politicians use Orr's comments to their advantage 
National latched on to Orr's comments around governments needing to use "more targeted effective fiscal policies" to argue Robertson should rein in spending. 
"He must do his bit to remove inflationary pressure in the domestic economy: stop adding costs to business, quit wasteful spending and remove bottlenecks to productive growth," National Party Finance spokesperson Nicola Willis said.
"This is absolutely not the time to put fuel on the fire with the biggest budget spending allowance in history, which he has foreshadowed for his May Budget."
Willis did not acknowledge expenditure would be similar if National was in government, as it is proposing to provide tax cuts instead of health reforms.
TOP Leader Raf Manji also used Orr's comments to promote his view that fiscal policy should be doing more heavy lifting, given the limitations of the RBNZ's blunt tools in curbing the type of inflation we're facing. 
What exactly has Robertson said? 
Asked by interest.co.nz how much of an impact he believed a higher OCR will have when a lot of the inflation we're experiencing is derived from offshore supply-side factors, Robertson took the opportunity to emphasise the fact New Zealand isn't the only country experiencing high inflation, and said, "The supply-side constraints we're seeing are unfortunately going to last for some time, but the RBNZ is using the tools that it has."
Asked whether he was planning to do anything else to either try to address the causes or effects of inflation, he said, "We'll continue to make sure that the investments we make are responsible ones. 
"It is important that we continue to fund the public services that New Zealanders rely on. Fiscal policy has played an important role in helping New Zealanders through this period of time. Equally, we've withdrawn the across-the-board supports we had in place that helped New Zealanders through Covid-19."
Asked whether fiscal policy needed to do more of the heavy lifting, especially given the bluntness of the the tools at the RBNZ's disposal, Robertson said, "Fiscal policy has played an incredibly important part in how we've got through Covid. 
"We have spent a large amount of money to make sure New Zealanders have got through the pandemic and stayed in work. We will continue to use fiscal policy that way. But also, we have to be responsible and get a balance…
"There's no doubt that monetary policy centres around the OCR. We obviously gave the RBNZ a couple of jobs - not just price stability, but also looking at maximum sustainable employment. And they have... the macroprudential tools that they've been using...
"There are things for them to do, but I acknowledge monetary and fiscal policy both have roles to play."