Finance Minister believes NZ is in a strong position to weather the current global storms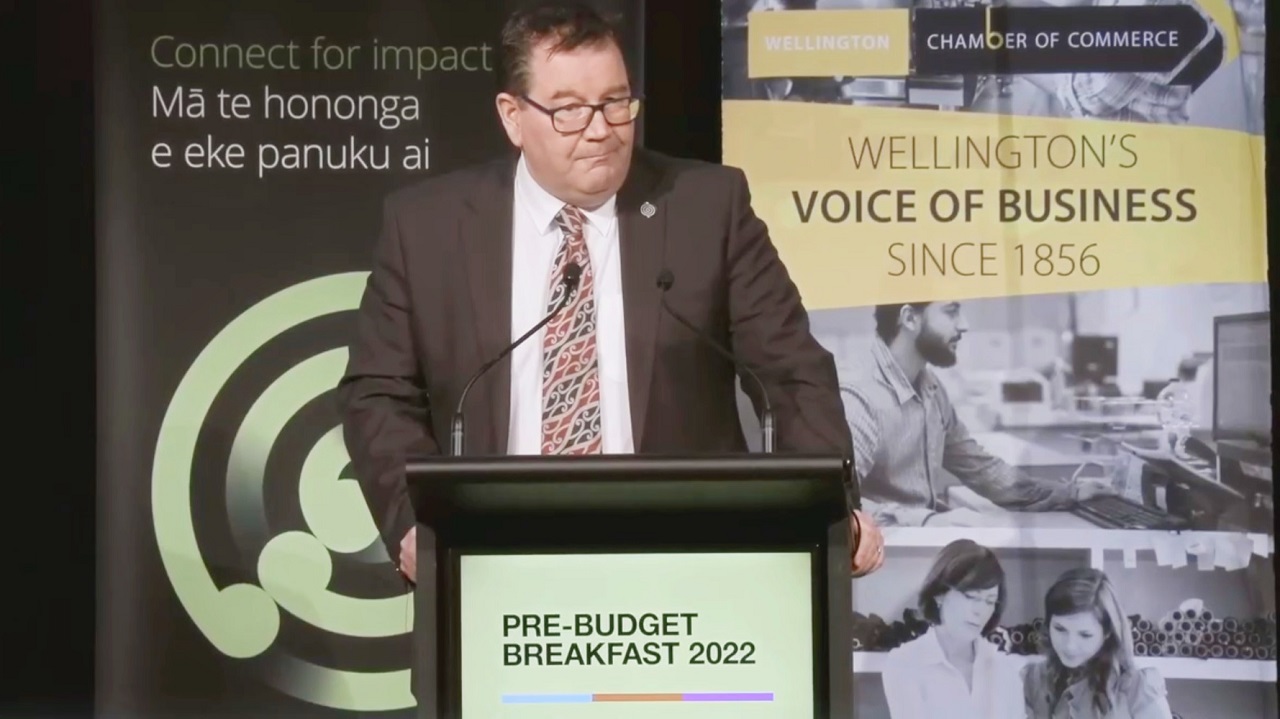 Finance Minister Grant Robertson doesn't see New Zealand heading for a recession next year, although he concedes that the finances to be outlined in next week's Budget will show a deterioration relative to the last fiscal update prior to Christmas.
Asked by a business audience in Wellington after giving a pre-Budget speech, about comments from BNZ head of research Stephen Toplis, that economic growth may stall next year Robertson said one of the strengths of NZ versus the rest of the world was the country's low unemployment. "That is the buffer".
"...The underpinnings of the economy are strong..."
Talking to journalists a short while later he conceded that the Budget financial figures would show a deterioration relative to the last update in December, but it would still be a "strong set of books". 
While clearly there had been "major changes" in the global outlook since the start of the year, Robertson didn't see NZ heading for recession.
Robertson had earlier conceded the Government would now not be returning to surplus till the 2024-25 year, which is a year later than was outlined in the last update prior to Christmas. 
In his speech itself, Robertson promised that Budget 2022 next week "will be about health".
He said the Budget, to be delivered on May 19, "will be about setting up a national health system that can meet the needs of our nation. It will be about setting up the infrastructure that will direct the attention of our health workforce to where the need for care is greatest, not to where the vagaries of our current structures direct them".
"To get this right, we also need the workers that our system needs. In addition to those that we train here, the green list process will prioritise and provide a residency pathway for a range of occupations that are in critical need – nurses, clinical psychologists, medical technicians and a range of specialist occupations.
"Getting the foundation of our health system right will require sustained investment. Budget 2022 will lay the groundwork for that change. Health will move toward a multi-year funding track, initially through a 2-year transitional investment in this year's budget, before moving to 3 year budgets from 2024/25. This reform will provide the certainty that is needed for the system to plan for long-term health priorities."
In terms of the current economic conditions, Robertson said "what we must not do while dealing with the pressures of the here and now is put off dealing with long-term challenges".
"If we decided against reforming our health system, we would not see lower petrol prices; we would just have both high petrol prices and a health system that was not set up to meet our needs.  
"Too often, the New Zealand economy has been run along those lines. Investment has been turned on and off in response to short term considerations, resulting in a long series of chain reactions delaying planning decisions, business case development, workforce recruitment and investment in sector capacity.
"I don't believe that this approach has served our current needs. I certainly don't think it is adequate for our future needs. Whether it is addressing our long-standing productivity gap with other advanced countries, addressing the housing crisis, or fixing our planning or three waters systems, a short term, hands off approach is not going to cut it."
Last week in an earlier pre-Budget speech, Robertson announced new fiscal rules for the budget, which include a debt ceiling of 30% of GDP and keeping surpluses within a band of zero to 2% of GDP.
As well, there will be a new debt measure that Robertson said would more closely align New Zealand with how debt is measured in other countries. It will include a wider range of both assets and liabilities, but will make the debt figure about 20 percentage points lower. The new measure will, for example, include the assets of the NZ Super Fund.
He also outlined the move to multi-year funding for some departmental budgets, including health.
The new debt measure rule effectively means the debt ceiling the Government has announced would be 50% under the old measure and 30% under the new.
The Budget documentation will continue to publish the old measure, for transparency and the ability to make historical comparisons.
Robertson said in his latest speech on Thursday that Budget 2022 "marks a move past the crisis Budgets of Covid to a new normal".
"We will bring the stability and certainty of fiscal rules, but also take the lessons of Covid to take on the big challenges and opportunities, and address the shortcomings and inequities of the old normal.
"My vision for our economic future can be summed up in one sentence. I want a high wage, low emissions economy that gives economic security in good times and bad.
"The building blocks to reach that goal are being put in place."
Robertson said next Monday the Government would release its Emissions Reduction Plan, and the funding to back that up through the first allocations from the Climate Emergency Response Fund.
"That fund has been created by recycling the revenue from the Emissions Trading Scheme directly to emissions reductions initiatives.
"Dealing with climate change is something that we need to get right, and get right now. We all know the environmental imperative that we are facing. But there is also real risk that if we were to drag our feet on emissions reduction, we face the possibility of the world moving on from the sorts of things that New Zealand is currently a world leader in producing."
Robertson said every country in the world would  have to change the way in which it meets the needs of its people.
"This is a challenge, but also an extraordinary opportunity for New Zealand. There are areas such as hydrogen, renewable energy, wood processing and agritech where we can lead the world and create the high wage jobs we need.
"We will partner with businesses to support them in making the transition toward low-emissions technologies, and work with sectors with more hard-to-abate emissions to develop more sustainable ways of operating. We will also provide support to make lower-emissions alternatives accessible to a greater number of households.
"We can no longer put off meaningful action on climate change. The emissions reductions plans that we have created are ambitious but achievable, and will meet the task set in our emissions budgets."
Robertson said the past couple of years had been "extraordinary" for everyone.
"As a country we should be proud of how we have responded. Now, we need to take that pride and the lessons we have learned and put them to work on shaping our new normal.
"Uncertainty and volatility are part of that new normal. But so is a New Zealand economy that is the envy of many in the world. We are in a strong position to weather the storm of global inflation and build that high wage, low emissions economy that provides economic security for all New Zealanders, in good times and tough times.
"At every Budget there is a balance to strike - to get the basics right, to do what is right for current and future generations and to secure a better tomorrow. It is a balance we have struck before, and on that I believe we will do so again."