Further gains in global dairy prices are prompting economists to push up their milk price forecasts higher and higher - with a $7.50 per kilogram of milk solids price now looking eminently achievable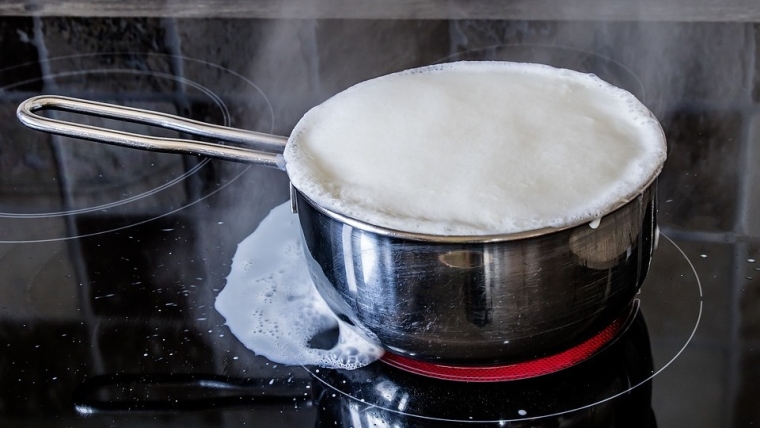 The milk's on the stove and it's starting to boil quite nicely.
And if the 'heat' stays on then Fonterra farmers could be set to get one of their best ever milk price returns for the current season.
And, also, it's now being suggested that there has been a 'structural' fall in milk price volatility and the farmgate milk price is 'moving to a higher plateau' for the future.
The fifth consecutive rise in prices on the GlobalDairyTrade auction platform has prompted economists to further boost their forecasts of the likely milk price Fonterra will be able to pay its farmers this year.
Fonterra itself has a current wide forecast price range of $6.55 to $7.55 - having increased the price recently from the season-starting forecast of a range between $6.25 and $7.25.
The dairy co-operative has indicated it will narrow its forecast range as the season progresses. A further update could be expected from Fonterra early next month.
One of the best ever
However, judging by what economists are saying the chances are increasing that Fonterra might be able to achieve a $7.50 price, which would be one of the best ever.
It's unlikely that the record price of $8.40 in 2014 could be matched, but the next best prices were $7.60 in 2011 and $7.59 in 2008 - so, Fonterra's getting up there in terms of what's possible this season.
ASB economists have in recent times been bullish forecasters of the price, often correctly picking higher prices than fellow major bank economists. For once, this season the ASB team has actually been 'lagging the field' with its price pick.
Not now, however, with ASB senior rural economist Nathan Penny on Wednesday boosting his price pick to $7.50 from $7 previously.
And Penny says he's "also bullish" on the milk price prospects for 2020/21.
"We set our initial 20/21 milk price forecast at $7.50/kg. Notably and unlike the 19/20 season, Fonterra is likely to be able to capture the full benefit of the weaker NZ dollar.
'Volatility has fallen'
"Almost as important as our bullish milk price view, our observation is that milk price volatility has fallen.
"Indeed, we believe that the fall in milk price volatility is structural in nature. In that sense, the farmgate milk price is moving to a higher plateau."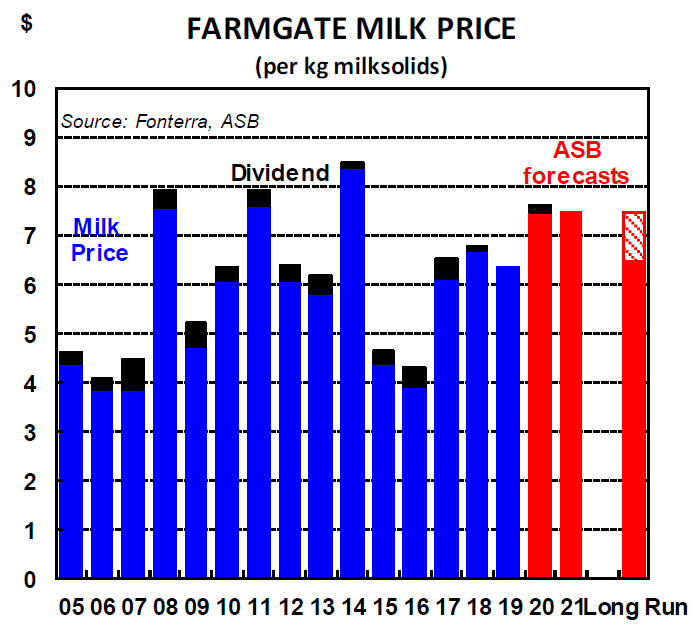 Penny says in terms of the current season, global dairy markets are "tight".
"NZ October production was 1.5% down on October 2018. Meanwhile, Northern Hemisphere production growth is also soft, with annual production growth only marginally above flat in both the EU and the US.
"In short, production growth in the key dairy exporters is insufficient to meet growth in global demand. Accordingly, global dairy prices are lifting.
"Overall dairy auction prices have lifted 8% since early September at a time when the spring flush normally forces prices lower."
BNZ economists on Wednesday lifted their milk price forecast for the season to $7.40 from $7.10 previously.
'Healthy' dairy fundamentals
BNZ senior economist Doug Steel said dairy market fundamentals continue to look healthy.
"Indeed, we would be forecasting a higher milk price if it were not for still elevated – if down from its peak – global economic uncertainty.
"Prices may head higher anyway, especially if NZ milk supply is crimped by more than expected on poor grass growing conditions.
"For perspective, we estimate if international prices maintain their current levels through the remainder of the season, it would be enough to generate a milk price around the top end of Fonterra's current forecast range of $6.55 to $7.55."
Steel pointed out that since Fonterra announced its current forecast in late October, GDT prices have lifted 5.5%.
'The top half' of the Fonterra forecast range
"Of course, with some milk already sold, these price gains will not apply to the entire season's milk and the slight lift in the [NZ dollar] over the last month or so will take some edge off. But it's clear the balance of developments to date favours the top half of the range rather than the bottom half."
Steel said while many global risks remain, they have eased somewhat on the prospect of a partial US-China trade deal.
"Higher global risk appetite provides a better backdrop for international dairy prices."
See here for the full dairy industry payout history and for economists' forecasts.