Guy Trafford notes that China's 'dual circulation' policy development may crimp their dairy imports as they push a Five Year Plan goal of more local supply. Rising Chinese production may already be suppressing GDT results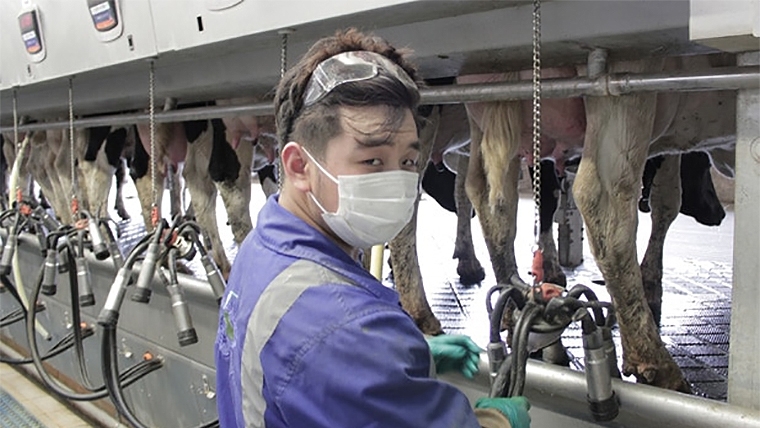 Whole milk powder dragged down the average price of the latest Global Dairy Trade auction.  Butter (+3.5%), cheddar (+0.7%) and skim milk powder (+1.5%) all had modest rises, but the WMP drop of -3.8% took the general average down by -1%.
While the reasons for the lower prices always include multiple factors both domestic as shown in David Hargraves report and international as referred to in a Rabobank summary, Chinese domestic production certainly appears to be ratcheting up and having an impact.
Rabobank reported higher levels of Chinese domestic production with an 8.1% increase in 2021 Q1 which appears to be rolling into Q2 and in addition to this they have been lifting their imported supplies. June 2012 had a 20% leap compared to 2020. These presumably high levels of stockpiles must be having an impact upon current demand and prices. 
Fonterra put the lowest volumes of WMP into the latest GDT auction and still prices fell.
Within China the "2021 China Dairy Top 20 Summit"  (D20) was held in Hefei. The theme of the summit was the goal of securing supply and safety and promoting 'dual circulation'. The CCP believe supply-side structural reform is vital for lifting the Chinese dairy industry to a new height during the 14th Five-year Plan period.  
The D20 summit called for measures to be taken as below:
strengthening the development of a high-quality milk supply base by genetic improvement of dairy cows and supply of high-quality fodder and hay;
enhancing comprehensive and broad supervision along the entire chain to further improve the quality and safety of dairy products;
supporting companies to increase the proportion of milk supplied from their own bases, and encouraging dairy farming-related recreation and sightseeing and other value-added services; and
further optimising dairy supply structure by accelerating the development of cheese and other dried dairy products adapted to the taste of Chinese consumers, and improving compatibility between the supply and demand of dairy products, and intensifying international cooperation and exchanges in diary industry.
In 2020, China's dairy industry production was 35.3 million tons, up +7.0% year on year. All large-scale dairy farms have automated milking system in place and these account for 67% of dairy farms.
On the back of this development programme the RaboBank report shows that dairy heifer exports to China are up 60% in the last 6 months. But, with all the additional production occurring in several exporting nations Rabobank are also predicting a "cyclical downturn" from the end of the year and into 2022 and believe there is a "strong likelihood of a year-on-year decline in import volumes for Q4 2021 imports" (into China). Added to this, Australian milk production is up, as is Latin American volumes (up +3.3%).
Rabobank are still predicting a "wobbly" $8.00 per kg MS but are certainly also putting out some warning signs (alongside Westpac).
---
Support independent news. Go ad-free. Find out more.
---
In the not-too-distant background we still have COVID-19 yet again impacting on many of our markets. South-East Asia, for now, are being particularly hit and several countries in various forms of lock-down. This is bound to reduce demand for New Zealand dairy products.
Despite, or perhaps because of the rain that many areas of New Zealand have experienced the last few months, grass covers around the country are good. NIWA are predicting milder conditions for the earlier part of spring and if the near(ish) normal rainfall continues farming hopefully will be relatively stressless - at least on the feed supply.