Big spring milk flows test tanker capacities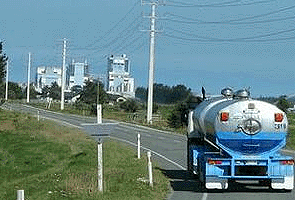 Here's our weekly rural market report:
Spring growth has brought peak flows to the north, while central NZ's is predicted for next week and the south's flow should reach highs by the end of the month. Some commentary suggests milk flow could be the best for ten years driven by a great autumn, benign winter and great spring, resulting in good cow condition and plentiful feed.
The milk volume has stretched the freight capacity of milk tankers with Fonterra negotiating with transport officials for a temporary increase in volumes carted on the rural roads.
Three other milk processors released their results, two being at or better than Fonterra's, but Open Country Cheese suppliers are unhappy their payout is at the back of the field after promises by management that they would match the big companies' price.
Dairy prices reported for Oceania continue to ease and NZ returns have been affected by the volatile currency which strengthened again back over US 80 cents.
Traders are using NZX's dairy futures to try and mange this volatility and will have added cover to protect against market price volatility with a "milk options" product to be launched next month.
More production and supply information shows Europe has followed NZ and US in increasing milk volumes and only time will tell if the Asian countries can absorb all this extra product.
BEEF
Analysts still predict near term downside followed by a long term bullish sentiment, as the US drought impacts the international beef trade.
The worlds 8th largest beef exporter, Paraguay, has foot and mouth in its cattle herd and this will help competitors with reduced world supply.
However, good growing seasons in Queensland have produced record carcass weights and NZ's export production is also predicted to lift by 3% this year.
The first of the weaner dairy bull calf sales have commenced with values $60-$80 per head above the first sale last year.
LAMB
Spring lamb processing is starting quietly in a market where the financial crisis in the major product destinations, the UK and North America, is having some impact.
Demand for pelts remains strong in China, and with wool prices holding steady at recent high levels, this is helping keep lamb values at yearly highs.
Mutton values are holding and as the big kill volumes of last season look unlikely to be repeated, future price trends look promising given the lower supply.
Prices are $20 per head better than at the same stage last year and the high prices for lamb have seen some consumers switch to mutton to make the budget go further.
WOOL
The auction, offering mainly well grown finer wools, suffered from a firmer currency and the indicator for mid micron lines dropped over 50 cents and merino wools by 11 cents.
In Australia, reports are indicating that everyone is waiting for the currency to settle but, with low stocks, traders are getting nervous in this volatile market.
Although Wool Co meetings have been well supported in the south, the early northern promotions have been poorly attended as that company desperately seeks capital to buy Wool Services International and keep it in farmers hands.
DEER
PGGW report a new selling system for velvet based on weekly sales for contract or private deals and will payout fortnightly.
They will also trial a short cut grade harvested before the trez tyne is exposed, to encourage more second cut weight, in an attempt to reduce the super A volumes and see if  returns per head can be improved.