Warmer, wetter local weather contrasts with international conditions and sets up new season positively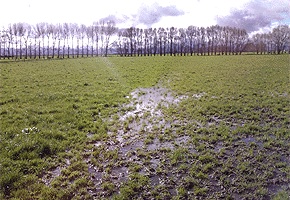 Rural market update as at August 22, 2012
DAIRY
Recent wet weather over much of the country with calving now in full swing has made things challenging for new born animals and early milking cows.
Warmer than normal winter conditions and an exceptional autumn meant that animals reached this period in good condition and feed covers are reasonable but poor utilisation restricting intakes and pugging issues could result in feed stress when the second grazing round starts.
The market responded to supply fears driven by the US drought and lifted global dairy auction prices by 7-8% to reach their highest levels since April and give farmers hope the low predicted payout prices could have some upside.
World grain supply predictions seem to be tightening with every report and the flow on effects are now hitting the market.
Fonterra has reported record tonnages sold over the autumn winter period and its new Darfield plant has started successfully easing the pressure of the huge spring flow of milk to be processed.
Dairy price trends are here » and our interactive chart of dairy prices is here ». The latest milk production data is here »
BEEF
The beef market is in a holding phase as processors wait for the increased US domestic supply to work its way through the system and the impact of rising grain prices to  fuel price rises of competing chicken and pork.
Optimism remains for a turn around in the medium term and northern beef kill statistics show there are plenty of animals still to be harvested.
The saleyard prime steer market remains subdued in price and volumes, with wet conditions making it difficult to finish heavy animals but the few younger animals traded maintained strong pricing.
Beef price trends are here » and our interactive chart of farm-gate beef prices are here » and here »
LAMB
No easy fix for lamb marketers as conditions in Europe are only solvable with long term solutions and many processors are looking at diversifying some of their volumes to other markets.
Alliance seems to be leading the charge announcing a new branded lamb program being launched into Brazil to accompany their growing Chinese business.
Mid to late August sees lambing flocks growing and new borns are arriving to wet muddy pastures although temperatures are reasonable.
After the burning they took on prices in the autumn, processors are now holding firm on values and ensuring the market is truly reflected in schedules paid.
Kill numbers are now tracking along normal lines with average weights half a kilogram heavier than last year.
Saleyard store and prime lamb numbers have dwindled as the season ends and values remain static as reflected in the export market.
Lamb price trends are here » and our interactive chart of farm-gate prices are here »
WOOL
A glimmer of hope was seen in last week's auction where all price indicators lifted and a bigger percentage of the offering sold.
The wet weather has delayed pre lamb shearing and caused the cancellation of next week's sale and may be helpful in tightening the supply line to maintain prices.
Cavalier Carpets recorded a loss and big turnaround in profitability as they report the worst operating conditions experienced ever and dash growers hopes that last years excellent prices are sustainable in the present difficult world market.
Our full wool report is here » and our interactive wool chart is here »
DEER
Venison schedules are moving upward with the increasing chilled product harvest but reluctantly reflecting a cautious market in Europe where most of the product is sold.
Traditionally at this time of year consistent increasing premiums are paid for young animals that reflects demand for this fresh product for the European game season but the weak Euro currency that is now 14% higher than last year is preventing better farmer returns.
Our farm-gate price charts are here », the velvet trends are here », and the full deer trend report is here ».