The conclusion of our coverage of the ANZ report Greener Pastures: The Global Soft Commodity Opportunity for Australia and New Zealand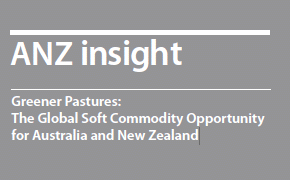 ANZ has released a major Report (.pdf 13MB) detailing the opportunities for Australia and New Zealand for agricultural commodities over the next 30 years.
Gareth Vaughan discussed the Report's finding with ANZ's Graham Turley.
Over the past few weeks, we looked closely at what the Report found for New Zealand. This is the concluding week where ANZ says we need to seize the opportunity to become the food bowl for Asia.
ANZ's report finds that a global race is emerging to develop high potential agricultural opportunities.
Successful agricultural industries do not happen by accident but take many years of development to build complementary strengths across a number of areas.
The following is part seven of the full Report focussing on the New Zealand aspects:
Over the past few decades, agriculture has sometimes been viewed as a 'sunset sector' with declining interest from younger generations, particularly in the developed world.
In more recent times, drought has driven Australian agriculture's pre-occupation with survival, while in New Zealand the success of its dairy sector has often masked challenges faced by other industries.
In the meantime, global competition has intensified with countries like Brazil responding with strong and strategic agricultural development.
Today, market developments suggest that agriculture is entering a new era with significant commercial opportunities on offer.
Both Australia and New Zealand have the potential to boost agricultural exports and returns, and enormous rewards await both countries if they can succeed in harnessing their agricultural industries to the growth of the Asia Pacific region.
To take advantage of this opportunity, agricultural industries in both countries need to focus on the growth of value and volume in which building competitive strengths needs to sit at the heart of every part of their decision-making.
While New Zealand's dairy industry is an inspiring example, this approach needs to be applied across agriculture while keeping in mind the individual needs of each industry.
There are many dimensions to this including fostering new agricultural leaders, achieving greater levels of efficiency in land and water utilisation, removing capital constraints, undertaking growth-oriented R&D and seeking deeper access to high value markets.
Getting this right requires the involvement and effective coordination of all government and industry stakeholders across entire supply chains and the broad clusters of suppliers and institutions that support them.
In the case of Australia, reprioritising agriculture on the national agenda is critical.
Failure to respond to the challenge will result in significant opportunity costs to both nations and will have serious impacts on rural and regional communities.
In addition, without a resurgence of rural productivity and performance to underpin it, the agricultural sector faces the possibility of declining standards and inappropriate practices.
Although the clock is ticking and global competition is fierce, Australia and New Zealand have both the time and the capability to respond.
In some respects, industries and governments in both countries have made good progress in initiating the right discussions and formulating response strategies but, given the scale of the opportunity, they only scratch the surface.
The size of the prize open to Australia and New Zealand agriculture calls for timely, transformational actions.
Getting this right will lead Australia and New Zealand to greener economic pastures over the coming decades.
--------------------------------------------------------------------------
This is the concluding part of the ANZ report: Greener Pastures: The Global Soft Commodity Opportunity for Australia and New Zealand (.pdf 13MB)
Here is Gareth Vaughan's interview with ANZ's Graham Turley.
Part two deals with the global soft commodity opportunity and you can read that part here »
Part two deals with the enormous opportunity and you can read that part here »
Part three deals with building competitive advantage in key markets and you can read that part here »
Part four deals with the current state of agriculture in New Zealand and Australia and you can read that part here »
Part five deals with unlocking the full potential and you can read that part here »
Part six deals with what it means for key stakeholders and you can read that part here »