ANZ says 'poor' dairy auction highlights material change to economy's risk profile as financial conditions tighten materially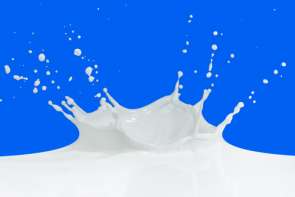 Fonterra's $7 per kilogramme of milk solids opening payout forecast for the 2014-15 dairy season now looks very dated, and its own $6.25 forecast, made just two weeks ago, is now also looking optimistic, ANZ says. Meanwhile, Westpac has cut its 2014-15 payout forecast by 40 cents to $6, and ASB has slashed its by 80c to $6.20.
ANZ's economists describe last night's dairy auction as "poor," and say ultimately the coming dairy season payout from Fonterra could be below $6, with financial conditions tightening in a "material fashion."
In the latest auction prices overall fell 8.9% in US dollar terms, or 8.7% in NZ dollars. The GlobalDairyTrade index has now sunk below the 1,000 mark for the first time since January 2013, and is 35% below its February peak is US dollar terms, and 40% down in NZ dollars.
"Two weeks ago we took the knife to our milk price forecast for the coming season (cutting it from $7); citing falling dairy prices, the high NZ dollar and what we considered to be bearish price action for milk powders on the GlobalDairyTrade auctions. We were thus expecting further price falls, but the magnitude of the fall in prices at last night's auction even surprised us. The ink is barely dry on our $6.25 forecast, and already has downside risk in the current environment," ANZ says.
"Last night's auction was poor. Commodity prices can be volatile and especially dairy, so it pays to look at broad trends as opposed to discrete events. But by the same token, we are mindful that the 8.9% fall in weighted average price last night masks much larger declines in Whole Milk Powder (WMP), down 10.9%, and continued falls in later delivery-period prices. Contrary to our expectations, reduced volumes for the year ahead did not see prices stabilise, and in fact prices for delivery in the second to sixth forward periods were all down by a greater amount, between 6.5% and 9.9%, than prices for immediate delivery down only 1.3%," says ANZ.
This means Fonterra's May opening milk price forecast of $7.00/kg MS is looking "very dated."
"When we downgraded our forecast to $6.25/kg MS a fortnight ago, we flagged that this represented an approximate $3 billion fall in dairy incomes from the record 2013/14 season. It is still early in the season and much depends on what happens to US dollar pricing and the NZ dollar, but current spot prices are more consistent with a sub $6 milk price," ANZ says.
A $5.75 payout, for example, would represent a fall of about $4 billion in dairy incomes from the record 2013/14 season where Fonterra's forecasting an $8.50 payout including a 10 cents dividend.
"As we flagged, a fortnight ago, rising interest rates, high exposure to them and on-farm costs has the potential to quickly evaporate discretionary spending. Dairy prices are now tracking 10% lower and the NZ dollar higher than the RBNZ assumed in the June Monetary Policy Statement. Financial conditions are tightening in material fashion."
'Material change to the economy's risk profile'
Moreover price falls of this scale, and a stubbornly high NZ dollar, represent a material change to the economy's risk profile, ANZ adds.
"Dairy is NZ Inc.'s biggest product line, so what happens in this sector is crucial. What makes recent developments even more concerning are developments in other commodity markets, with forestry and grain international prices also down. NZ is not a major grain exporter, but lower grain prices impact meat and dairy profitability elsewhere, and are food substitutes," ANZ says.
The bank's economists also argue the NZ dollar can't remain divorced from such commodity price developments.
"We are rapidly approaching a juncture where economic development warrant a change to the markets assessment of monetary policy; for now the market is locked and loaded for a July (OCR) hike the RBNZ's forward guidance can hardly be stepped away from and another before year end. The former is favoured, though not as clear cut as market pricing implies in our view, while the latter we disagree with. The NZ dollar is looking vulnerable to a correction over the coming months," ANZ says.
Westpac, ASB lower their forecast payouts
Westpac senior economist Anne Boniface said she was reducing her forecast Fonterra payout for 2014-15, to $6 from $6.40.
"The size of last night's drop has compelled us to make a further downward revision to this payout forecast. We're now forecasting a milk price payout of $6. Even this forecast remains sensitive to auction results over the coming weeks," Boniface said.
And ASB economists Nick Tuffley and Nathan Penny said they had lowered their forecast by 80c to $6.20.
"It's worth pointing out that our forecast assumes that dairy prices first stabilise and then recover over the remainder of 2014. This is the view we have maintained over much of the year, but that view is clearly now under threat," Tuffley and Penny said.
The ASB economists also noted Fonterra's $7 forecast, and said the dairy co-operative was likely to revise its view at or before its August board meeting.
'NZ too reliant on dairy'
Labour Party finance spokesman David Parker took the opportunity to criticise the government, and talk up his party's economic policies ahead of the September 20 election.
"The 35% fall in milk prices since February shows New Zealand needs an economic upgrade to limit its over reliance on the dairy industry," Parker says.
"New Zealand is too reliant on one industry, (and) recent falls in the milk price shows our vulnerability."
"With many other countries increasing milk production, Bloomberg is warning of a 'global milk glut' lasting for five years. This further emphasises the risk the current Government is taking in allowing our export base to narrow. New Zealand needs a more diverse economy with dynamic industries such as ICT, wood processing and manufacturing contributing to growth alongside dairy," says Parker.
Labour's "economic upgrade" will focus on investment, innovation and industry to grow and diversify the economy and create better jobs that pay higher wages, he maintains.
"We will boost our investment pool through universal KiwiSaver, direct that money to productive businesses and industries through our capital gains tax, increase innovation through research and development tax credits and tax deferrals, and provide targeted support to industries," Parker says.