ANZ cuts its forecast Fonterra 2014/15 milk price payout by 40c, puts call for next OCR hike in March under review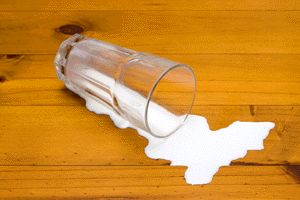 ANZ economists have cut their forecast Fonterra 2014/15 milk price payout by 40 cents to $4.85/kg of milk solids after dairy prices fell 7.3% in Thursday morning's GlobalDairyTrade auction. At the same time they say their expectation for the next Official Cash Rate hike to come in March next year is now under review.
The price falls take the GlobalDairyTrade Index back to levels last seen in May 2012 and equal to what was paid in the 2004-2006 period.
"As a result, we have today reduced our forecast for the 2014/15 payout to $4.85/kg (from $5.25), assuming a modest bounce back in global prices. This sits well below the average cost of production for farmers and will have a significant impact on discretionary spending," ANZ said.
"We'd also add that the dairy sector has a huge amount of exposure to floating (interest) rates of around 70%. A lower dairy price also has significant implications for the wider economy and monetary policy. Moves in the OCR look a long way off, with our call for the next move to arrive in March now under review. Expect the NZ dollar to remain under pressure."
Westpac economists have also cut their forecast payout, in their case by 50c to $4.80/kg.
"While a lower currency helps soften the blow for farmers, it's not nearly enough to offset the fall in last night's auction. Consequently, we've revised down our payout forecast for the current season from $5.30 to $4.80. And while we've left it untouched today, we'll also be taking a long hard look at our $6.60 forecast for the 2015/16 season over the next few weeks," Westpac says.
"Our core view remains that dairy prices will benefit from an improvement in Chinese demand early next year and that eventually lower prices will send a strong signal to producers around the globe to cut back production. However, for this season at least, this improvement is now likely to be later and weaker than we had previously pencilled in."
Meanwhile, ASB's economists said the latest auction results increase the downside risks to Fonterra's $5.30 milk price forecast for the 2014/15 season.
"A milk price under $5 per kg of milk solids is likely unless prices turn around significantly," ASB said. (But) we are not changing our milk price forecast yet. Prices could bounce back at the next event. But if they don't, our ($5.30/kg) forecast will need to be reviewed."
Dairy prices are now down 48.5% since February's peak.
"Weakness (in the latest auction) was led by a 9.2% fall in wholemilk powder (WMP) prices to US$2,443/t while skim milk powder prices fell another 3%. Strong domestic supply and Russian sanctions continue to weigh," ANZ said.
"The failure of global dairy prices to recover adds further downside risk to Fonterra's already-reduced 2014/15 milk price (currently $5.30/kg). Indeed Fonterra said in September that they need WMP prices to rebound to US$3,500 by March 2015 to maintain their current payout estimate – that's a long way from current levels."
In its May Financial Stability Report the Reserve Bank said nearly 70% of the $32 billion worth of dairy farm debt was on floating mortgage rates, meaning rising interest rates were likely to increase financial stress if incomes fall. The Reserve Bank has increased the OCR by 100 basis points this year to 3.5%.
Just last week Fonterra cut its own 2014/15 milk price payout forecast to $5.30/kg from $6.00/kg.