Latest blow to global dairy prices comes amid over supply and expectations that prices will remain subdued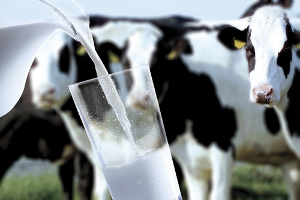 By David Hargreaves
Giant dairy co-operative Fonterra is seen as unlikely to be able to raise its milk price forecast for the current season beyond the current $4.60 per kilogram of milk solids following another disappointing global auction result overnight.
Prices at the GlobalDairyTrade auction fell 7.4%, the second consecutive drop after four strong consecutive rises had lifted prices from the deep lows seen at the start of August. Of particular note in the latest auction was an 8% slump for the key whole milk powder (WMP). Short-dated contracts fared even worse with regular grade WMP offered by Fonterra, for January 2016 delivery, failing to move from its starting price, which was 15% lower than the previous auction price.
The NZX Dairy Futures market had signalled that prices would fall in the auction, but the magnitude of falls was greater than signposted.
AgriHQ dairy analyst Susan Kilsby said there were now lower expectations for dairy commodity prices for the remainder of the season.
"The current outlook for the dairy markets means it is now unlikely Fonterra will be able to lift its farmgate milk price from its current forecast of $4.60/kgMS," she said.
"There is ample supply of dairy product available in the global market and buyers generally have plenty of stock on hand so there is little urgency for them to secure additional stock. The reduction in milk being produced in NZ is being offset by European dairy farmers producing more milk. Until global milk supplies drops further, prices are likely to remain subdued," Kilsby said.
And meanwhile, ANZ economists are still struggling to see how Fonterra would get even a $4.60 price, and are still retaining their own forecast for a return of $4.25-$4.50 this season.
However, ASB economists - who generally remained more upbeat at a time earlier this year when global prices bottomed and other economists were talking about a milk price well under $4 - are sticking with their pick of a $5 price. Rural economist Nathan Penny said with NZ production "falling hard", dairy markets are turning to other producers to fill the gap.
"As EU, US and Australian production holds up relatively better, markets anticipate other producers can offset NZ declines. We think this market assumption is misplaced - lost NZ exports are too big to cover. NZ production has not fallen this hard since 1999. Moreover, NZ is the largest dairy exporter, and in particular exports the lion's share of WMP. The EU and others cannot fill the NZ hole. As a result, we expect dairy prices to regain recent losses and for prices to move higher over the course of the 2015/16 season. Consequently, we stick with our milk price forecast of $5.00/kg."
But ANZ rural economist Con Williams said for dairy farmers, the concern remains that prices (at US$2,569/t) are still quite someway below what Fonterra flagged (US$3,000/t) after its financial results as needed to deliver its current forecast of $4.60/kg MS.
"By our assumptions, US$3,000/t should deliver something around the high $4/kg MS, as opposed to mid $4/kg MS. But we don't have full disclosure to all the working assumptions.
"So if reported correctly it highlights either a worse cost base, higher currency assumption, or slower track in the recovery to US$3,000/t. We suspect it could be a bit of all these things, combined with a touch of conservatism.
"All up it suggests cash-flow will remain tight for dairy farmers into at least the middle of next year and conservative budgets will continue to dominate as market pricing moves more back into line with our current milk price range of $4.25-$4.50/kg MS," Williams said. 
He said milk production now appeared to be tracking 3-4% behind the same period last year. Earlier on it had been tracking 6-7% behind due to a slow start for spring pasture growth and other farm management changes.
"While backward looking New Zealand export data for September was disappointing, and combined with the pick-up in milk flows and some auction volumes potentially failing to clear overnight, this will only increase speculation of increasing inventory levels.
"Offshore European milk supply continues to expand and China's latest import data for September suggests import demand could be up to 3.5 billion litres (liquid milk equivalents) lower in 2015 for the main commodity products, or nearly 19% of New Zealand's annual production."
ASB's Penny said the ASB economists expect production to fall 6% this season compared to last, which would equate to the largest fall since 1999.
"NZ farm cashflows remain very tight and cow numbers are down significantly. Moreover, with milk production past its peak and el Niño in the mix, there is little prospect of making up lost ground later in the season. With that in mind and as markets discover that milk is thin on the ground over coming months, we expect prices to regain the lost ground from the last two auctions."
Labour's finance spokesperson Grant Robertson said the latest dairy price falls showed the National Government need to "stop sitting on its hands and come up with a plan to diversify the economy".
"Despite Fonterra putting less product up for sale – as it has done in better recent auctions – prices have fallen significantly. With Europe increasing its production levels there's little chance of a major recovery for the rest of the year.
"After large fluctuations over the past few months, dairy prices are now where they were a year ago – a time when John Key said he expected a rebound.
"New Zealand is too reliant on such a volatile commodity. No sensible long-term investor would put so much of their portfolio in such an unpredictable investment. They would diversify and spread the risk so they are not so reliant on it."