ASB economists believe attempts to take advantage of higher Whole Milk Powder prices by offering bigger volumes for sale have come at a cost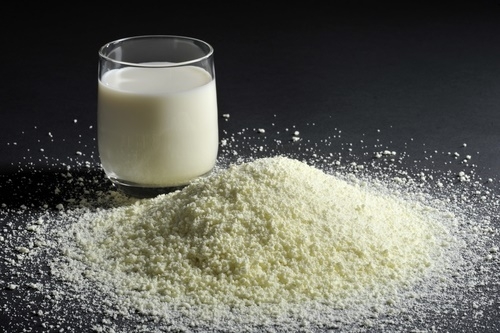 By David Hargreaves
ASB economists, who led the market in picking the big upturn in global dairy prices in the second half of last year, are now saying there's a downside risk to their pick of a $6.50 per kilogramme of milk solids price for farmers this season.
The prediction of a $6.50 price by ASB senior rural economist Nathan Penny was made only shortly before Christmas, replacing an earlier pick of $6, which had stood for several months and was made at a time when other economists, market observers, and the giant Fonterra Co-operative itself, were suggesting much lower returns.
But having long been 'bulls' on the global dairy market relative to other observers, the ASB economists are now sounding a big note of caution.
This follows the latest GlobalDairyTrade  auction overnight in which average dairy prices as measured by the GDT Index shuffled up 0.6%, but the key Whole Milk Powder prices slipped on average by 0.1% to US$3,283. Longer dated delivery contracts fell by a little more than that.
ASB's Penny said that production flexibility is a good thing, and when used well, production can be switched to higher-priced products from lower-priced ones. On this basis, the milk price can be maximised.
"But it is not a one-way bet.
"In particular, Fonterra must tread lightly when it comes to whole milk powder (WMP) – because it has pricing power.
"In our view, recent moves to take advantage of higher WMP prices have come at a cost.
"The extra WMP offered has depressed the price significantly compared to what we anticipated it would be.
"And despite a higher weighting for higher-priced WMP, the overall result is likely to be a lower overall milk price."
Penny said the overnight auction result "cements" recent WMP weakness.
"At the previous auction, WMP dropped 7.7%, although a lack of buyers hinted that the fall could have been put down to a 'holiday effect'.
"However, at the auction overnight buyers returned, but prices stayed low. As a result, we put the recent weakness down to another factor, recent increases in WMP offer volumes. For example, the WMP volumes on offer overnight were 17% higher than forecast as at the start of December. Moreover, with prices now settling at around US$3,300, we suspect that the increase in offer volumes has been counterproductive overall.
"While it makes sense to make advantage of production flexibility and, in this case, switch to more profitable WMP, this switch has slammed the brakes on WMP prices.
"Moreover, in a previous note and prior to the change in volumes, we anticipated that WMP were on their way to US$4,000/MT."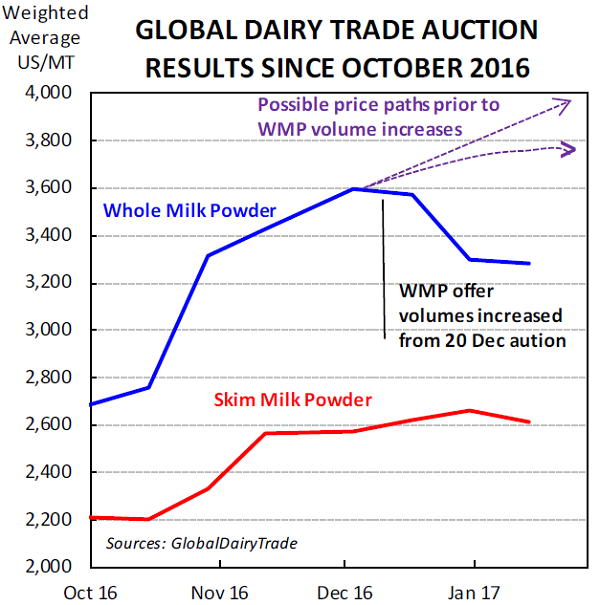 Penny said the implications of the latest developments and weaker auction results were "some downside risk" to ASB's 2016/17 milk price forecast.
"But for now we stick with $6.50/kg."
Fonterra initially forecast a milk price for farmers this season of just $4.25, but has been increasing this as prices globally have rallied. The last increase - to the current $6 - was made on November 18. 
Among the bank economists Westpac have been forecasting a $6.20 price, ANZ economists have  a current expected milk price this season of $6.25,  BNZ economists recently raised their forecast to $6.40, while ASB economists who had stood alone in forecasting a $6 price much earlier in the season when the average consensus was for a much lower price, lifted their pick shortly before Christmas to their current $6.50 price.
See here for the full dairy payout history.