Fonterra announces net profit of $745 mln; drops season end milk price by 3c to $6.12, making final payout of $6.52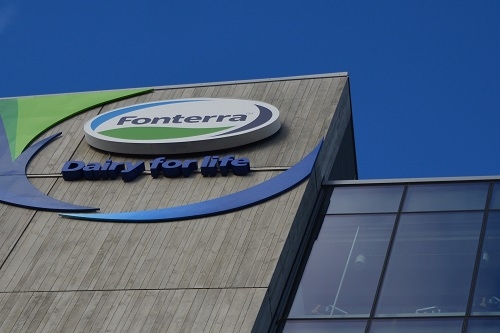 By David Hargreaves
Giant dairy co-operative Fonterra's announced an 11% fall in after-tax profits to $745 million for the year to July 31 and has trimmed the final farmers' milk price payout to $6.12 per kilogramme of milk solids.
With the previously announced dividend of 40c this gives a cash payout of $6.52 for the year. Fonterra makes no mention in its main announcement to NZX why the final milk price has been reduced from the last signalled price of $6.15.
The reduction in profit of the co-op was to be expected as, somewhat contradictorily, Fonterra's cost of goods increases if the milk price rises - as it has in the past year.
Fonterra maintained its forecast for the current year of a milk price of $6.75 per kgMS with a forecast earnings per share range of 45-55 cents per share. The 45-55c per share eps figure is the same as in the past year, which produced a 40c dividend. So, this would suggest a current target of a cash payout of $7.15 in the current year.
ASB senior rural economist Nathan Penny said: "Fonterra continues to make financial par, but no more than that."
He said it was not surprising that the lift in the milk price over 2016/17 put the squeeze on profits.
"Interestingly, Fonterra anticipates making a similar profit this season despite the likely further improvement (of around 60 cents) in the milk price. In our view, delivering on this expectation would represent material financial performance progress for Fonterra. However, time will tell on that front.
"On the farmgate milk price side, we are more confident - we continue to forecast a 2016/17 milk price of $6.75/kg. Although as we have stated recently, if the weather and NZ production don't improve, we expect to lift our milk price forecast to $7.00/kg or above in the next month or so."
Chairman John Wilson said Fonterra was "well positioned to deliver higher volumes and new product formats in our Consumer, Foodservice, and Advanced Ingredients portfolios, and are confident in our forecast earnings per share range of 45-55 cents".
As far as the year recently completed goes, Fonterra gave this set of highlights:
Highlights
• 2016/2017 Total Cash Payout $6.52, up 52% on last season
- Farmgate Milk Price $6.12 per kgMS
- Dividend of 40 cents per share
• Revenue $19.2 billion, up 12%
• Normalised EBIT $1.155 billion, down 15%
• Net Profit After Tax (NPAT) $745 million, down 11%
• 46c earnings per share
• Significant growth in Consumer and Foodservice – additional 576 million LME
• Advanced Ingredients sales growth up 9%
• Group Return on Capital of 11.1%
As stated there, revenue increased by 12% to $19.2 billion, with rising prices offsetting a 3% decline in volumes at 22.9 billion LME. Normalised EBIT of $1.2 billion was down 15% as a result of reduced margins across the business which also influenced net profit after tax, down 11% at $745 million.
Wilson said Fonterra's ability to maintain its forecast dividend despite the Milk Price increasing by 57% over the year and the impact of negative stream returns "was an excellent result".
"We will always need to manage variability across our Co-operative – both in global markets and in our local farming conditions. We've demonstrated our ability to deal with those conditions and deliver on our strategy again this year," said Mr Wilson.
"Over recent seasons, our farmers have made significant personal sacrifices to reduce costs through a sustained low milk price period.
"As part of our continued business transformation, the Co-operative has also made a fundamental shift in the way it operates, continuing the strong focus on increased efficiency and developing new revenue streams.
"Despite lower milk volumes due to poor weather in parts of the season, the business delivered a good result by prioritising higher value Advanced Ingredients and growing our sales of these in-demand and specialised products by 473 million LME this year."
You can click here for:
The farmgate milk price statement
See here for dairy payout history.