Reserve Bank statistics show New Zealanders increased the amount in their bank accounts by another $1.2 billion last month and the annual rate of saving is now at its highest level in nearly three years; business lending, however, has dried up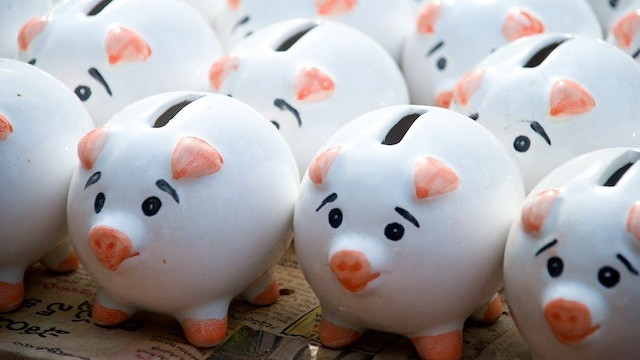 The annual rate of household deposits growth for Kiwis has hit its highest level in nearly three years. However, lending to businesses has dropped off sharply.
According to deposits data compiled by the RBNZ the amount held by Kiwi households in the bank increased by a further $1.247 billion in July, bring the amount sitting in bank deposits to $196.334 billion. 
The annual rate in growth rose to 8%, which is the highest level seen since October 2017.
But those figures tell only part of the story, because early this year before Covid emerged, deposit growth rates were falling towards 4% on an annual basis, only to kick seriously up in March as we closed our borders and contemplated heading into lockdown for the first time.
In the past five months, household deposits have risen by a whopping $11.848 billion (a 6.4% increase in the total).
Whether that money will stay there with the wage subsidy drawing to a close remains a key question.
And while the overall total of deposits rose in the past month, it's notable that there was an around $900 million drop (to just over $100 billion) in the amount held by households in term deposits.
The increase in the overall totals on deposit for households came from a $1.353 billion rise in savings accounts and an $823 million increase in transaction account balances.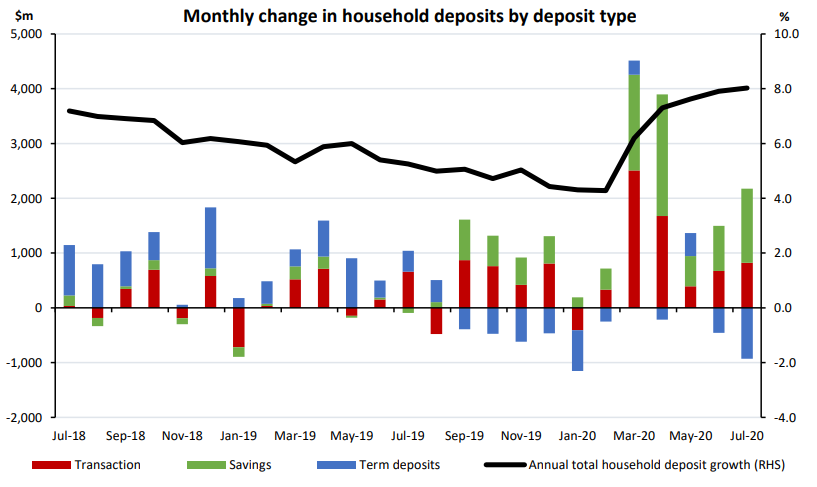 Looking at lending information, however, the figures for business lending make grim reading.
The amount of lending to business fell by $1.987 billion in July. Since April business lending has dropped by $5.229 billion - or 4.2% - to a total of $118.193 billion.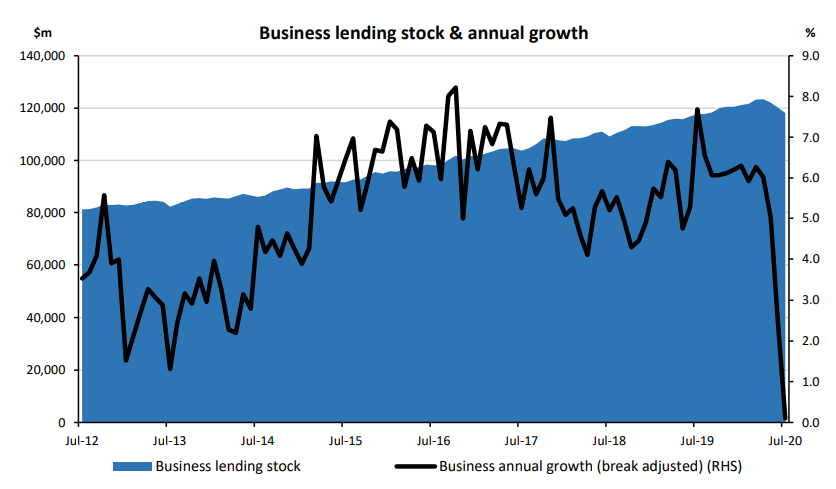 Other key points noted by the RBNZ in its month-end figures, included:
Housing lending stock rose by $1.9 billion (0.7%) to $285.6 billion in July. This included a $1.4 billion (0.7%) increase in owner occupier and $0.5 billion (0.7%) increase in investor lending.
Further movement into principal & interest (P&I) lending from interest only was noted in July as interest only housing lending fell by -$2.0 billion (-3.0%), while P&I lending rose by $4.1 billion (2.0%). Of all housing lending 22.6% was interest only as at the end of July 2020.
Total consumer lending fell by -$199 million (-1.3%) to $14.9 billion in Jul. This included a -$124 million (-1.3%) decline for banks and -$75 million (-1.4%) decline for non-banks.
Total business lending witnessed another large drop in July, down by-$2.0 billion (-1.7%) to $118.2 billion. Annual growth also fell sharply to just 0.1%. Business lending has declined by -$5.2 billion (-4.2%) since the end of April 2020. The shift back in to P&I lending continued in July as P&I lending increased by $786 million (2.4%), while interest only lending fell by-$1.2 billion (-2.4%).