Gareth Vaughan wonders whether the only way New Zealand will get a circuit breaker to our housing affordability woes will be if there's a severe housing market downturn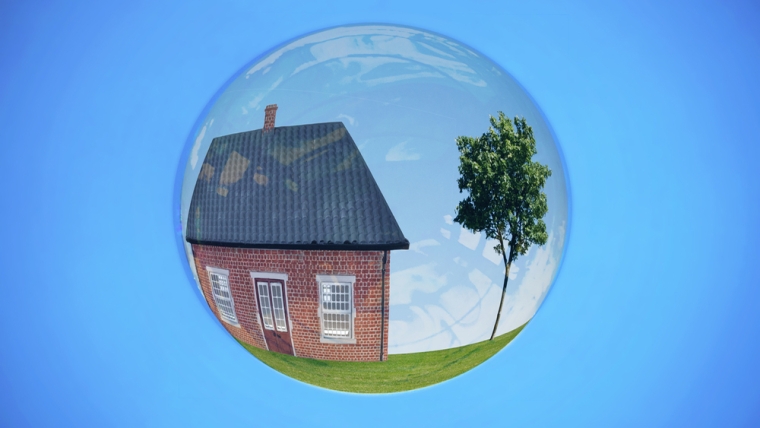 By Gareth Vaughan
As 2020 rolled into 2021 and housing affordability at times managed to replace COVID-19 as the main news story, I've wondered whether New Zealand will ever find a circuit breaker.
Will we ever build enough houses to really move the dial? Will land prices be forced significantly lower? Will attitudes towards renting and long-term renting options change to the extent a large slice of the population is happy to rent for life? Will there be massive wage and salary increases? Will banks' housing loan appetites be weakened by changes to capital rules? Or, most importantly, will enough voters demanding change exert enough influence in focus groups run by the two main political parties?
In the interest.co.nz office a few years back, when the housing market was on one of its many tears, you'd often hear one of us say; "You can't lose with property mate." Inevitably this was when the latest monthly Real Estate Institute of New Zealand (REINZ), Barfoot & Thompson or Quotable Value figures were released. We said this in a joking manner. But it's clearly a saying that's believed by many Kiwis.
I was reminded of the "you can't lose with property mate" saying this week when I read the Reserve Bank's regulatory impact statement on the reinstatement of loan-to-value ratio restrictions (LVRs). It was the paragraph below that jogged my memory.
We acknowledge that we do not currently have evidence from New Zealand to suggest that default rates are higher for investors than owner-occupiers. However, this needs to be seen in the context of the housing market having had no severe downturns in recent history (since the early 1990s at least). The absence of a severe housing market downturn in the last 30 years is not evidence that one could not occur in future, and data on investor behaviour in prior shallow downturns may not be a good guide to the consequences of a future severe downturn. Moreover, as discussed above, the recent growth in lending to investors has been significantly higher than lending to other borrowers, and a higher share of this lending is occurring at high LVRs. This suggests that highly-leveraged investors are playing a key role in recent rapid house price inflation, which in turn increases the risks of a future sharp correction.
This lack of a severe New Zealand housing downturn presents a challenge for the Reserve Bank. When making a case for the need for LVR restrictions, or any other curbs on the housing market, the central bank can point to examples in Ireland, the United Kingdom and United States all it wants. "But that didn't happen here... And that couldn't happen here... You can't lose with property mate," critics respond.
I'm now wondering whether the circuit breaker could actually only be a severe downturn, with all the pain it would entail.
The 1987 share market crash taught many New Zealanders a very harsh lesson. In fact it burnt an entire generation and helped push people towards becoming property investors.
Every month interest.co.nz measures housing affordability through our Home Loan Affordability Reports written up by Greg Ninness. The last three headlines have read: Falling interest rates a savage kick in the guts for first home buyers while existing home owners laugh all the way to the bank; Rising house prices more than offsetting benefits of lower interest rates on mortgage payments. And; House prices have risen 5 times as much as wages for typical first home buyers over 3 years.
That gives you a flavour of how challenging it is for wannabes to buy a home.
However, Statistics NZ figures show 65% of households owned their own home in the third quarter last year. Although that was down from 74% in 1991, it's still a decent chunk of the population. And it's this part of the population our politicians focus on.
Prime Minister Jacinda Ardern told my colleague Jenée Tibshraeny in December she wants to see small increases in house prices, and most people expect the value of their most valuable asset (their house) to keep rising. Rising house prices was also a path to success for John Key when he was Prime Minister. Key once described rising house prices as a sign of our success.
 At the moment super low interest rates are making it easier for those who do manage to crack the housing market to service the mountain of debt most require to do so. But much of the lending has been going to investors.
Reserve Bank figures released on Friday afternoon, covering new residential mortgage lending by borrower type for the month of December, show investor lending up 89% year-on-year to $2.454 billion. Lending to first home buyers rose 39% to $1.686 billion. Total lending surged 48% to $9.652 billion, the highest monthly total since the Reserve Bank began collating this data in 2014. 
Meanwhile REINZ figures show median national house prices increased $121,000, or 19.3%, in the year to December 2020 reaching $749,000.
No wonder Shayne Elliott, CEO of the ANZ Banking Group, said this week ANZ's New Zealand staff had been "run off their feet."
Recently I interviewed ASB CEO Vittoria Shortt. Among the questions I asked her was whether house prices need to fall.
"One of the concerns that I have in what are already pretty uncertain times, is that anything that happens in something as significant as the housing market needs to be very orderly. Because what we don't want to create [is] real concern, blanket concern across every New Zealander who has a house or who is investing in houses. So whatever happens it needs to be orderly. And I'm not sure that decreases in prices now would be an orderly outcome," Shortt said.
ASB is our second biggest home lender after ANZ. ASB's recent half-year financial results showed gross loans of $95.5 billion, of which $65.8 billion, or 69%, are home loans.
A significant fall in house prices would almost certainly be disorderly. Especially as such a scenario would likely be caused by a significant rise in unemployment and/or surging interest rates. Many recent first home buyers would be hit hard.
The concept of negative equity would get regular mentions in the media. It would be painful. But we might actually learn, the hard way, that house prices can actually fall. Doubtless those impacted would remember for the rest of their lives. And stories of the Great House Price Crash would be passed down through generations like tales from the Great Depression have been.
But given the dominant position of housing in New Zealanders' wealth, economy and banking system, would the Government and Reserve Bank allow it to happen? Or would there be bail-outs all around? It's hard to imagine there wouldn't be strenuous efforts, with billions of dollars splashed around, to prevent a housing meltdown. Because in a New Zealand context housing is simply too big to fail.
Thus we may be waiting for some time for a circuit breaker to our housing affordability woes. So don't hold your breath.