Is the Reserve Bank's focus on the moveable feast of maximum sustainable employment appropriate, or could something like a government job guarantee be a better way of dealing with unemployment?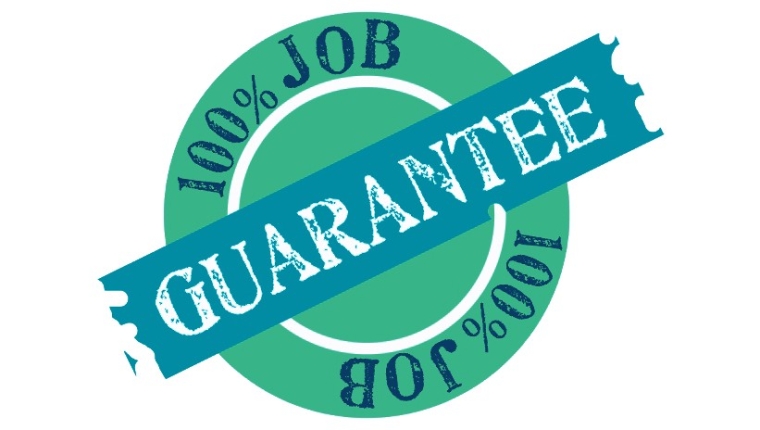 By Gareth Vaughan
This Wednesday the Reserve Bank is set to review the Official Cash Rate (OCR) in what will be one of its more closely watched monetary policy decisions for some time.
Bank economists and financial markets are anticipating the OCR will be increased from its current record low of 0.25%. But as COVID-19 continues to run amok around the world, others argue the Reserve Bank should hold fire.
Aside from concerns about rising inflation, a key factor the Reserve Bank must consider is the labour market. That's because the central bank's monetary policy remit sets out that it must support maximum sustainable employment.
The thing is, as the Reserve Bank acknowledges, maximum sustainable employment is not defined by a single number. The level of maximum sustainable employment can vary over time due to temporary or permanent structural changes in the economy, the Reserve Bank argues.
According to Statistics New Zealand, unemployment dropped to 4% in June from 4.6% in March. The average economists' forecasts had been for a 4.4% unemployment rate, while the Reserve Bank itself had forecast 4.7%. Off the back of this data bank economists were quick to say the Reserve Bank must start hiking the OCR, with ANZ economists saying "we've flown past full employment."
However, even at 4% unemployment, Statistics NZ points out there are 117,000 people without jobs. Within this, the proportion of people aged between 15 and 24 not in employment, education, or training is 10.8%. And the unemployment rate for both Māori and Pasifika is 7.8%.
The targeting of maximum sustainable employment was added to the Reserve Bank's monetary policy mandate in 2018, alongside the target for inflation of between 1% and 3% with a focus on keeping future average inflation near the 2% midpoint. The idea is that maximum employment is the highest level of employment or lowest level of unemployment the economy can sustain while maintaining a stable inflation rate.
The adding of employment to the Reserve Bank's monetary policy targets, championed by Finance Minister Grant Robertson, brought New Zealand in line with the United States and Australia. However, ex-Reserve Bank Chairman Arthur Grimes and former Governor Don Brash were critical of the move, saying having two potentially divergent policy objectives could create uncertainty.
"Almost every episode of financial instability in the world has come out of the US, and a lot of that is sheeted home to their dual targeting system," Grimes told RNZ in 2018.
(The Reserve Bank is also now required to consider the impact its monetary policy decisions have on house prices).
Over the years various approaches to unemployment, other than paying an unemployment or jobseeker benefit to those out of work, have been touted. One that has gained some traction in recent years is a Universal Basic Income, or UBI. This concept has been trialled overseas, including in Finland, and locally its most vocal proponent has probably been Geoff Simmons, former leader of The Opportunities Party.
And in this year's Budget Robertson said the Government is looking at establishing a Social Unemployment Insurance scheme, which would ensure people who lose their jobs temporarily receive more support than they would going into the regular welfare system.
What about a job guarantee?
Another concept, which has gained some traction overseas notably in the US where unemployment spiralled at the onset of the COVID-19 pandemic, is the idea of a government job guarantee. A contributor to this is a book by Pavlina R. Tcherneva, The Case for a Job Guarantee. Tcherneva is Associate Professor of Economics at Bard College and a Research Scholar at the Levy Economics Institute.
According to Tcherneva, her book presents the case for the "overwhelming benefits" of a job guarantee and the blueprint for its implementation. The book's US centric and short on detail about what to do with people who simply can't or won't work. But the job guarantee concept is certainly transferable to New Zealand.
"The job guarantee is a public policy that provides an employment opportunity on standby to anyone looking for work, no matter their personal circumstances or the state of the economy. It converts the unemployment offices into employment offices to provide voluntary public service work opportunities in a wide range of care, environmental, rehabilitation, and small infrastructure projects," Tcherneva says.
She argues that research from psychology, the cognitive sciences, and public health shows the costs of unemployment, poorly paid employment, unstable and erratic employment and involuntary part-time employment are "simply staggering," suggesting we should think of unemployment as a "vicious, chronic and deadly disease."
She talks about thinking of the right to a job in the same way people think of the right to a pension when they retire or the right of children to education. Monetary and fiscal policies that treat unemployment as "natural" and "unavoidable" perpetrate "vandalism" on people, communities and the environment, says Tcherneva.
"Once we take into account its social, economic and environmental costs, it becomes clear that unemployment is already 'paid for' and the price tag is high," Tcherneva says.
"Employing someone is not less productive than keeping them unemployed."
The job guarantee offers a living wage floor for all working people. The living wage in New Zealand is set to rise 65 cents an hour to $22.75 on September 1, versus the current minimum wage of $20 an hour. The job guarantee, as proposed by Tcherneva, would be a central government programme in cooperation with local governments and non-profit organisations.
A countercyclical programme & powerful shock absorber for the economy
Tcherneva says the job guarantee would act as an employment buffer stock scheme with the added benefit that it stabilises the wage floor, overall prices, and the economy as a whole. She argues it would stabilise the price of an essential resource in the economy being labour.
"Mass layoffs in recessions depress worker wages and total demand, putting downward pressure on all prices. By employing the unemployed, the public option would maintain full employment at living wages, ensuring a much more robust floor to collapsing aggregate demand than in conditions of chronic unemployment. When the economy recovers and firms resume hiring, workers would transition from the job guarantee program into private sector employment. Government spending and payrolls would shrink, relieving any potential inflationary pressures from private sector hiring and the increased demand."
"This countercyclical feature of the program, offsetting changes in private sector demand for workers, would stabilize both economic and price fluctuations and could be strengthened by training, credentialing and other efforts to transition job guarantee workers to better paid employment opportunities," she says.
"In other words, the job guarantee would provide an economy-wide living wage floor, true full employment, and a powerful shock absorber for the economy."
Paying for it
As a Modern Monetary Theory (MMT) economist, Tcherneva argues paying for a job guarantee rests on the understanding that any monetarily sovereign government, like the US or NZ that issues and controls its own currency, may run out of real resources, be they human or natural, but can't run out of finance. 
"Thus how to pay for the job guarantee is much easier than addressing how to implement it and make it workable...With conservative assumptions about the potential savings, the budgetary impact of the program in the higher bound scenario is less than 1.5% of GDP [Gross Domestic Product] per year," says Tcherneva.
She rails against the NAIRU, or the non-accelerating inflation rate of unemployment, a different term for maximum sustainable employment, or an unspecified level of unemployment that doesn't cause inflation to increase.
"The idea that involuntary unemployment is an unfortunate but unavoidable occurrence, and that there is an appropriate level of unemployment necessary for the smooth functioning of the economy, is among the great, unexamined myths of our time, it is also bad economics," Tcherneva says.
"Unemployment has become far too abstract and paradoxically impersonal. Few things are as personal as losing one's job, and yet most economists and policy makers talk about unemployment much like meteorologists talk about the weather."
Highlighting care jobs for the young and elderly, environmental work and small infrastructure projects as potential areas of work for a job guarantee, Tcherneva suggests people could find local work in a community project that matters to them. And in a lofty, big picture sense she suggests a job guarantee could be "the basis of a global Marshall Plan that tackles the twin threats of environmental and economic insecurity."
Green work
In a Bloomberg interview last year, Tcherneva shed more light on how a job guarantee might operate.
You don't want the public sector to compete with the private sector. We're not going to be building electric cars and doing things for commercial return. If it is a public objective to provide an employment safety net it should create something  of social value and we have lots of neglected areas.

So I think the obvious place to go is really green work, community rehabilitation, environmental projects, dealing with things like flood control, fire prevention, the damage from hurricanes and other natural disasters.  In other words we can borrow from FDR's playbook and we can use some of that experience but really adjust it for the modern day.

A lot of environmentalists talk about trees as the lungs of urban spaces. It seems like a pretty easy, straight forward thing to do but it has huge effects on our living environment. So that would be where I would go to create employment opportunities.

But broadly I talk about care work. We have shortages in care for the elderly, for at risk youth. So anything and everything from after school activities, to classes and training, to recycling initiatives, urban campuses, to community gardens...to dealing with the fires in California.