ASB the biggest user of the public money on offer via the Reserve Bank's Funding for Lending Programme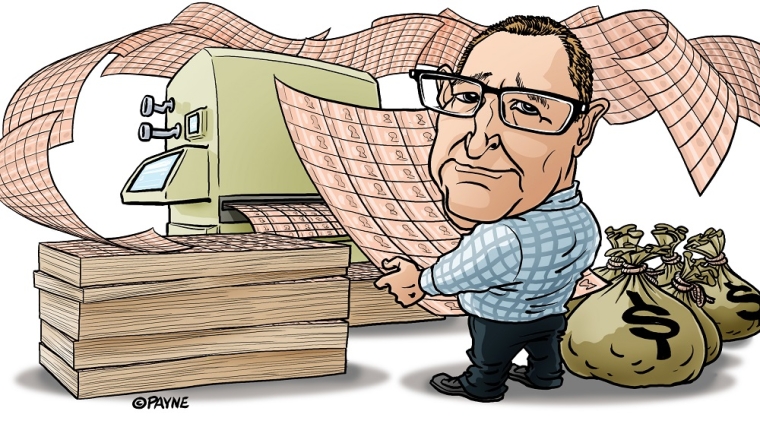 ASB is the biggest user of the Reserve Bank's controversial and ongoing Funding for Lending Programme (FLP), which was introduced in 2020 with the aim of lowering interest rates and encouraging households and businesses to spend and invest.
The most recent figures available from the Reserve Bank show that, as of July 18, banks have borrowed $12.660 billion via the FLP. Banks are free to use FLP money as they choose, with up to $28 billion available to them.
Interest.co.nz asked individual banks how much they've borrowed. Of the big banks, ASB has borrowed $3.8 billion, BNZ $2.1 billion, ANZ $1.75 billion, and Kiwibank $1.1 billion.
A Westpac spokeswoman says the bank doesn't comment on FLP drawdowns. However, Westpac's latest general disclosure statement shows that, as of March 31, it had accessed $2 billion through the FLP.
Among smaller banks, The Co-operative Bank has tapped the FLP for $120 million, and SBS Bank has borrowed $164 million. An SBS spokeswoman says this is "in line with the bank's allocation to date."
A TSB spokeswoman says TSB hasn't accessed the FLP, and has no plans to do so.
So the seven banks we know have accessed the FLP have, combined, borrowed at least $11.034 billion. It's possible the balance of $1.626 billion, or the bulk of it, has been sourced by Westpac since March 31.
The FLP was launched by the Reserve Bank in December 2020 to provide additional monetary stimulus to the economy to help the central bank meet its consumer price inflation and employment monetary policy remits by reducing banks' funding costs and lowering their borrowers' interest rates. 
The three-year FLP funding is available to banks over a two-year period running until December 6 this year. The FLP allows eligible banks to borrow directly from the Reserve Bank at the Official Cash Rate (OCR) with the borrowing rate adjusting over the term of the transaction if the OCR changes. The OCR was 0.25% when the FLP launched and is 2.5% now.
Collateral needed
The way the FLP is designed means it's set up for residential mortgage lending banks. SBS Bank, for example, noted as of March 31, it had pledged $119 million of residential mortgage-backed securities as collateral for the $100 million it had drawn down through the FLP at that point. 
FLP funding is structured as floating rate repurchase transactions priced at the OCR for a term of three years. Bank participants can access the funding at the equivalent of up to 6% of their total outstanding loans. Eligible securities banks can pledge as collateral for FLP money include Residential Mortgage Backed Securities, New Zealand Government Securities, and Kauri debt issues.
SBS Bank notes its initial allocation, being 4% of eligible loans as at 31 October 2020, able to be drawn down between 7 December 2020 to 6 June 2022, is $164 million. 
"An additional allocation may be drawn down equal to 50c for every dollar of net growth in eligible loans from 1 November 2020 up to a maximum of 2% of eligible loans as at 31 October 2020. The additional allocation can be drawn down until 6 December 2022," SBS Bank says in its latest general disclosure statement.
The sums bigger banks are able to access are obviously much bigger and well into the billions.
Heartland Bank CEO Chris Flood told interest.co.nz last year that Heartland would need a bigger mortgage book to be able to participate in the FLP. 
Although it does some home lending, Heartland's bigger lending exposures are in vehicle lending, small business lending, livestock finance and reverse mortgages. Flood said Heartland thought the Reserve Bank could've used motor vehicle assets as collateral for FLP money but the central bank chose not to.
A solution looking for a problem
When launching the FLP the Reserve Bank said it would make banks less reliant on more expensive deposits and wholesale borrowing, thus lowering their overall funding costs. Banks could then pass these reductions on to their borrower customers through lower mortgage and business lending rates.
However, by the time it launched the FLP was arguably already a solution looking for a problem, with the most dire economic predictions in the early days of the Covid-19 pandemic not coming to fruition. Earlier government and Reserve Bank support measures including the Wage Subsidy, OCR reduction to just 0.25% and Reserve Bank quantitative easing, or government bond buying programme, were already stimulating economic activity. Asset prices were surging with Real Estate Institute of New Zealand data showing national median house prices up 18.5% year-on-year to a new record median high of $749,000 in November 2020.
The FLP hasn't been good for savers and it's not designed to be given the aim of reducing banks' funding costs including the deposit rates they pay savers. In its February Monetary Policy Statement the Reserve Bank noted; "Term deposit interest rates fell to historical lows in 2020, in part due to monetary policy actions including the Funding for Lending Programme."
At the time of launch the Reserve Bank said the effectiveness of the FLP would depend on banks passing on declines in their funding costs to borrowers, and it would monitor pass-through to lending rates closely. The success of the programme would be measured by the fall in household and business borrowing rates, rather than the level of drawdown.
So what have banks used the FLP money for?
Interest.co.nz also asked the banks what they've used the public money they've obtained via the FLP for.
An ASB spokeswoman says the bank is putting it "towards supporting lending for productive and sustainable purposes to benefit all New Zealanders. This includes low cost loans for new builds to help boost New Zealand's housing supply, lending to large businesses investing in infrastructure and sustainability projects and low-cost rural sustainability lending for farmers making environmental upgrades."
ANZ says the money has been used "to meet the bank's general funding requirements."
A BNZ spokesman says the bank has "run its 'Good to Grow' low-cost lending programme for businesses, supporting many customers through the pandemic to invest, grow, and drive digital and sustainable change to take advantage of new consumer behaviours."
"We've also made drawdowns as a prudent measure to secure funding and support our customers in the face of ongoing uncertainty and volatility in global markets, particularly with the war in Ukraine and inflation spiking in many key economies around the world," the BNZ spokesman says.
A Kiwibank spokeswoman says the money has been "used for general lending purposes." 
A Co-operative Bank spokeswoman says FLP money has been used "to fund lending growth including lending to first home buyers."

And SBS Bank's spokeswoman says the bank has used FLP funding "to provide additional support to first home buyers."
*This article was first published in our email for paying subscribers early on Thursday morning. See here for more details and how to subscribe.