Former RBNZ chairman Arthur Grimes suggests the central bank might want to consider reversing the interest rate cut it made a month ago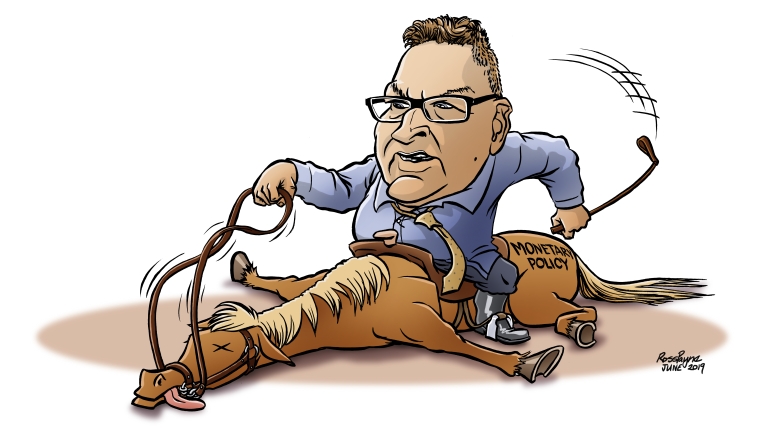 Former Reserve Bank chairman Arthur Grimes says the central bank's cut to the Official Cash Rate last month was "unwise and unnecessary" and he thinks consideration should be given to reversing the cut.
Grimes, who was RBNZ chair between 2003 and 2013 and is an academic and a senior fellow at Motu Research, is one of nine panellists/members on the NZ Institute of Economic Research's "Shadow Board", through which the panellists state a view on upcoming OCR decisions.
The latest release from the 'Shadow Board' shows a far bigger range of views than usual and clearly the RBNZ's decision to cut in May has divided opinion among economists, business leaders and academics.
RBNZ Governor Adrian Orr is expected to announce no change to the OCR on Wednesday (June 26), but economists see it as likely there will be a further cut later this year, although there's also suggestions that with rates so low the central bank may be running out of ammunition and have to look at alternative means of supporting monetary policy outside of the OCR. 
Grimes clearly doesn't agree with such thinking, however.
He says conditions imply "no need to change the OCR right now".
However, this needs to be "balanced against the unnecessary (and unwise) cut to the OCR at the last decision".
He says it is therefore a "50:50 call" on whether to leave the OCR where it is or to actually reverse the previous cut.
Fellow panellist Viv Hall of Victoria University says for now, monetary policy through its most recent OCR cut has "already maximised the support it can provide to maximum sustainable employment".
"Any further contribution must now come from other, including fiscal, policies. Nontradables inflation continues to ease upwards. Some global trade and growth issues remain of concern, but domestic medium-term growth promises to be stronger than current and recent performance."
Another 'board' member Kerry Gupwell, CEO of environmental planning and design consultancy Boffa Miskell says he doesn't see the need for a further rate cut at the moment "as we still need to assess the effects/response to; the budget, OCR rate cut and the back down on the capital gains tax".
"However, there is still a sense of increasing concern about the economic outlook and conditions, there seems to be a general slow down in activity and decision making in land use developments and infrastructure – which could be temporary."
BNZ's head of research Stephen Toplis, also on the panel/board, says he doesn't think cutting interest rates now will meaningfully support the RBNZ's objectives "but we also note that the downside risks to growth are growing rapidly such that the expansion could yet slow enough to push the unemployment rate higher and inflation lower". 
However, fellow 'board' member and Kiwibank senior economist Jeremy Couchman says since the May OCR cut, developments have "added weight to further rate cuts".
"Trade tensions have intensified, and local data is pointing to softer growth in the near-term. Markets are doing some of the RBNZ's work. The NZ dollar is weaker and wholesale interest rates have fallen steadily. For this meeting the Bank can afford to be patient," he says .