Having declined to cut the OCR in its last review of 2019, does this mean the RBNZ can ease bank lending restrictions without setting the housing market on fire? We asked the Assistant Governor
Assistant Reserve Bank (RBNZ) Governor Christian Hawkesby is dismissive of the view the Bank's call not to cut interest rates on Wednesday paves the way for it to ease bank lending rules.
ANZ Chief Economist Sharon Zollner believes that the RBNZ's decision to keep the Official Cash Rate (OCR) at 1% increases the likelihood of it loosening its loan-to-value ratio (LVR) home lending restrictions on November 27.
The thinking is that enabling banks to lend to more property buyers with smaller deposits, in an environment with even lower interest rates, could set a rocket off beneath the housing market. Yet with the OCR on hold, the likelihood of the housing market really taking off as a result of eased LVR restrictions, is lower.
What's more, interest.co.nz's David Hargreaves is of the view the RBNZ will give banks a carrot in the form of looser LVR restrictions, before announcing on December 5 that it'll be hitting them with a big stick in the form of robust capital requirements.
Speaking to interest.co.nz, Hawkesby recognised the RBNZ considers financial stability when setting monetary policy, but said: "We don't really get into the fine tuning of how to move one lever so we can move the other lever. We just tend to take them each into consideration separately and we will do that later in the month."
The RBNZ is due to issue its latest Financial Stability Report on November 27.
Hawkesby also made the point that while the RBNZ considers house price inflation when it weighs up what to do with LVRs, the resilience of the financial system, and the household sector to weather different types of conditions, are its main focuses.
Asked whether the financial system and household sector have become more resilient since the RBNZ last reviewed LVR restrictions six months ago, Hawkesby said: "We'll sit down and look through the whole plethora of information…
"That sort of resilience question, and that question about financial stability, is a more slow moving one, and that's why we tend to review it on a lower frequency [than the OCR]."
This graph, published by the RBNZ in September, shows how LVR restrictions have reduced banks' exposures to riskier borrowers. In other words, borrowers with house deposits of less than 10% (blue) or between 10% and 20% (red).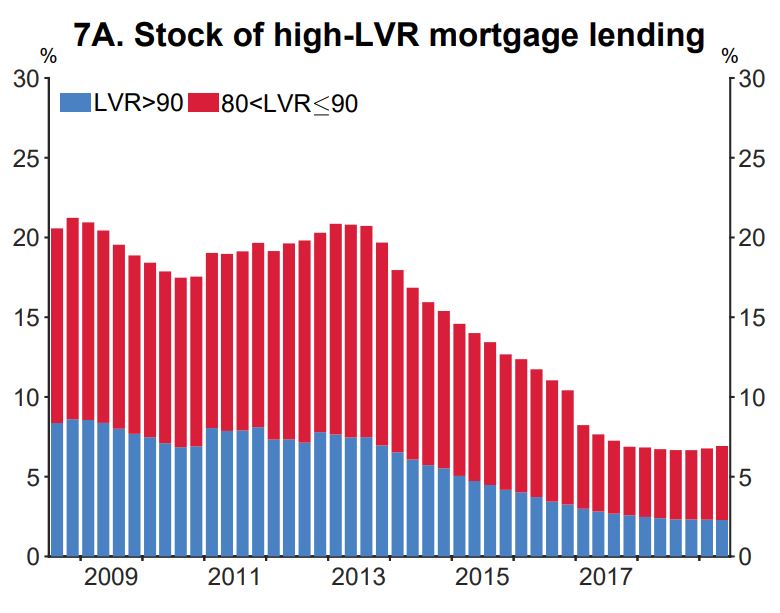 The RBNZ imposed temporary limits on high LVR residential mortgage lending in 2013 and has tweaked these over the years. 
Currently banks are allowed to make no more than 20% of their residential mortgage lending to high-LVR (less than 20% deposit) borrowers who are owner occupiers, and no more than 5% of residential mortgage lending to high-LVR (less than 30% deposit) borrowers who are investors.
Is house price growth doing too much heavy lifting stimulating the economy?
Turning back to the whopper August OCR cut, RBNZ Governor Adrian Orr on Wednesday recognised the housing market is a "big channel" for stimulus to come through.
But he said it wasn't a "one pony show", as lower interest rates should also prompt businesses and the government to borrow and invest more, as well as keep the New Zealand dollar low, making New Zealand exports more attractive overseas.
Nonetheless, the RBNZ now sees house price growth picking up more in the short-term than it did in August.
Meanwhile it sees business investment as a share of GDP only increasing slightly due to low business confidence, uncertainty and subdued growth domestically and globally, and capacity constraints.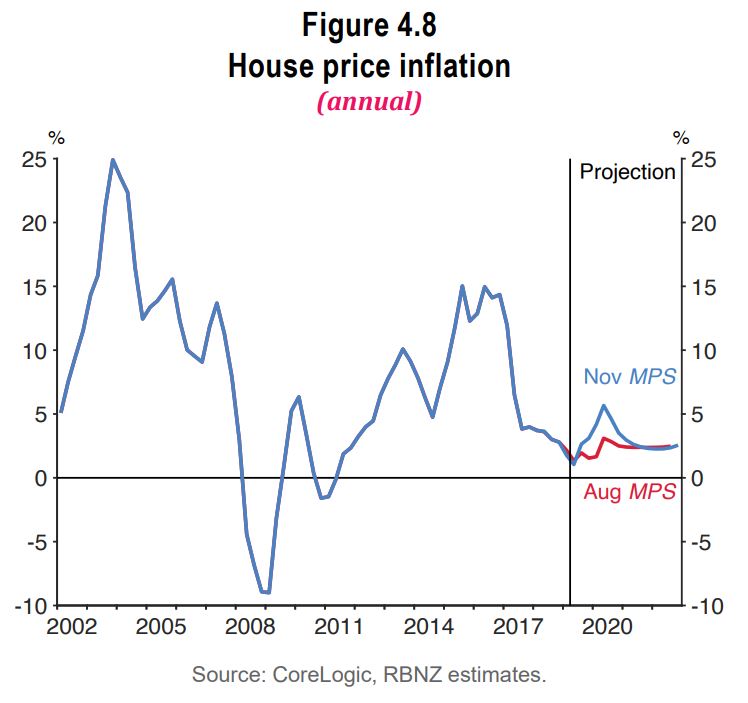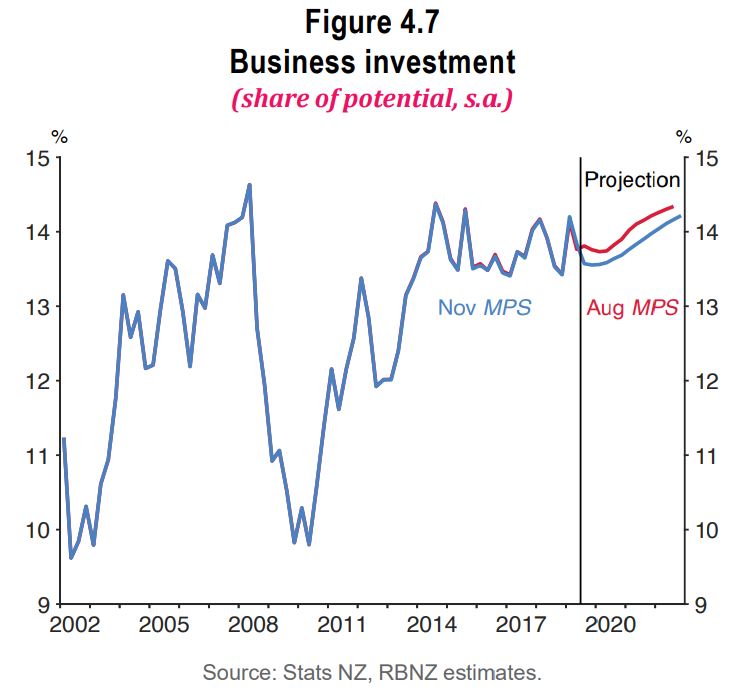 Asked if he was worried about a disproportionate amount of stimulus coming from the housing market, versus business investment, Hawkesby recognised the OCR is a "blunt" tool.
"The challenge we have is that we don't have control over which channel is going to be the strongest. So we monitor how things are playing out."
Hawkesby said he's watching to see how house price inflation feeds into consumption growth. IE people feeling wealthier and spending more.