Reserve Bank leaves Official Cash Rate unchanged at 1.75%; still sees upside and downside risks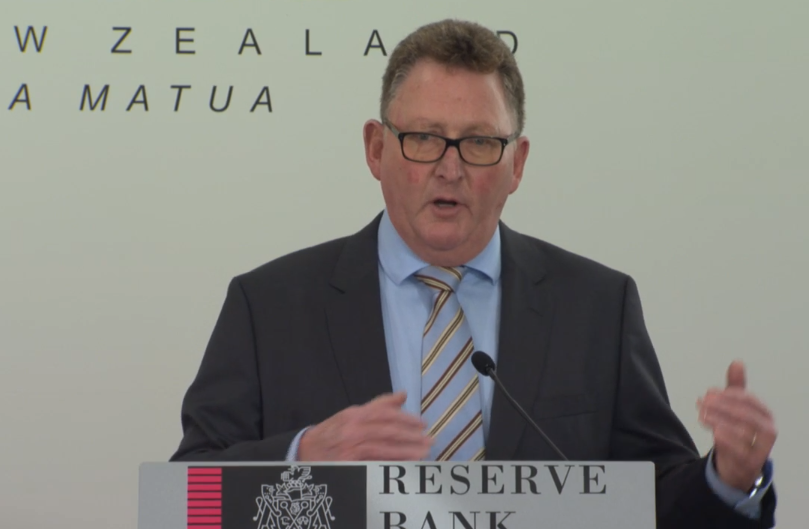 Story updated by Jenée Tibshraeny
The Reserve Bank has as expected left the Official Cash Rate unchanged at 1.75% and says upside and downside risks continue to exist.
The OCR has now been unchanged for two years.
Despite recent economic developments exceeding RBNZ expectations - notably with inflation stronger than expected, economic growth better than expected, and Wednesday's unemployment figures much lower than expected - the RBNZ has made little change to its outlook.
In what is perhaps a significant slight shift though, the statement put out by the RBNZ did remove explicit suggestion that the next interest rate move could be up or down - though such a potential move is still implicitly suggested by the wording in the statement.
At the media conference on Thursday Governor Adrian Orr said the RBNZ had not taken a rates cut "off the table" and said the bank remained "data dependent".
The New Zealand dollar, which took off skyward after the release of the employment figures, was largely unmoved by the RBNZ announcement, at around US67.8c.
In projections contained in the Monetary Policy Statement released on Thursday, the RBNZ has left unchanged the starting point for interest rate rises at September 2020, even though it has substantially tweaked upwards its expectations of short term inflation.
More significantly perhaps, the central bank has revised upwardly its longer view of inflation and now sees the rate hitting 2.1% (which is above its explicit 2% aim) by December 2020. It sees it hitting 2.3% by 2021.
More pigeon than dove or hawk
Kiwibank economists Jarrod Kerr and Jeremy Couchman characterise the RBNZ's risk assessment as "pigeon-like" - "look out for everything up and down".
They say the shift is a welcome move from the very dovish, more risks to the downside, commentary in August.
"But we must note, the bank is far from hawkish, as the risks from above need time to play out."
Westpac chief economist Dominick Stephens is on the same page, but maintains the "new" RBNZ is still more dovish than the old. 
He says it's extraordinary the RBNZ is forecasting that inflation and employment will overshoot the targets in the medium term, yet it isn't planning to remedy that by raising the OCR.
"This could become a theme – strong data but a Reserve Bank that declines to forecast a rising OCR."
ANZ economists Sharon Zollner and Liz Kendall make the point: "The recent data-flow provides the RBNZ with breathing room that it is happy to utilise."
However they say: "The RBNZ will be wary of reading too much into one surprising employment data point (and indeed the Governor said as much in the press conference), but it will reaffirm its now firmly neutral stance. 
"While the Governor stressed that cuts are not off the table, they now look much less likely in the short term."
On this note, ASB chief economist Nick Tuffley says: "A cut remains a non-negligible risk, but material weakness in 'hard' data such as GDP would be needed to seriously entertain a cut."
This is the statement from RBNZ Governor Adrian Orr:
The Official Cash Rate (OCR) remains at 1.75%. We expect to keep the OCR at this level through 2019 and into 2020.

There are both upside and downside risks to our growth and inflation projections. As always, the timing and direction of any future OCR move remains data dependent.

The pick-up in GDP growth in the June quarter was partly due to temporary factors, and business surveys continue to suggest growth will be soft in the near term. Employment is around its maximum sustainable level. However, core consumer price inflation remains below our 2% target mid-point, necessitating continued supportive monetary policy.

GDP growth is expected to pick up over 2019. Monetary stimulus and population growth underpin household spending and business investment. Government spending on infrastructure and housing also supports domestic demand. The level of the New Zealand dollar exchange rate will support export earnings.

As capacity pressures build, core consumer price inflation is expected to rise to around the mid-point of our target range at 2%.

Downside risks to the growth outlook remain. Weak business sentiment could weigh on growth for longer. Trade tensions remain in some major economies, raising the risk that trade barriers increase and undermine global growth.

Upside risks to the inflation outlook also exist. Higher fuel prices are boosting near-term headline inflation.  We will look through this volatility as appropriate. Our projection assumes firms have limited pass through of higher costs into generalised consumer prices, and that longer-term inflation expectations remain anchored at our target.    

We will keep the OCR at an expansionary level for a considerable period to contribute to maximising sustainable employment, and maintaining low and stable inflation.