David Hargreaves assesses the return of the old enemy - inflation expectations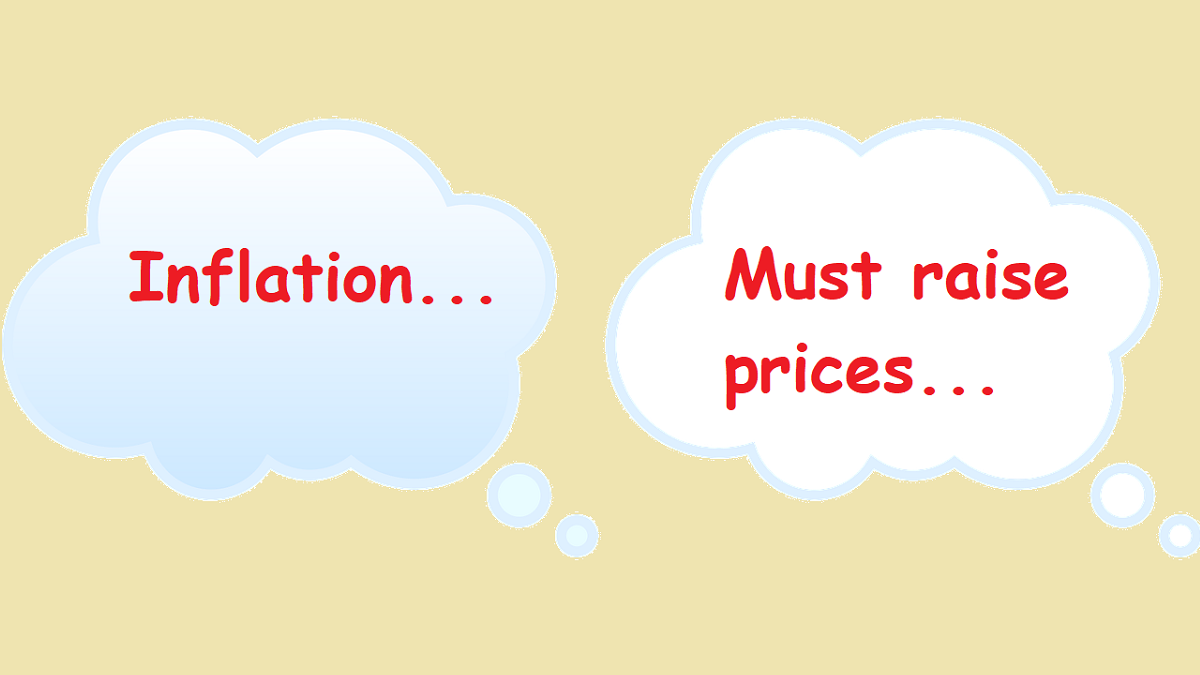 A curious thing happened to me in the supermarket the other day.
I was halfway through the joyless task of unloading my basket of items on to the cashier's conveyer belt, when I realised an animated discussion was taking place between the cashier and the young couple (possibly early 20s or even younger) ahead of me.
It took me a moment to twig what was up. Then I did. Sheer bafflement from the young couple that the same goods they had recently bought were seemingly suddenly so much more expensive. It must be wrong.
It wasn't. It was inflation.
Nobody under the age of 30, or even 40 is naturally going to 'expect' prices to rise. Because it's something they have not experienced. Not really. Inflation hasn't existed in NZ for years in a meaningful way. They have no 'expectations' of inflation. What's happening now is a huge wake-up call.
For grumpy old me this is all just a reminder of my first fulltime job in the late 1970s, which as it happens was in a supermarket. Then the inflation rate was oscillating between 15% and 17%, which meant that prices were going up every week. Literally. In these pre-barcode days one of my main tasks (I kid you not) was taking a bottle of methylated spirits and a cloth and rubbing off the felt-pen-marked prices on goods and replacing them with a new marked price. And no, the new price wasn't lower.
Prices were expected to go up. So they went up.
For me, one of the great triumphs in New Zealand and, indeed, much of the world, was, subsequent to the late 1980s, the removal from people's minds of the expectation that prices will go up.
It's one thing for central banks to physically pour cold water over inflation with weapons of choice such as interest rate rises, but unless they can get into people's heads and stop the mindset of 'prices will go up', well, then inflation becomes self-fulfilling. People seek higher wages, the employers put up prices to pay for that and then they add some more on top in the expectation that the next round of goods they order will cost them more. Vicious cycle. Inflationary cycle. All fed by those damn inflation expectations.
In the past the Reserve Bank has put a lot of weight on its own survey of business people and economists, which assesses expectations of the future level of inflation. I know that at times the RBNZ has actually directly been prompted to move the Official Cash Rate in reaction to unexpected moves in these expectations.
But I wasn't sure if under the newer regime of Governor Adrian Orr and the Monetary Policy Committee whether that still held true.
The last survey results came out on February, just two weeks before an OCR review. And the survey showed a significant 'unmooring' of expectations. Even the expectation for our rate of inflation in 10 years' time had showed an untoward movement, rising to above the 2% midpoint of the RBNZ's 1%-3% target range.
So, I wondered if the RBNZ, come the release of the latest Monetary Policy Statement on February 23 would be at all unnerved by these sharp moves in expectation. 
Oh yeah.
You bet.
Considerable reference was made in the MPS to inflation expectations. 
Take this from the report of the Monetary Policy Committee meeting:
When considering the case for a 50 basis point increase, the Committee noted the high starting point for inflation and the drift upwards in measures of inflation expectations. The Committee agreed that maintaining stable longer-term inflation expectations near the midpoint of their target would greatly assist their purpose.
And this from the main part of the MPS:
Elevated near-term inflation expectations are expected to contribute to higher inflationary pressures in the short term.
And then most crucially:
The increases in longer-term [inflation] expectations in New Zealand since the November [MPS] Statement remain within the range of changes in recent decades. However, there is a risk that persistently high inflation will lead to a change in wage- and price-setting behaviour and influence how prices are set. More persistent inflationary pressures would, all else equal, require tighter monetary policy to ensure the MPC meets its economic objectives.
So, here we go. Battle is joined. And RBNZ Deputy Governor Christian Hawkesby again referenced inflation expectations in an interview this week with interest.co.nz's Jenée Tibshraeny.
In its latest MPS the RBNZ forecast annual inflation, which hit 5.9% in the December 2021 quarter, to peak at 6.6% in the March quarter of 2022. But that predated the start of Putin's War with Ukraine, and Hawkesby's already conceding that - largely due to spiking oil prices - inflation will be higher than that 6.6% figure in March.
In ANZ economists' Weekly Data Wrap released at the end of last week the economists said: "We could see CPI inflation break the 7% mark, as it has in the US, and is expected to do in the UK."
And also on the ANZ, its latest - fairly dire (in terms of results) - Business Outlook Survey produced results that ANZ chief economist Sharon Zollner said were suggesting CPI inflation "could hit 8%, rather than the mid-6s the RBNZ and we are currently forecasting".
Since inflation first started to re-emerge in a big way last year central banks around the world have tried to maintain the impression that it will go away - although the term 'transitory' was put to bed earlier this year. And indeed the RBNZ's latest forecasts in the MPS don't see the CPI coming down to within the top of the target range of 3% till the middle of next year, while it's not forecast to hit the 2% target midpoint till early 2025.
Whether even these forecasts are realistic though has to be seen in the light of what's happening right now. Oil prices are unlikely to drop any time soon. Regardless of whether there is a relatively swift resolution of the hideous Ukraine war, I think ongoing supply chain ructions can be expected. And the sanctions against the new-pariah, Russia, will have blow-back on the rest of the world. Then there's Omicron...
Please, nobody say: 'What else can go wrong?' 
While much of this stuff might still, at a pinch, be seen as 'temporary' a lot of these disruptions have now been temporary for quite a while. Which is the point where young couples shopping at the supermarket start to get accustomed to seeing their bills going up, and they want higher wages, and their employer wants higher prices to pay for those wages and also for anticipated higher prices for the next order of goods (assuming the disrupted supply chain even allows delivery).
Having therefore once 'won' the war on inflation expectations, I'm afraid the world's central banks and our little old RBNZ are going to have to do it all again. 
It wasn't easy last time and I don't expect it will be this time.