Roger J Kerr says selling of the Antipodean currencies may be exhausted, and the US greenback's rise could well prompt traders to reprise using the AUD and NZD as part of a safe haven strategy again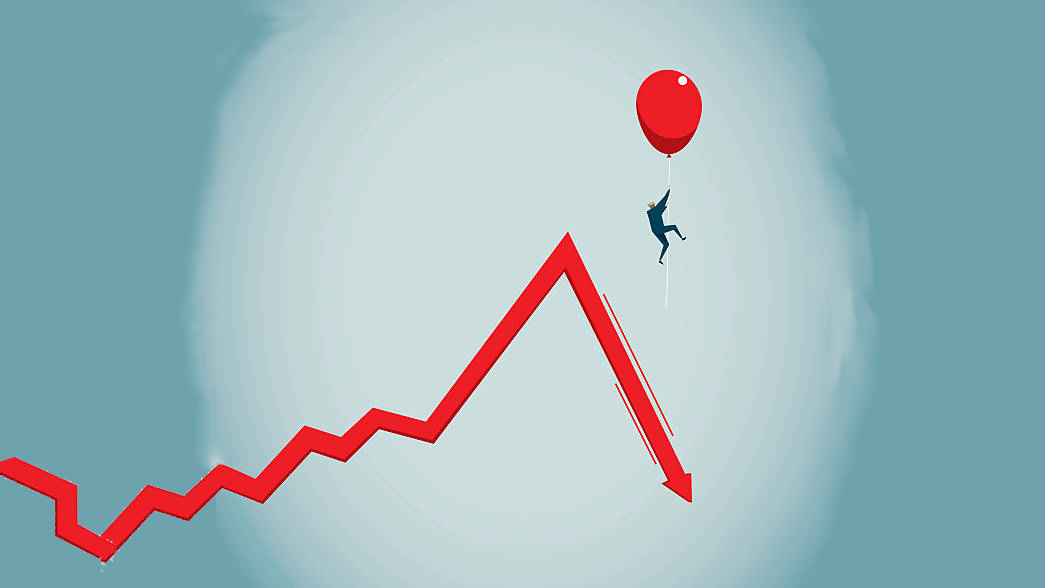 Despite further escalation in the China/US trade wars over this past week, the NZ dollar and the Aussie dollar have held their ground at their respective lower levels against the USD.
Tumbling equity markets are sending a clear message to everyone that global economic growth will be lower when business firms do not invest or expand because they just do not know with certainty what the rules will be going forward on global trade.
US President Donald Trump has created this situation by imposing tariffs on goods imported into the US from China when the trade negotiations broke down a month ago. It is said that Trump's view of the world and his view of his own success as a  leader of the free world is determined by whether the Dow Jones Index is rising or falling on a particular day. The US sharemarket is now into a six-week retreat and sending an emphatic signal to Trump that the US economy is headed for a slowdown.
At some point very soon, Trump will have to come to the realisation that his own re-election chances in 2020 will be shifting lower as he has based his performance on the performance of the US economy.
Whether the message that Wall Street is delivering to him will change his trade stance remains to be seen. His latest bombshell to impose import tariffs on neighbours, Mexico to stop illegal immigrants entering the US has drawn codemnation from near and far. The Chinese are due to release their retaliatory tariff package against the US today (Monday 3rd June), which will result in more uncertrainty for businesses around the world wanting to trade and more uncertainty for investment markets wanting to price the future profits of those entities into equity values.
Against this rapidly deteriorating international trade and investment backdrop, both the Kiwi and Aussie dollars have displayed a resilience over this last week which indicates the previous selling pressures have been all but exhausted.
The NZD/USD exchange rate has held above 0.6500 and the AUD/USD rate has finally located some support at 0.6900. It appears that the hedge fund speculators who sold both currencies a few weeks ago on lower NZ/Aussie interest rates and the renewed blow-up in the trade wars, have considerably reduced their interest to add to those short-sold positions. Their reluctance to speculate further against the antipoddean currencies seems to be more about how the US dollar itself will now behave on global forex markets.
The USD has strengthened against all currencies over the last 12 months to above 98 on their currency index, based on rising US interets rates and a strong US economic growth outlook. Those market and economic conditions are now significantly different for the USD, with US interest interest rate markets now pricing-in future interest rate cuts by the Federal Reserve and the Trump's trade gamble looking like it will backfire on the US economy and lead to a slowdown.
The currency speculators may soon start to look for other currencies to buy instead of the US dollar.
Could the "safe-haven" status re-emerge?
Back in 2012, the Kiwi dollar appreciated on capital flows moving out of a debt-ridden Europe which were attracted into the NZ dollar as we were seen as a long way away and a safe place to be in an uncertain world. The US dollar was out of favour at that time due to their quantitative easing of monetary policy to recover the US economy from the GFC.
The NZD/USD rate moved higher through that period despite our commodity prices at the time drifting off to lower levels.
Over recent weeks the Japanese Yen, Swiss Franc and US Treasury Bonds have been the recipients of global investment capital seeking out a safe harbour in a tumultuous world. It would not be too surprising to see both the NZD and AUD at these cyclical lower levels attract some safe-haven flows from the US and Europe.
There will be a reluctance to buy the USD as a safe-haven currency at its current elevated levels, particularly given the change with US interest rates and potential weaker US economic growth.
The difficulty with the Kiwi and Aussie dollars potentially attracting safe-haven capital flows is that both economies are heavily dependant upon China and slowing growth in China would be a negative. Countering that argument is that China will always demand imported protein from New Zealand and higher iron ore prices suggest there is still plenty of Chinese industrial demand in that space for the Aussie and the AUD.
Comparisons to the October 2018 period
The NZ dollar was sold down to levels below 0.6500 in September/October 2018 due to rising US interest rates, US/China trade wars, a dovish RBNZ and falling commodity prices at the time. The Kiwi staged a dramatic recovery through November 2018, zooming up to 0.6900, when all those speculators holding short-sold NZD positions bought back their Kiwi dollars on a much stronger than expected NZ GDP growth figure.
The Kiwi dollar is once again back at 0.6500 and it appears all the negatives are fully priced-in to the exchange rate already. The trade wars and the dovish RBNZ remain, however US interest rates and commodity prices have reversed as influencing factors.
Over coming weeks, the local factors that will influence NZ dollar direction will be the March quarter GDP result on 20 June and June quarter CPI inflation numbers on 16 July. Both figures stand to be above market expectations and again could cause some re-assessment from the speculators about the performance of the NZ economy.
The Reserve Bank of Australia are certain to cut their OCR rate by 0.25% on Tuesday 4th June; however do not expect AUD selling as a result as the outcome is already fully price-in to the AUD/USD exchange rate.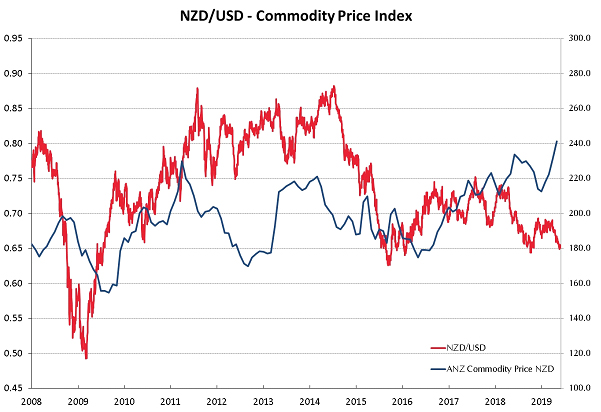 ---
*Roger J Kerr is Executive Chairman of Barrington Treasury Services NZ Limited. He has written commentaries on the NZ dollar since 1981.