Prospect of a Brexit deal lifts sentiment. GBP surges; NZD/GBP drops under 0.50. Equities, global bond yields higher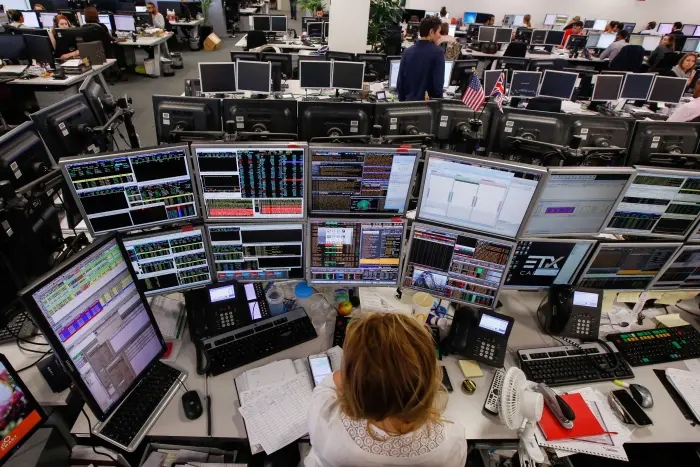 A decent bout of Brexit optimism sent a wave of risk on sentiment through markets overnight despite some lingering concern around how much of a deal the US and China really did last week. From early last night, there were positive signs that a Brexit deal may be done this week. Bond yields and equities are higher, gold fell, and safe haven currencies are lower. The US dollar is broadly flat.
GBP galloped upwards on the brighter prospects of a Brexit deal, firstly testing 1.2700 on initial comments from the EU's chief Brexit negotiator Barnier that a deal may be done this week, then pushing right up to 1.2800 early this morning on news that both EU and UK negotiators were close to getting a draft deal together ahead of the 17-18 October EU Summit. An important part of this is the momentum and apparent desire to get this done here and now – from both sides. But there are still hurdles with Germany warning that Brexit will need to be delayed until next year even if a deal is agreed shortly. GBP remains volatile, currently trading around 1.2770, still up well over a cent from where we left it yesterday. GBP has sizeable additional upside if there is a deal done. Further volatility seems assured one way or the other.
If a deal is reached, UK PM Boris Johnson would be able to put it to Parliament on Saturday (in a special sitting) and so potentially avoiding having to seek another delay beyond 31 October on that score. A deal would reduce economic tail risks in a world awash with them, hence the improvement in risk appetite on the prospects of such.
A surprise fall in UK employment and an unexpected lift in the UK's unemployment rate (from a very low level) was ignored by the market with focus on the negotiators comments, but the data helps illustrate the need to get a deal done.
Gilt yields rose on the more optimism backdrop, with the 10 year rate up more than 5bps. German bund yields followed suit, with the 10 year rate up nearly 4bps to around -0.4%. A slightly less bad ZEW investor survey didn't hurt sentiment.
US treasury yields followed Europe higher as safe haven assets were shunned on rising optimism. The US 10 year bond yield rose more than 9bps from its intra-day low of 1.68% at one point, currently sitting around 1.765%. The rise in yields extends the push higher from late last week and after Monday's holiday. Treasury yields were up between 3 and 4 bps across the curve overnight, with the 10 year note now up 26bps from last week's lows.
NZ rates eased a few points across the bond and swap curves yesterday, with a slight flattening bias. Swap yields out to 3 years fell by 1bp or less while the 5 year swap yield fell 2bps to close just above 0.94%. Offshore moves overnight are likely to put some initial upward pressure on local yields today, but focus will also be on today's NZ CPI.
The market is looking for Q3 annual inflation to slow to 1.4%, compared to Q2's result of 1.7%. We expect annual CPI inflation of 1.5%. A result on our forecasts may see some upward pressure on local rates and knee jerk NZD support, especially if annual non-tradeables inflation continues to pick up to 3% as we forecast. The RBNZ forecast 1.3% y/y for Q3 CPI inflation and annual non-tradeables inflation of 2.7%.
But even if the CPI surprises slightly to the top side of expectations, annual inflation is still likely to be easing and below the mid-point of the RBNZ's target range helping to cap NZ interest rates. And, more importantly, with weak leading indicators of growth in NZ and expectations of future RBA easing, the market seems likely to persist with pricing in OCR rate cuts.
The RBA minutes yesterday reiterated the dovish outlook of its post-meeting media release repeating it was 'prepared to ease monetary policy further if needed'. In justifying its October cut to a record low of 0.75%, the RBA noted recent data had been on the soft side.
US stocks followed gains in Europe with the S&P500 pushing above 3,000 for the first time in three weeks and currently sits up more than 1% for the day. Investors ignored the IMF's fifth consecutive cut to its 2019 global growth forecast, focusing more on positive Brexit vibes and better (on balance) US earnings reports.
NZD and AUD both drifted lower overnight taking more guidance from the global growth outlook and US-China relations rather than Brexit, although the latter did provide the occasional fillip through the night.
Chinese CPI inflation rose to 3.0% in September, coming in a tick above expectations yesterday. Pork prices continue to contribute strongly to consumer inflation as pigs in China have been severely culled as a result of African Swine Fever. Pork prices in China are 69% higher than a year ago. Meanwhile, PPI deflation continues reflecting China's domestic slowdown.
The GDT dairy auction was close to expectations with the GDT Price Index up 0.5% and wholemilk powder prices flat, maintaining upward pressure on our $6.70 milk price forecast.
NZD and AUD are both down around 0.2-0.3% on the day sitting around 0.6280 and 0.6760 respectively. With a stronger GBP, NZD/GBP has broken through 0.5000 to its lowest level in just over a year. NZD/GBP opens this morning around 0.4920.
Overnight, US retail sales will get some attention. But most focus remains on Brexit and the upcoming EU Summit, as the market waits for the latest twist in the long running saga.