Big leap in risk appetite drives equity markets higher. Hope for US lawmakers to sign off on large fiscal package. Global rates higher. USD under pressure as financial market stress eases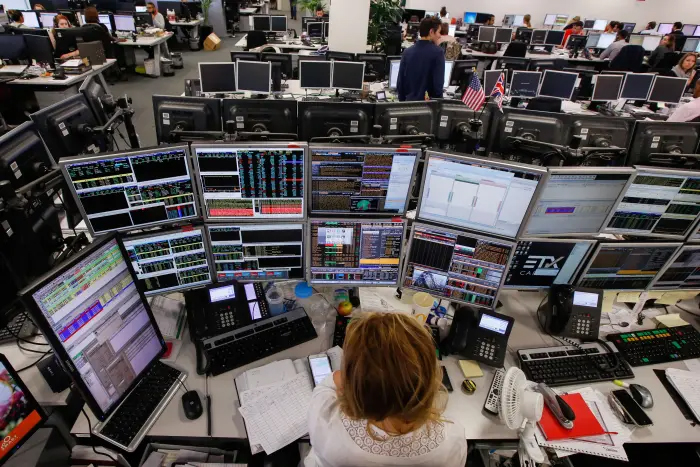 Risk sentiment has rebounded as markets fully digest the Fed's extreme policy action taken earlier this week and hope abounds that US lawmakers can stop squabbling and agree to a massive stimulus bill to support the economy. Global equity markets are up in the order of 7-8%, while global rates are higher.  GBP strength and JPY weakness have been the key currency moves overnight, with the NZD relatively steady after gaining during the local trading session.
On the virus front, the number of COVID-19 cases has breached 400,000 but the rate of spread across Europe is slowing, following the pattern of China and Korea after their successful containment measures. The US has been slow with its containment measures and the number of new cases continues to accelerate. New York City is a hot spot, with the number of cases per million people now well above what we saw in Hubei Province, China's epicenter. More countries have gone into lockdown to contain the virus, with India now going down that path with a 21 day national lockdown.  The Tokyo Olympics will be delayed by one year.
Key economic indicators released are starting to show the impact of the widespread lockdowns.  The flash Markit PMIs that were released across the G7 showed a familiar pattern, with unprecedented falls in service sector activity – reflecting less tourism, retailing and spending at restaurants – and milder falls for manufacturing. The final March figures, which will incorporate more recent data, are likely to be even worse, while April figures will be worse again for most regions.
In a positive sign, the economic devastation caused by lockdowns isn't news and these poor indicators were ignored by the market, even though the declines for the services indicators were far worse than consensus estimates across the board. After a tumultuous period for financial markets, some investors are seeing some light at the end of the tunnel, supported by central bank backstops and fiscal recovery packages that are being announced on a daily basis across the world.  There is increased optimism that US lawmakers will agree to a massive stimulus package (looking like $1.8 Tn, or some 9% of GDP), with House Speaker Pelosi saying that it appears the Senate has agreed to accept independent oversight of a fund to support companies and she thinks a stimulus deal can be done today.
The S&P500 is up over 7%, with some of the most beaten up stocks and sectors outperforming. It is the third Tuesday in a row where stocks have rebounded strongly and the test will be whether a second consecutive rise in the market can occur tomorrow – back to back daily increases in the S&P500 haven't occurred for six weeks now. It remains to be seen whether the bottom of the market has been reached. Some analysts have put the rebound to month-end rebalancing of asset allocation, with the massive fall in equities necessitating some huge buying activity to maintain target equity/bond ratios for diversified funds.
Credit markets are also in better shape, with US CDX and cash bond spreads for both high grade and high yield showing some narrowing. Corporates have been encouraged enough to tap markets, with Europe seeing its busiest day for issuance in six weeks, and US issuers lined up to take advantage of better sentiment in credit markets.
The US 10-year Treasury yield has traded as high as 0.89% overnight and is currently 0.82%, up 3bps for the day. With the Fed a willing buyer of Treasuries (and other assets), the rise in yields has been well contained, despite the big improvement in risk appetite. Yesterday, NZ bond and swap rates were higher in the order of 3-7bps, reflecting the better mood during the Asian trading session.  In a sign of better functioning markets, the RBNZ offered $2bn at its term auction facility, but no bids were submitted. The RBNZ kicks off its large scale asset purchase programme today, involving an auction to purchase government bonds.
Yesterday, the NZ government and RBNZ announced a financial support package for home owners and businesses affected by the economic impacts of COVID-19 – including a six month principal and interest payment holiday and a business finance guarantee scheme. In addition, the RBNZ reduced banks' "core funding ratios" from 75% to 50%, which will help ease credit channels and the cost of bank funding.
In currency markets, increased optimism about the outlook and seemingly less stress in financial markets saw the USD come under some pressure during NZ trading hours and supporting a rise in the NZD towards the 0.58 mark. The NZD increased further after the NZ close to a peak of 0.5840, but has since retraced that move and the currency is little changed from the NZ close around 0.5780. The AUD followed the same pattern, finding some resistance at 0.5975 and back down to about 0.59 this morning. The BBDXY index for the USD is on track to record its first loss in eleven days.
Improved risk sentiment sees JPY on the weak side of the ledger, with NZD/JPY up over 1% for the day to 64.3. GBP is the strongest of the majors, showing some recovery after some significant underperformance so far this month. GBP/USD touched 1.18 overnight, while NZD/GBP is lower at 0.4920.