UST10 yields rise to a fresh 14-month high before falling back, now lower from NZ close. NZD's gain yesterday extinguished as USD stages a broadly based rally. Market awaits President Biden's speech outlining yet more trillions of dollars of spending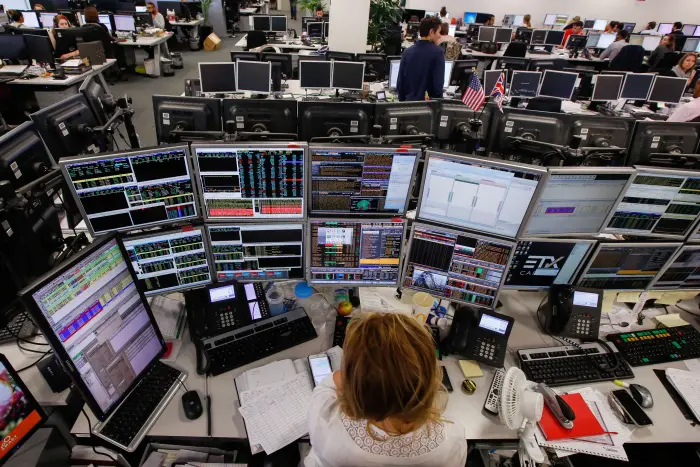 It's been a messy picture for financial markets, not easy to summarise in a simple soundbite – European equities are higher, US equities are lower; UST10 yields hit a fresh high but are now lower from the NZ close; and the NZD was looking strong yesterday, but has fallen back as the USD has pushed to a fresh high for the year and shows broadly based gains.
Financial market chatter remains focused on the fallout from the collapse of Archegos Capital Management, but the losses appear to be confined to just a few banks, with little sign of contagion. Japanese bank Mitsubishi UFJ Financial Group warned of a $300m hit, but this pales in comparison to the multi-billion dollar hit for Credit Suisse, which is still adding up all the losses.
A feature of Asian and early European trading was a steady rise in US Treasury yields, taking the 10-year rate to a fresh 14-month high of 1.77%. It met some resistance at that level and has steadily fallen since, now 1.72%, a couple of basis points below the level at the NZ close. President Biden's upcoming speech Wednesday in Pittsburgh is highly anticipated, where he will lay out further spending plans, touted in the media in the vicinity of $3-4 trillion. Following massive fiscal deficits two years running and an explosion of public debt, a picture of "more of the same" has the bond market on tenterhooks, although at least some of the new package is expected to be financed by higher taxes on the so-called rich.
Economic data didn't appear to be market moving. The US Conference Board measure of consumer confidence surged to its highest level in a year of 109.7, driven by about 20-point gains in both the current and expectations components. Highlighting that the housing boom is a global phenomenon and not just an NZ feature, a record number of respondents plan to buy a home in the next six months in a survey that dates back to the 1960s. That mortgage rates have risen and annual house price inflation reached a 15-year high of 11.2%, as measured by the Case-Hiller home price index, have not impinged that view. 
A euro area measure of economic confidence – a mix of consumer and business confidence – was also much better than expected, rising to its highest level in a year. The IMF will release its World Economic Outlook next week and will revise up its global growth estimates made three months ago, according to its Managing Director, building in the massive $1.9t US fiscal stimulus package that has already passed into law, and the rolling out of vaccines.
Equity markets have been mixed. The Euro Stoxx 50 index rose by 1.1% to a fresh record high, although the broader 600 index is still just shy of the February 2000 peak. The S&P500 hasn't made any progress since closing last week at a record high, and is currently down 0.4%.
In currency markets, the USD has shown broadly based gains, making a fresh high for the year on Bloomberg's BBDXY index, up 0.4% and getting close to its 200-day moving average, a break of which would signal an official end to the downturn that began almost a year ago. The narrower DXY index made that milestone a week ago. While one might have attributed higher US-global rate spreads for the overnight move, that is no longer the case as US treasury rates have fallen back. Therefore, some month-end factors or speculators closing short USD positions might be more of a factor in the move.
The NZD showed a nice wee rally during NZ trading hours, reaching a high of 0.7034, but it has been downhill since, now trading around 0.6980. The AUD has performed even worse overnight, slipping back below 0.76. NZD/AUD has pushed higher, knocking on the door of 0.92. Against a stronger USD backdrop, other majors are languishing as well. EUR is down to a fresh four-month low below 1.1715. USD/JPY has broken up through 110 for the first time in a year.
The higher global rates backdrop pushed domestic rates higher, with further curve steepening. The 10-year NZGB rose 8bps to 1.78% while the 10-year swap rate rose by 10bps to 1.92%. NZ building permits plunged 18% for the month, but this was driven by the apartment sector and coming off a very high base, so was rightly ignored. More interest lies in housing market data that post-dates last week's government housing package announcement.
The economic calendar is full in the day ahead. The final reading for March for the ANZ NZ business outlook survey will reveal if confidence and activity indicators slipped further through the month or whether selling price intentions stretched up to another record high. Globally, the key releases will be China PMI data, expected to show a lift in March, while US ADP private payrolls might give a head-ups as to how much of a rebound to expect in non-farm payrolls data to be released at the end of the week.