Prospects of US government shutdown rattles markets with NZ$ & A$ among the victims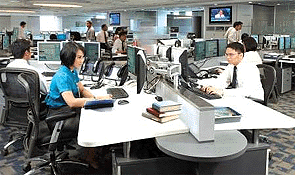 by Mike Jones
NZ Dollar
Investors' risk appetite faltered on Friday as the prospect of a US government shutdown (finally) began to rattle markets.
The NZD/USD, along with the AUD/USD, was a victim of rising political uncertainty, although the kiwi again found solid support in the 0.8240/60 window. It opens this morning around 0.8270.
Investors are now holding their breath to see if a partial US government shutdown can be averted. At this stage, it looks as if we will get a shutdown of some sort. The political picture in Europe isn't particularly encouraging either. Germany is still without a government, and Italy's is now on the verge of collapse.
NZD fundamentals are still strongly supportive. NZ-US 3-year swap differentials moved back up to the recent 315bps highs late last week, and this week's commodity price data should show prices either rising or holding close to record highs.
However, with markets nervous and risk aversion on the ascendancy, the NZD may find it tough going this week. Last week's 0.8400 highs seem unlikely to be revisited, while support around 0.8240 looks set to be tested again. Deeper support is eyed at the 0.8180 200-day moving average.
This week's local data is expected to remain upbeat. This afternoon's ANZ business survey will set the tone. We expect it will remain about as strong as it's been over recent months and so consistent with above-trend GDP growth. The morning's building consents for August should also be positive, with residential consents in particular due for a rebound after recent wobbles (market +2.5%m/m).
For Wednesday morning's GDT dairy auction we wouldn't be surprised to see another lofty price out-turn, while Wednesday afternoon's ANZ commodity price index is likely to muster another slight gain in world price terms.
Offshore, central banks and US data will hog the limelight this week, with Friday's US non-farm payrolls the show stopper as usual. However, it's not 100% certain that the payrolls data will actually be released given The Bureau of Labor Statistics could be one casualty of a Federal government shutdown.
------------------------------------------------------------------------------------------------------------------
To subscribe to our free daily Currency Rate Sheet and News email, enter your email address here.
------------------------------------------------------------------------------------------------------------------
Majors
Creeping political uncertainty undermined financial market sentiment on Friday.
US and European equity markets fell 0.2-0.8%, bond yields mostly declined (US 10-year from 2.66% to 2.62%), and indicators of risk aversion like the VIX index pushed higher.
Commodity prices were mixed; precious metals rose but energy prices lost ground (oil prices -0.2%).
In currency markets, the 'safe-haven' appeal of the JPY won the day – USD/JPY tumbled from 99.00 to almost 98.20. The GBP also managed to outperform, thanks to a newspaper report suggesting BoE Governor Carney did not see a case for more QE. In contrast, the 'high-beta' AUD and NZD underperformed, as per the typical 'risk-off'-type reaction.
The increasing chance of a October 1 partial US government shutdown was largely responsible for Friday's defensive price action. Weekend developments haven't provided any relief. Congress remains deadlocked over Republicans' insistence on denying funding for Obama's health care reforms.
Yesterday, a bill was passed to stop many of the Affordable Care Act's central provisions for a year. Senator Richard Durbin said a shutdown was likely.
New York Fed President Dudley said on Friday the budget battle is a risk to the economic outlook. Meanwhile, ratings agency Moody's suggested a 3-4 week government shutdown could reduce Q4 US GDP growth by around 1.4 percentage points. Adding to investors' political worries, Germany is still working to form a new government, and Italy's fragile coalition is now on the verge of collapse after allies of former PM Berlusconi said they plan to quit cabinet.
The upshot is that investors' risk appetite looks set to remain under pressure in the short-term. The EUR and 'growth-sensitive' currencies like the AUD and NZD should start the week on the back foot.
Aside from the various political shenanigans, the week ahead offers up a tonne of event risk. Central banks loom large with the RBA, ECB, and BoJ all set to deliver their latest policy announcements (no change expected from anyone).
Data-wise, there is European and Chinese final PMIs, and US factory orders and the ISM index to monitor. However, Friday's US non-farm payrolls will be the overwhelming focus as investors continue to assess the chances of an October/December Fed taper. A 180k jobs gain is expected (with an unchanged 7.3% unemployment rate), although note there are still question marks over whether the data will be released at all given the  government shutdown risks.
Event Calendar:
30 Sept: NZ building permits; JN industrial production; NZ ANZ business confidence; AU credit; CH HSBC final PMI; EU German retail sales;
1 Oct: JN Tankan; CH final PMI; AU retail sales; AU RBA decision; EU final PMIs; US ISM manufacturing index; US construction spending; US Fed's Yellen speaks;
2 Oct: NZ ANZ commodity price index; AU trade balance; EU ECB decision & press conference; US ADP employment; US Fed's Bernanke speaks;
Oct 3: CH non-manufacturing PMI; EU final services PMIs; EU retail sales; US factory orders; US ISM non-manufacturing index; US Fed speakers;
Oct 4: CH HSBC services PMI; JN Bank of Japan decision; US non-farm payrolls; US more Fed speakers.