RBA defies strong market expectation, holds rates and maintains clear easing bias; EUR fails to find a leg to stand on; rough month ahead for NZD/USD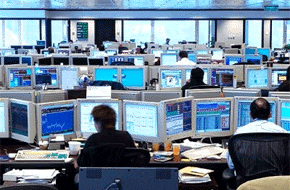 By Raiko Shareef
The USD is stronger across the board this morning, robbed of a clean sweep by an AUD still benefitting from the RBA's decision to hold rates yesterday.
Positive European data failed to prevent EUR weakness, while a strong showing from a leading indicator of US labour market health helped support the USD rally.
The AUD's recovery from speculative lows was initiated by a retail sales report that matched the top end of market expectations. But investors were wary of taking this too far ahead of the RBA. In the face of a market that was 70% priced for a rate cut, the Board decided to hold rates steady.
To be sure, the RBA retains a clear easing bias, noting that "further easing of policy may be appropriate" and that "the Board will continue to assess the case for such action at forthcoming meetings". But the RBA also softened its tone on currency strength, removing a reference to the AUD being fundamentally overvalued. Our NAB colleague Ray Attrill has for some time noted that AUD/USD is close to fair value, if not slightly undervalued. NAB continues to expect a rate cut in May, but assigns some probability of a later move.
This outturn was enough to send AUD soaring, with AUD/USD climbing 1.6% to above 0.7700. But it is testament to the overwhelming desire to own USD overnight that AUD has since given up nearly two-thirds of that gain.
Similarly, EUR failed to find a leg to stand on, despite an encouraging data tone from Germany's PMI and the euro-wide PPI. But the proclivity to buy USD and still-thin liquidity saw EUR collapse through 1.09. The sell-off halted at 1.0815, a point supported by the uptrend from mid-March. A break here could see a quick return to 1.0710, fuelling the broader USD rally.
From a fundamental perspective, the major move in EUR will likely depend on the outcome of ongoing negotiations between Greece and the Brussels group. There have been few updates since the weekend, but the market largely expects Greece will be able to pay its outstanding payments this week. We note the Greek Prime Minister Tsipras' imminent visit to Russia is unlikely to improve the tone of Greek discussions with the EU.
Yesterday we noted that NZD/USD upside would be limited in the event that the RBA held steady, as investors would seek to unwind their long NZD/AUD positions. NZD/USD rose all of 30pts. The cross was trashed by about 100pts, and sits 1.3% lower for the day. We think there is space for further weakness in the near-term, with 0.9760 the next key support.
From here, we believe NZD/USD is in for a rough month. It has not fully reflected the 10% fall in dairy prices last week (blinkered by the long NZD/AUD play). A cyclical low for NZ inflation is due to print on 20 April (we estimate 0.1% y/y), and the USD train is re-gaining steam. We continue to pick 0.72 by end-June.
Today, the BoJ policy statement might be worth watching, in case Governor Kuroda springs a surprise easing. That seems more likely to happen at the 30 April meeting, though. The real event will be the FOMC's March Minutes, due early tomorrow morning. The market read that meeting as strongly dovish – we think there is room here for a more balanced assessment that feeds into USD strength.
---
To subscribe to our free daily Currency Rate Sheet and News email, enter your email address here.
---