Against a backdrop of a stronger USD the NZD is slightly weaker this morning; European rates lower; US Treasuries are fairly flat; EUR is down 0.5% to 1.1510, not helped by Italy's budget woes remaining a focus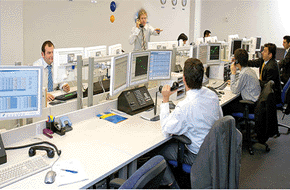 Against a backdrop of a stronger USD the NZD is slightly weaker this morning.  Against a backdrop of lower European rates, US Treasuries are fairly flat.
After yesterday's big rally in global equity markets, a more cautious trading environment has ensued.  The S&P500 has traded a wide range, falling as much as 1% in early trading following a series of ho-hum earnings reports but it has recovered that lost ground to be currently up slightly. US housing starts and permits were on the soft side, dragged lower by Hurricane Florence, but the underlying picture has been fading momentum in the housing market, as mortgage rates climb to their highest level in seven years.
The minutes of the FOMC's September meeting have just been released and showed some debate about how high to push interest rates.  "A few" participants expected that policy would need to become modestly restrictive; "a number" thought it necessary to temporarily raise the policy rate above the long-run neutral level; while "a couple" would not favour adopting a restrictive stance.  The market didn't react to these minutes, as they come as no real surprise.
The USD is on a firmer footing but perhaps simply by default as negative news has prevailed for EUR, GBP and CAD.  EUR is down 0.5% to 1.1510, not helped by Italy's budget woes remaining a focus.  The European Commission's Oettinger, who is in charge of Budget matters, tweeted that in his personal opinion it is "very likely that we have to ask Italy to correct the draft budget".  Italy's 10-year rate rose by 10bps against a 3bp fall in Germany's 10-year rate.
UK core and headline CPI inflation undershot market expectations, which saw a slight paring of rate hike expectations for next year and UK 10-year gilts down 3bps.  The BoE's deputy Governor Cunliffe told a Parliamentary committee that the pound could see a "big fall" if a bad Brexit outcome happens.  Brexit negotiations continue and agreement is unlikely to be reached this week.  EU chief Brexit negotiator Barnier said that the two sides need "much more time" and he urged patience.  GBP is down 0.4% to 1.3125.
Oil prices are 1½-3% lower after an OPEC spokesman said that the oil market will remain well supplied going forward and EIA inventory data showed a large build-up of crude oil stocks.  This is probably a headwind for CAD, which sees USD/CAD up 0.5% to 1.30.
After a tightly bound NZ trading session, the NZD was bid early in European trading and took a peek above 0.66, but a strong USD backdrop has since seen it retreat down to 0.6565.  We see a period of consolidation setting in although remain wary that the clear downward channel the NZD has been in over the past six months still remains in force.  The AUD followed a similar path over the trading session, seeing a peak of 0.7160 before retreating to 0.7125.  NZD/AUD has been oscillating in a 0.9210-0.9240 range for the session.
Against a backdrop of lower UK and German yields, US Treasuries have traded a tight range and the 10-year rate is near the top at 3.17%, up less than 1bp for the day.  NZ rates were 1-2bps lower across the curve yesterday, reversing some of the upward move post-CPI on Tuesday.
The US Treasury Department will release its semi-annual currency policy report later this morning, where the market will be watching if the US labels China a currency manipulator.  While we already know that not to be the case based on the three criteria that the Treasury uses, politics could still override economics.  Any move to do so would raise US-China tensions another notch.  In other new here, Trump plans to withdraw the US from the "Universal Postal Union".  This 192-nation treaty gives developing countries like China discounted shipping rates.  The US plans a regime that allows it to set its own price (and a higher one for China) to increase the cost of goods posted from China.
---
Get our daily currency email by signing up here:
---
BNZ Markets research is available here.