Currency movements have been small apart from GBP which has swung around on Brexit headlines; US rates are slightly lower; NZD crosses are fairly flat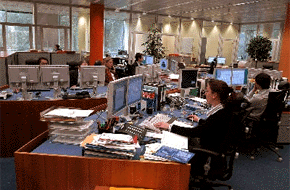 It has been an uneventful start to the week for financial markets ahead of a busy week, which includes the US mid-term elections and policy meetings by the Fed, RBA and RBNZ.  Currency movements have been small apart from GBP which has swung around on Brexit headlines.  After recent volatility in equity markets, overnight movements have been insignificant by comparison.  US rates are slightly lower after last week's big sell-off in Treasuries.
Yesterday there was some interest in President Xi's address to the Shanghai import Expo. In the event he rattled off policy pledges previously outlined, such as opening up China's economy, lowering import tariffs and developing free-trade talks with Europe, Japan and South Korea.  He didn't directly address the trade war with the US, but he denounced "law of the jungle" and "beggar-thy-neighbour" trade practices.  And he didn't offer any conciliatory remarks or hint of policy shifts that pave the way for successful trade talks when he meets with President Trump later this month.
In economic news, PMI data continue to point to a slowing global growth environment.  China's Caixin services PMI showed a chunky fall that missed expectations and was at its lowest reading in a year. The UK services PMI also well undershot market expectations, falling to its lowest reading since March.  There was heightened interest in the US ISM non-manufacturing index as last month it rose sharply and triggered higher rates and a strong USD.  The latest reading showed a more modest pullback than expected off that near-record high, suggesting that US growth remained solid, although there was little market reaction to the indicator this month.
US Treasury yields are slightly weaker across the curve with a flattening bias, unwinding a little of the big move up in rates last week.  The 10-year rate is down 2bps to 3.19%.  Yesterday, the NZ rates curve was higher in response to the sell-off in Treasuries on Friday night.  NZ government and swap yields were up in the order of 4-6bps at the long end of the curve.  The 2-year swap rate closed up 1bp to 2.065%, its highest close since the RBNZ's August MPS.  Funding pressures at the short end of the curve have been more of a factor in this movement over recent sessions than more hawkish policy expectations ahead of Thursday's MPS.
In currency markets there isn't a lot to say, with only small changes since the weekend close for most.  The NZD sits this morning at 0.6660, a touch higher from the end of last week with a positive bias in overnight trading.  Recent NZD strength against a backdrop of poorer risk appetite has helped close the gap between spot and our short-term fair value estimate, which sits just over the 0.67 mark.  At the end of last week we saw the NZD tentatively break out of the well-established narrow downward channel, but we think it's still probably too early to declare that the downward trend is over. We'd need to see a convincing break above previous resistance of 0.6730 to have more confidence that the downward trend over.
While NZD crosses are fairly flat and there isn't much to say, there has been some price action in GBP.  GBP was bid on the open after a Sunday Times report that PM May had secured private concessions from Brussels that will allow her to keep the whole of Britain in a customs union, avoiding a hard border in Northern Ireland.  However, the positive vibe didn't last long as the Telegraph dismissed that report and added that UK Brexit Secretary Raab had privately demanded the right to pull Britain out of EU's Irish backstop after just three months. "If anything, things are now going backwards", one negotiator said. The Guardian cited unidentified EU officials saying the chances of May reaching a deal on the Irish border that she can sell to Cabinet and Parliament were only "50-50."  After reaching as high as 1.3065 in early trading yesterday, the currency was as much as 100pips lower during the overnight session but has since settled at 1.3020.
In the day ahead, the RBA is expected to maintain a neutral policy tone at this afternoon's policy update. Focus will be on the RBA's interpretation of a surprise sharp fall in the unemployment rate to 5% – whether or not it materially affects the Bank's outlook for inflation and policy. Tonight's GDT dairy auction is expected to show a small fall in pricing.
We expect markets to tread water ahead of the US mid-term election results which will start coming through from Wednesday afternoon NZ time.
---
Get our daily currency email by signing up here:
---
BNZ Markets research is available here.