US equities are currently down 1.5% after a similar fall in Europe; US and Germany 10-year rates are lower; NZD is little changed from the NZ close but is still the weakest performer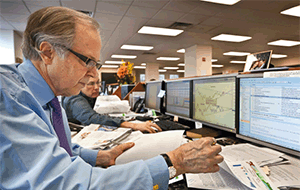 A risk-off tone has enveloped markets, with more reminders of the weaker global growth backdrop.  US equities are currently down 1.5% after a similar fall in Europe, while US and Germany 10-year rates are lower.  The NZD is little changed from the NZ close but is still the weakest performer after the negative reaction to softer labour market data yesterday.
The mood of markets has swung back lower, not helped by some negative news on the global economy.  The European Commission cut its GDP growth forecasts for the Eurozone economy.  Growth this year is now expected to be 1.3% (previously 1.9%) and next year 1.6% (previously 1.7%). On cue, industrial production in Germany fell by more than expected at minus 3.9% y/y for December while the miss for Spain was even greater, coming in at minus 6.2% y/y.  Adding to the risk-off tone, CNBC reported that President Trump and Xi were highly unlikely to meet before 1 March, with too much work to do on a trade deal in too little time.
The run of central banks downgrading growth outlooks continues, this time the Bank of England, following recent moves from the ECB, Fed and RBA.  The BoE kept rates on hold as expected and with a unanimous 9:0 vote. The Bank's economic outlook was downbeat amidst weaker global growth and the "fog of Brexit".  Governor Carney reiterated his warning of economic contraction under a no-deal Brexit. The Bank cut its GDP growth forecast for 2019 by more than expected to 1.2% (previously 1.7%), and 2020 was trimmed to 1.5% (previously 1.7%).  GBP slipped on the inflation report but recovered after Governor Carney spoke.  He kept his view that more rate increases will probably still be needed, even as the forecasts suggested just one more 25bp increase will be needed over the next three years to meet the 2% inflation target, a downward revision from three hikes.
In currency markets, the NZD is the weakest performer of the past 24 hours. NZ labour market data for Q4 were softer than expected but this followed the unbelievably strong figures reported for Q3.  The only question was how much retracement the data would show.  In the event, the rise in the unemployment rate was 0.2ppts greater than expected at 4.3%.  Under normal circumstances, this might has seen a fairly modest market reaction, but coming hot on the heels of more dovish RBA commentary the market wanted to take rates and the NZD a lot lower, believing that the data might influence the RBNZ's messaging next week in its MPS.  NZ 2 and 5 year swap rates plunged by 9bps and 11bps respectively to record lows of 1.83% and 1.99%, while the OIS market moved to price in an OCR of 1.55% at the November meeting later in the year, just 5bps shy of a full 25bps rate cut. We now await the RBNZ next week, which is likely to recognise the weaker global growth backdrop but we expect to see a similar policy outlook – an unchanged OCR through 2019 and into 2020 and possible reintroduction of "rates could go up or down" messaging, which was removed in November.  One would expect a more dovish statement than published in November, as we've seen with other central bank commentary.
The NZD fell from 0.6830 to 0.6765 immediately after the labour market reports and has since settled down around the 0.6750 mark, the level seen at the NZ close.  Even as the AUD has weakened to below 0.71, NZD/AUD is down to 0.9520 after breaching the 0.96 mark early yesterday.  CAD is also on the soft side, alongside the other commodity currencies, not helped by a 3% fall in oil prices.  NZD/CAD is clawing its way back up to 0.8990 after reaching about 0.8930 yesterday.
GBP is the strongest of the majors up to 1.2965, recovering after the BoE-induced fall to 1.2855.  A number of Brexit headlines are out there, but none satisfactorily explain the more upbeat sentiment for GBP.  UK government intends to hold the next Parliament Brexit vote on 14 February.  EUR is on the soft side and trades this morning around 1.1350, with NZD/EUR stabilising around 0.5950.
Global rates are lower in the risk-off environment, with the US 10-year rate nudging down to 2.665%.  Germany's 10 year rate is probing fresh lows and is down almost 5bps to 0.11%.  All this can only encourage NZ rates to continue to probe fresh lows, after the NZ 10-year government rate fell 7bps yesterday to just 2.14%.
In the day ahead, the RBA releases its Statement on Monetary Policy today but Governor Lowe has already revealed the key changes to forecasts and policy outlook in his speech earlier this week, which reduces the scope for any market reaction.  Fed uber-dove Bullard speaks in our timezone early afternoon. Tonight should be quiet with little data to drive the market apart from Canadian labour market data.
---
Get our daily currency email by signing up here:
---
BNZ Markets research is available here.