USD is bid and US Treasury rates have pushed higher following stronger than expected US data; NZD and AUD have slipped, with the NZD temporarily going sub 0.68 and the AUD going sub-0.71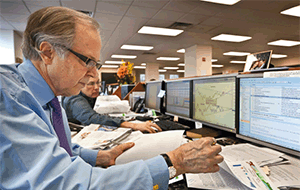 The USD is bid and US Treasury rates have pushed higher following stronger than expected US data.  Thus, the NZD and AUD have slipped, with the NZD temporarily going sub 0.68 and the AUD going sub-0.71.
The key market mover overnight has been some stronger US economic data.  US GDP growth for Q4 beat market expectations, with growth slowing but still running well at an annualised 2.6%.  The Fed's preferred measure of inflation, the core PCE deflator, came in slightly stronger than expected as well, although the annual rate of 1.7% remains well-contained for an economy that has been running well ahead of trend and near full capacity.
Ahead of the release the USD was slipping as EUR pushed on up through the 1.14 mark, but the stronger data gave an immediate boost to the USD and US rates, with a further push higher after the Chicago PMI also beat expectations.  From a low of 2.66%, the US-10 year Treasury rate rose by 5bps to as high as 2.72%.
In other news, last night we saw Trump and North Korea's Kim Jong Un go their separate ways after meeting in Vietnam, heading off earlier than expected after no agreement could be reached.  Kim was apparently unwilling to offer much to see an end to economic sanctions and Trump was prepared to walk away with "no-deal". 
On a more positive note, in a TV interview, Trump's Economic Advisor Kudlow gave an optimistic tone to US-China trade negotiations and offered some more detail on the plan – China apparently pledging to significantly reduce subsidies to SOEs, de-emphasise its plans to dominate in emerging technologies, and disclose when the PBoC buys and sell foreign currency.  The main hurdle now seems to be China actually signing the agreement, when Xi likely meets Trump later in March.  Treasury Secretary Mnuchin was more cautious in his remarks in a following interview saying the deal is not yet done, although he alluded to a 150 page document that had been drawn up.
The NZD spent most of yesterday trading a narrow range near 0.6850, with little market reaction to domestic news. Fonterra upgraded by 30 cents its forecast milk payout for 2018-19 to a range of $6.30-$6.60 – but the positive impact on dairy farmer incomes being muted to the extent that earnings were downgraded, resulting in no interim dividend to be paid. Activity indicators of the ANZ business outlook survey were on the soft side.  We only saw some decent movement in the NZD after the stronger US data, which has seen it fall steadily down to around 0.68.
The AUD followed a similar pattern, albeit with a temporary boost after stronger capex data.  The stronger USD sees AUD slip below 0.71, while NZD/AUD sits just under 0.96.
Yesterday, China PMI data showed further slippage, but underneath the hood the data looked a bit better on the domestic side, with higher new orders, business expectations and pricing indicators and lower inventories.  The headline index looked to be dragged down by the external picture.
JPY is on the soft side, reflecting the higher global bond yield backdrop, with USD/JPY shooting up towards 111.50 after the US data releases. Although not market-moving, we'd note that Japan industrial production was very weak in January, raising the risk of an economic contraction in the current quarter.
Yesterday NZ rates showed a modest upside bias, driven by global than domestic forces, and there should be some follow-through today.  It's a full economic calendar for the day ahead, with a number of second-tier NZ indicators and Fed Chair Powell speaking during NZ trading hours, although we've heard enough from him this week so can't see much potential for surprise.  Tonight sees the release of euro area CPI data while in the US a softer reading for the ISM Manufacturing indicator is expected.
---
Get our daily currency email by signing up here:
---
BNZ Markets research is available here.