Net result is a flat US equity market and softer USD across the board, with GBP outperforming; US rates have pushed lower; CAD has performed well despite Canada GDP growth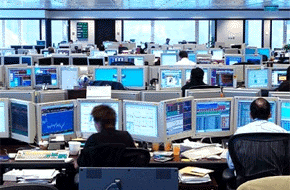 There has been a lot of economic data to digest and US earnings results, while month-end flows are also a factor.  The net result is a flat US equity market and softer USD across the board, with GBP outperforming.  US rates have pushed lower.
Google parent Alphabet posted weaker than expected earnings after yesterday's close, taking its share price down 8% and dragging the Nasdaq lower. But there have been enough offsetting positive results to keep the S&P500 from falling, with the index flat at the time of writing.
There has been a lot of economic data released over the past 24 hours. During local trading hours, China PMI data came in weaker than expected, although the key manufacturing index remained above the 50 mark, albeit only just, and stronger export and import PMIs were something to cheer about.  The story of a nascent economic recovery in China activity remains intact, but still remains tentative. The ANZ NZ business outlook survey showed little change in own-activity and business confidence from sub-par levels, while cost pressures remained intense. There was likely nothing in the survey that would have surprised the RBNZ.  Next month's reading might be more positive, supported by the government's move to take a capital gains policy off the agenda.
Overnight, euro-area economic data were universally better than expected, with GDP improving to 0.4% q/q, higher than expected inflation in Germany and Spain confirming that the previous month's dip was related to the impact of the late-Easter, and the unemployment rate continuing to trend down, reaching its lowest level since the GFC. All this might hold off any need for the ECB to add further policy stimulus.
US data were mixed, with a very weak Chicago PMI (possibly impacted by issues at Boeing) but with strong pending home sales and consumer confidence data.  The employment cost index was in line at 0.7% q/q for Q1. US Treasury rates fell after the weak Chicago PMI, with the index indicating downside risk to the key US ISM manufacturing index tonight.  Rates are down 2-3bps across the curve, taking the 10-year rate down to 2.51%.
The positive euro-area data helped push EUR higher, now back above 1.12 and up a modest 0.3% for the day. There was some positive spillover for GBP, while there was also talk off one last push on talks between the government and Labour Party to come to some form of agreement on Brexit. Meanwhile the UK Labour Party's ruling council agreed that it would support a second referendum on Brexit only as a last resort, conditional on the government not adopting Labour's plan for a customs union or if the government fails to call a general election.  GBP is the best performer of the majors, up 0.8% to 1.3040.
The USD has been broadly weaker, with month-end flows seen to be one factor behind the move.  NZD has nudged up a bit further, but not much, to 0.6680, making it a full cent recovery from the ANZAC Day low. On Q1 labour market data this morning, we see downside risk to the consensus unemployment rate estimate of 4.3% and downside risk to the LCI private sector wage data.  Big misses in either direction could well have a bearing on whether the RBNZ cuts rates as soon as next week.  Rates have drifted higher over the past few sessions, as the market loses some conviction on how much the RBNZ will cut rates this year. The 2-year swap rate rose by 2bps to 1.69%, taking its gain over the past three trading sessions to 8bps.  The belly of the curve underperformed, with the 5-year rate up 4bps to 1.83%.
CAD has performed well despite Canada GDP growth unexpectedly contracting slightly in February, but this followed a strong gain in January.  USD/CAD is down 0.5%, slipping below 1.34.  Oil prices are up by about 1% after political unrest in Venezuela (with a coup currently underway) and the Saudi Energy Minister said OPEC and its partners remain focused on reducing oil inventories.
After today's NZ labour market data is out of the way the focus will turn to US ISM manufacturing data tonight. Still, trading might well be quiet ahead of the FOMC announcement tomorrow morning. Expectations are for the policy statement to reflect an upgrade in the FOMC's assessment of current economic conditions while acknowledging softness in inflation data since the March meeting, and maintaining the term 'patient' with regard to forward guidance.
---
Get our daily currency email by signing up here:
---
BNZ Markets research is available here.