CPI inflation higher than expected by RBNZ and market in December quarter at 0.5% quarter-on-quarter and 1.4% year-on-year; Rate cuts unlikely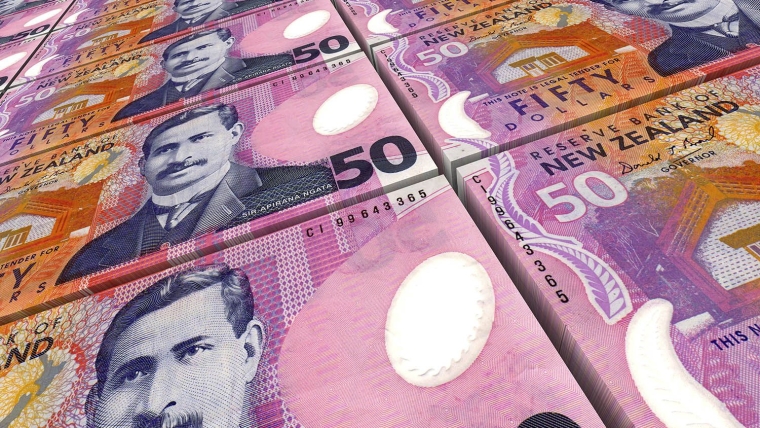 Consumer Price Index (CPI) inflation in the December quarter overshot Reserve Bank (RBNZ) and market expectations.
The quarterly inflation rate fell to 0.5% from 0.7% in the September quarter. Meanwhile the annual rate remained at 1.4%, according to Statistics New Zealand.
The RBNZ in November forecast quarterly inflation dropping to 0.2% and annual inflation sinking to 1.1%. Economists from the major banks were on a similar, if not more pessimistic, page to the RBNZ, with ANZ economists the only ones forecasting higher inflation than the RBNZ.
At 1.4%, the annual inflation rate fell within the RBNZ's target band of 1% to 3%.
The better-than-expected reading cements economists' forecasts the RBNZ is unlikely to cut the Official Cash Rate (OCR) into negative territory in 2021.
Nonetheless, its easing bias is expected to remain.
The RBNZ's Large-Scale Asset Purchase Programme is yet to run its course, while banks are yet to really start drawing down cheap funding via the RBNZ's Funding for Lending Programme. Both of these schemes are aimed at lowering interest rates to boost inflation and employment.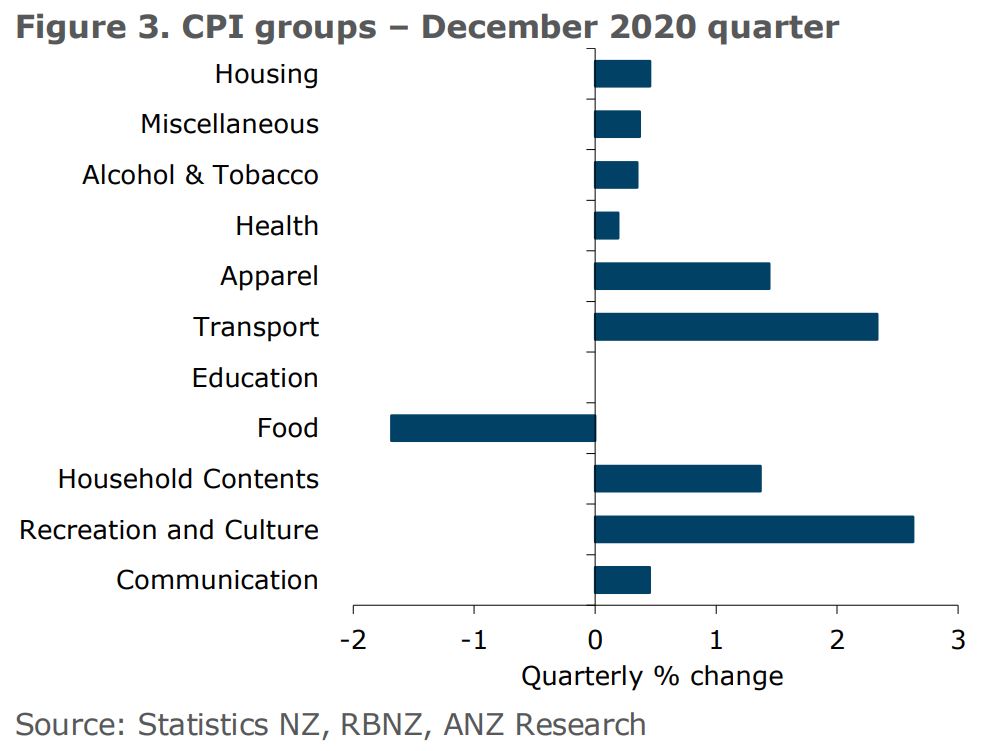 Commentary
Digging into the details, Kiwibank economists explained: "Domestic accommodation [hotels, motels, caravan parks and camping grounds, and privately rented accommodation like Airbnb] was much stronger than anticipated. Heavy discounting during the winter months was unwound into summer - suggesting solid domestic tourist flows.
"Home construction costs rose as expected, with the rampant run in the housing market.
"Used cars were also more expensive, with a lack of supply. The supply constraints at the ports are showing up already in the numbers.
"Non-tradables, the domestically generated inflation, was much stronger than expected at 2.8%yoy (up from 2.6%). And tradables, the imported inflation (or deflation), didn't fall as much as we expected. Tradables inflation was down -0.3%yoy (we thought -0.9%)...
"We have changed our call on the RBNZ. We now expect the OCR to be left unchanged well into 2022."
ANZ economists noted: "Pockets of strength were evident in today's release, relative to what is usual this time of year. This reflected cost pressures due to supply disruption and potentially some payback from lockdown-induced weakness.
"We expect some short-term improvement in inflation from continued cost-push pressures, but this is expected to be temporary and the RBNZ will look through it...
"Over the medium-term, the outlook is now looking more assured, reflecting better economic momentum, even as we face challenges ahead. Although some caution is needed... a stronger starting point for inflation is no doubt a good thing for the RBNZ."
ASB economists said: "Looking ahead, we expect annual headline inflation to ease towards 1% at the start of this year but to gradually firm thereafter, with more upside risk now accumulating to the medium-term inflation outlook. 
"The economy is showing more signs of life than appeared the case, capacity constraints are firming, skill shortages are permeating throughout the economy and this could see pricing pressures stir. We also expect a modest positive, but temporary, impact from freight disruptions on retail prices.
"Nevertheless, the RBNZ is expected to maintain highly stimulatory settings until it is confident that economic activity and the labour market have turned the corner. 
"Our view is that the OCR is unlikely to move up in 2021, but the resilient tone of NZ data is a reminder that the OCR won't stay at record lows forever."