BNZ economists say any relief for the current input price pressures 'will not be coming soon'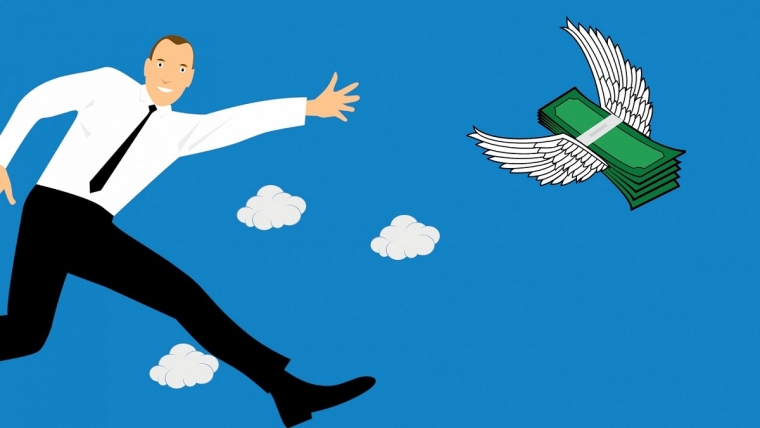 BNZ economists say the current inflationary pressures in the economy will be "a semi-permanent state of affairs".
In the bank's latest Markets Outlook publication, BNZ head of research Stephen Toplis says there are many who believe the current rise in cost pressures will be temporary.
"We accept there is a temporary element to some of the price increases but any relief for the current input price pressures will not be coming soon," he says.
"Furthermore, it looks increasingly likely that a post-Covid demand explosion in the developed world will result in a wide-spread rise in inflationary pressure as supply takes longer to be resurrected than demand requires. This process will be exacerbated by the fact that supply bottlenecks caused by Covid-afflictions in the low-cost production developing world are likely to take longer to resolve."
In New Zealand the Reserve Bank targets inflation of between 1% and 3% - with an explicit aim of 2%.
Toplis says while "headline" inflation may only have reached 1.5% in the year to March 2021, the key "core" inflation measures are at or near 2.0%.
"Moreover, the -0.5% reported in the June quarter of 2020 will soon drop out of the annual calculation so any reading above zero for June 2021 will see annual headline inflation with a "2" fronting it.
It's already here
"We are forecasting a 0.6% increase for the quarter yielding 2.6% annual inflation. Another way of thinking about this is that CPI inflation for the three quarters to March 2021 was already 2.0%," he says.
"And we do think we are witnessing a semi-permanent state of affairs. Indeed, we are forecasting annual CPI inflation to rise to 3.0% by the end of this year and for it to stay above 2.0% for most of the foreseeable future. High business pricing intentions strongly support this view."
In terms of maximum sustainable employment (MSE), which the RBNZ also has to consider in its monetary policy, the unemployment rate has already fallen to 4.7%. This is well below the 5.0% the RBNZ was expecting. 
"We can only see the current excess demand for labour growing further," Toplis says.
"Hiring intentions are consistent with annual employment growth in excess of 3.0%. This simply cannot happen as labour supply is insufficient. We are forecasting employment growth of just 1.5% but even this is enough to see the unemployment rate drop to below 4.0% within twelve months. The Reserve Bank's latest forecasts have the unemployment rate above 5.0% until the end of next year. That is looking increasingly unlikely."
Toplis says the BNZ economists are "quick to point out" that current inflation is "more of the cost-push variety than demand pull".
"This is important as the RBNZ (as is the case with most central banks these days) wants to see evidence of rising wage inflation to confirm inflationary pressures are mounting.
"In doing this it may be looking in the wrong direction. Wage inflation may be muted but the cost of labour to businesses is rising sharply. This is squeezing margins and will, ultimately, result in further hikes in selling prices."
At the moment the Official Cash Rate set by the RBNZ is at 0.25%, which is where it has been since the central bank slashed it last March as the Covid crisis rapidly developed. For some considerable time it appeared we would see negative interest rates this year. But the situation has evolved quickly this year.
The BNZ economists have previously forecast that the RBNZ will start raising the OCR next year. Earlier in the year, independent economic researchers Capital Economics forecast OCR hikes would start next year. And economists at the country's largest bank ANZ have changed their call and they now see OCR hikes beginning next year.
Watching the language
The RBNZ has its latest review of rates coming up next week, on Wednesday, May 26. There will be no changes in settings as such, but any change in language will be closely watched.
Toplis says it's hard to see how the RBNZ's May Monetary Statement could be more dovish than its February equivalent.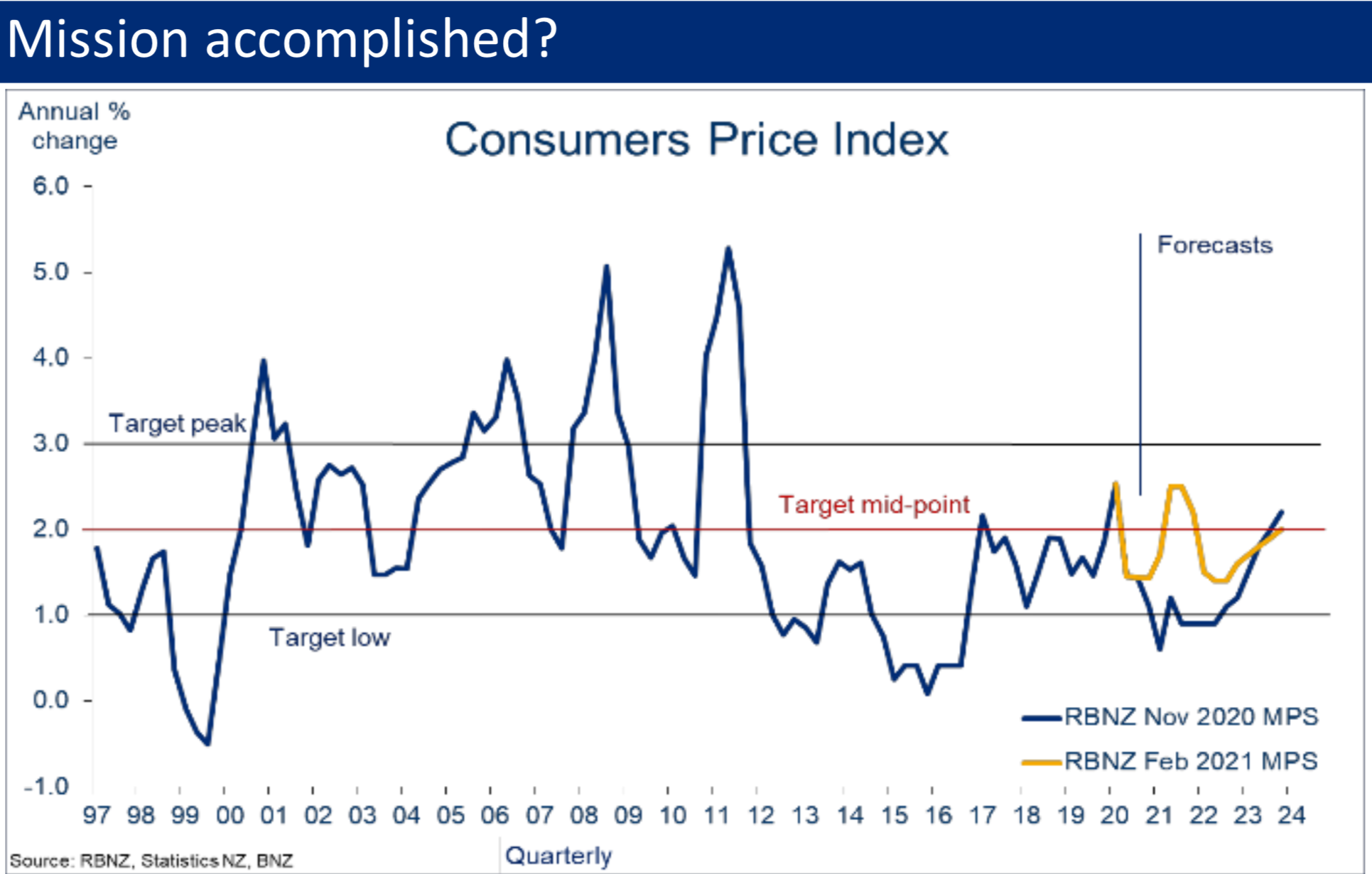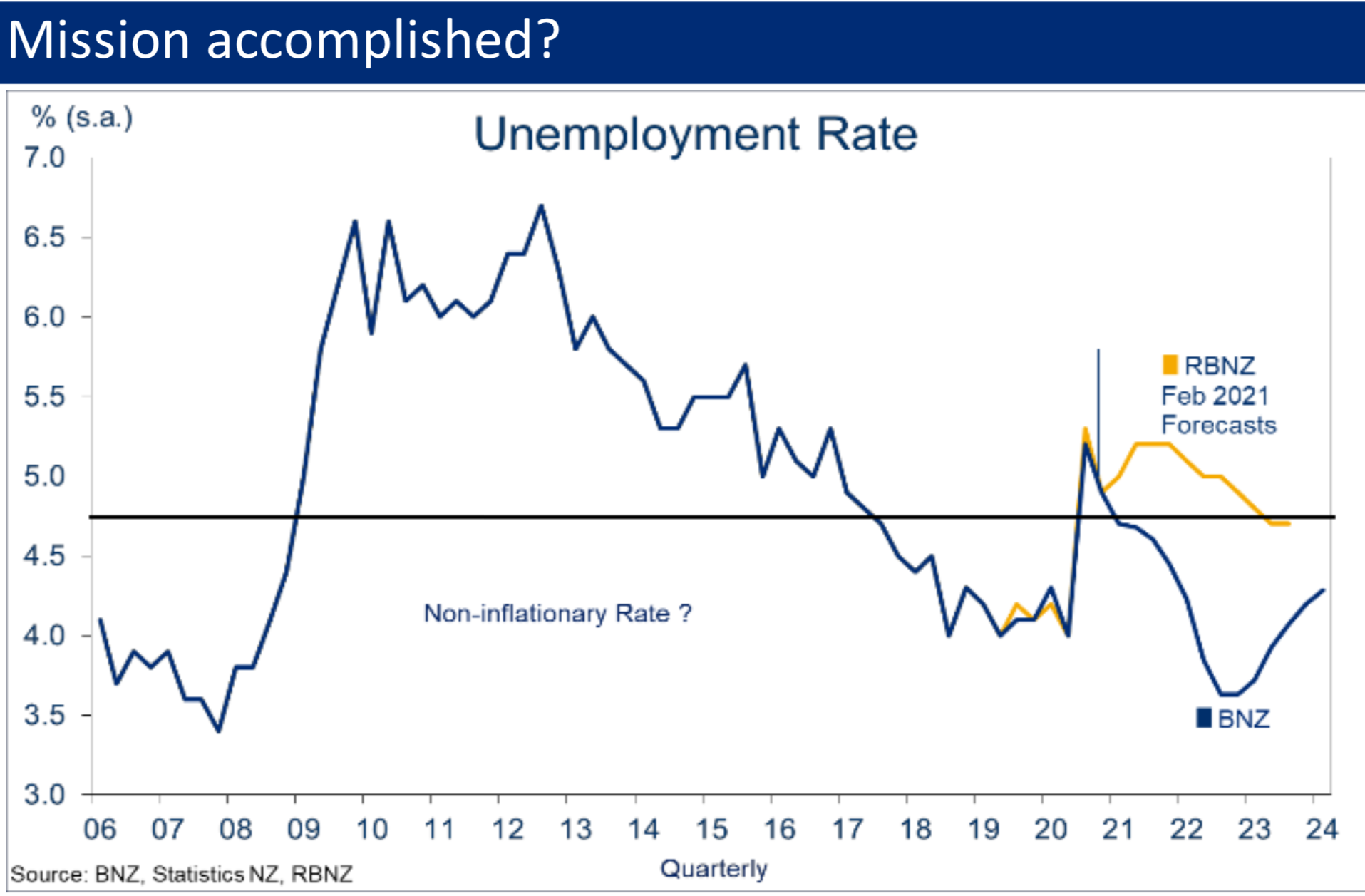 "It could, however, display a distinct tilt to the less dovish side. In our opinion, the labour market is turning out to be tighter than the RBNZ had expected and the outlook for CPI inflation higher. If the Reserve Bank has come to the same conclusion then it would also be consistent to conclude monetary conditions don't need to be as easy as previously assumed.
"This is all well and good but, even if the RBNZ has moved towards our camp, it has three big questions to answer: - Are the more hawkish economic conditions threatening to become permanent or are they transitory? - How much time does the Bank have to convince itself? - How does it acknowledge the changing environment without creating a market over-reaction?"
Toplis says the RBNZ will feel it has time on its side.
The big test for the RBNZ
"While inflationary pressures might rise to levels that make the Bank uncomfortable, they are not likely to do so outrageously. For example, annual CPI inflation could, say, jump over 4.0% relatively quickly but that would not exactly be miles away from target. It's hardly the double-digit inflation of yesteryear. Moreover, with households highly leveraged, the RBNZ will be reassured that it should only require a modest increase in interest rates to rein in any excesses that might develop.
"The big test for the RBNZ is how does it acknowledge the evolution we are witnessing without scaring markets.
"We completely understand why the RBNZ would not want rates to rise yet, nor the NZD for that matter. But, at the same time, the Bank's credibility would be threatened if it didn't acknowledge price pressures have risen.
"Somehow it needs to find a way to prevent a market over-reaction while still signalling that the possibility of tighter conditions has increased.
"We will watch this tightrope walking with interest."