The shock drop in the unemployment rate has ended all talk of further official interest rate falls and is now prompting increased speculation of rates beginning to rise in 2022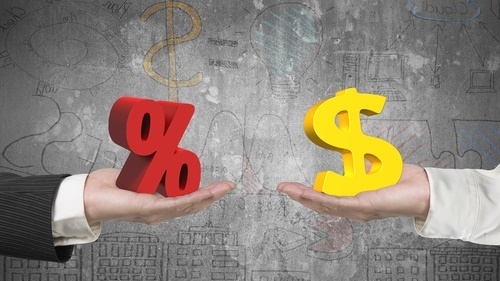 BNZ economists are now forecasting that the Reserve Bank will begin raising interest rates from as soon as May next year.
The change in forecast from the BNZ follows the stunning fall in unemployment for the December quarter to 4.9% from 5.3% in September - a result that went right against market expectations (and the forecast of the RBNZ) that unemployment would rise to 5.6%.
The employment figures have now removed all talk from the marketplace of the possibility of any further interest rate cuts. ANZ economists, who had been forecasting one further cut this year to the Official Cash Rate, taking it down from 0.25% to 0.1%, now say they no longer expect any more cuts.
The Reserve Bank will next publicly be discussing interest rates with the release of its next Monetary Policy Statement (MPS) on February 24. For much of last year it appeared likely that the RBNZ may well take the OCR below zero this year. But market sentiment has changed quickly since towards the end of 2020.
Last week, ahead of the latest unemployment figures being released, global independent economic researchers Capital Economics doubled down on their earlier pick that interest rates would rise from next year.
And Capital's now getting some company, with BNZ forecasting rises from next year, while wholesale interest rate pricing is suggesting increased risk of rising rates from 2022.
BNZ head of research Stephen Toplis said the BNZ economists had been warning for some time that the scene was being set for for the next move in interest rates to be up.
"Indeed, we abandoned the prospect of sub 0.25% rates back in early November last year. As relatively hawkish as we were, we were not prepared to be definitive that rates would rise. Now we are.
"There is still massive uncertainty as to when and by how much but, today, we are formally building in a first rate hike in May 2022.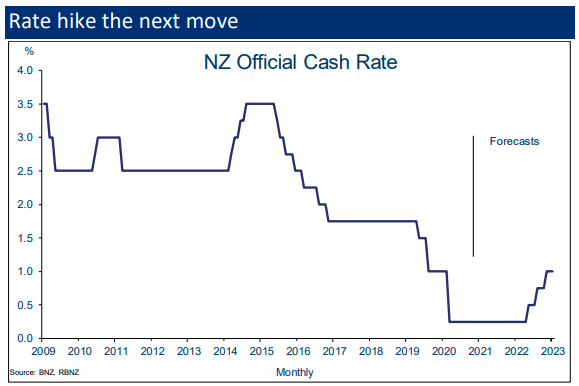 Toplis says rather than a statement of exactly when, this forecast "should be considered as a placeholder, and a stake in the ground".
"Clearly, there is a mass of water to go under the bridge between now and then and the re-emergence of Covid in New Zealand could again see thoughts of a further rate cut rise to the surface.
"But if the current momentum in the economy is sustained then New Zealand will be in serious risk of overheating if monetary conditions were to remain as stimulatory as they now are."
In terms of whether the RBNZ will adopt "a formal tightening bias" when releasing its February 24 MPS, Toplis says "not necessarily, or even likely".
The dollar is on fire
"It will, no doubt, be very fearful of pouring further fuel on a NZD [New Zealand dollar] that is already on fire. Also, the Bank is on record as saying that it is willing to let things run hot for a while implying that its risk tolerance is to act late and hard rather than early. But the Bank won't be able to ignore what is going on. 
"From a Reserve Bank perspective, the strength in the NZD, which now stands 5.0% above its MPS-assumed level, will be disconcerting. But less disconcerting when seen alongside strong commodity prices, an improving global outlook and an on-fire domestic economy."
Kiwibank economists note that wholesale interest rates are higher "across a far steeper curve".
"Risk of rate cuts have been replaced by risks of rate hikes! And as soon as next year. The Kiwi rates market has gone from pricing in a negative cash rate, just a few months ago, to rate hikes beginning in the middle of next year.
"It all comes down to the RBNZ's communication on February 24. The RBNZ should remove their 'optionality' around negative rate policy, but cap market expectations of rate hikes. A return of the OCR track [the RBNZ removed OCR forecasts from its MPS forecasts last year] will do the trick. We'd expect the RBNZ to signal an unchanged OCR well into 2022 (possibly 2023) at this stage, to restrain the rise in wholesale interest rates.
"The RBA [in Australia] signalled an unchanged cash rate, into 2024! It's about time we took out the downside risks. But it's not yet the time to talk up the upside risks. That's a game plan for next year (we hope)," the Kiwibank economists said.
'Done the trick'
ASB senior economist Mike Jones said last year's flood of RBNZ (and fiscal) stimulus "has done the trick, and no more is required" and he agrees with the market pricing "some risk" of a lift in interest rates in 2022.
Jones says that "remarkable as it is to suggest", the unemployment rate may have already peaked.
"There are some chunky implications for the RBNZ here. Achieving the Bank's two monetary policy objectives is suddenly a goal within reach, from a situation last year in which its inflation and employment projections were a long way from target. Last year's flood of RBNZ (and fiscal) stimulus has done the trick, and no more is required. By contrast, attention is quickly turning to when the stimulus taps, which are still gushing, might be wound back a little. The market is now factoring in a small (just under 10%) chance of a lift in the OCR by February 2022, which looks about right to us." 
Capital Economics Australia & New Zealand economist Ben Udy says he thinks the unemployment rate will fall to near 4% by the end of 2022. 
"That's much more optimistic than the RBNZ's forecast that the unemployment rate will rise to a peak of 6.4% in Q2 and still be 5.5% by the end of 2022. Our view that the labour market is set to tighten much faster than the RBNZ anticipates is one reason why we expect the Bank to begin raising rates by the end of next year."
'A picture of economic resilience'
ANZ chief economist Sharon Zollner and senior economist Liz Kendall said the latest employment data add to a building picture of economic resilience relative to expectations, which, combined with better inflation data, a strong housing market, resilient business sentiment, and continued good management of our Covid response, should provide some assurance to the RBNZ.
"Their targets look achievable over the medium term, provided downside risks do not materialise. So while easy monetary conditions will be with us for a long while yet, the RBNZ can be patient. We no longer expect the RBNZ to cut the OCR again this cycle."
Westpac senior economist Michael Gordon said the employment  results "are of course welcome", but they represent a shot across the bow for policymakers.
"The rebound in the level of GDP, the surging housing market, higher than expected inflation, and now falling unemployment all make it obvious that the combined efforts of the Government and Reserve Bank to support the economy through the Covid shock have had a much more powerful effect than anticipated.
"That calls into question just how much ongoing stimulus is appropriate, particularly over the period when vaccines are rolled out and global travel resumes. It's becoming increasingly possible that the RBNZ will regret some of the stimulus measures that it put in place last year, and could start to tighten policy sooner than we previously anticipated."