BNZ's Stephen Toplis predicts a 'fun time ahead' for the RBNZ with the economy softening, the NZ dollar weakening, and inflation potentially rising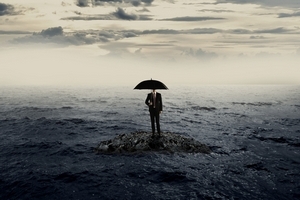 BNZ's economists have cut their Fonterra payout forecast as the GDP outlook dampens leading the bank's head of research Stephen Toplis to suggest it's not hard to envisage a scenario where a recession becomes imminent.
"We have been warning for some time now that there was a very real chance that growth would falter, the NZ dollar would respond, and that the falling NZ dollar might create an inflation problem even as economic activity diminished. In our opinion, this process is now well in train," Toplis says.
The biggest economic "shock" is the ongoing demise of the dairy sector, Toplis notes. This week's GlobalDairyTrade auction saw prices fall by 5.9% with wholemilk power plunging 10.8%. It's the eighth consecutive fall in dairy auction prices, and the biggest drop since the April 1 auction, taking prices to six-year lows. 
"Accordingly, with the further slump in the very latest dairy auction price and confirmation that the ban on dairy imports into Russia from the EU, the USA and others will continue, we have lowered our expected 2015/16 milk price forecast to $5.20kg from a previously forecast $5.70. Unfortunately, downside risks remain, with our forecast still reliant on some pricing recovery over the next twelve months," Toplis says.
ANZ's economists yesterday cut their forecast to $4.50, down from $5-$5.25.
Toplis points out the dairy payout "income effect" feeds through to the broader economy, adversely impacting private consumption, investment and government revenues.
"So while agriculture production is not significantly impacted other parts of GDP most definitely are. In part, the demise of dairy will be having an impact on economy-wide confidence, such as reflected in the recently released ANZ survey. In turn these confidence readings are also useful in predicting future GDP growth. Unfortunately, the trend in confidence is down. And it's not only agriculture where this shows up."
There's also a softening in construction expectations as the contribution from the residential part of the Christchurch rebuild starts peaking, adds Toplis.
"Our GDP forecasts were already on the pessimistic side of consensus and lower than the RBNZ's. So, rather than take a knife to our own view, we simply find ourselves more comfortable with our central case scenario. For the record, we are forecasting annual average growth of 2.4% for calendar 2015 after a 3.3% increase in 2014. We forecast growth averaging 2.1% for the following two years."
Skewed to the downside

But the balance of risks to BNZ's forecast is becoming skewed to the downside, Toplis says.
"Indeed, so much so that it is not hard to envisage a scenario where a recession becomes imminent."
He suggests a recession prognosis could run like this: Dairy prices fail to recover, which is quite plausible, drought hits production following an El Nino event which the Southern Oscillation Index predicts will happen, Christchurch house prices start falling leading to more generalised uncertainty in the housing market with Toplis saying there's already some evidence of this, investment activity fails to rise in the forecast manner due to increased business uncertainty, and general weakening in the economy results in lower net immigration.
"While not our central scenario it's easy to see how such a series of events could quickly tip the balance. And we haven't even talked about the possibility of an adverse global economic shock such as the potential for flow on impacts of a Greek implosion; a financial crisis in China; soaring global interest rates as the Federal Reserve begins to tighten; or a stronger NZ dollar TWI because the Fed fails to tighten," Toplis says. 
"With this as a background, forecasters are trying to outdo themselves in having the lowest published cash rate expectation on offer. It's easy to see why this might be the case but it's equally as easy to see why such an assessment might be naïve. It is true that softening growth, probably accompanied by a rising unemployment rate, might argue strongly for significant future rate cuts but one can't look at these factors in isolation."
"One must also take into consideration the starting point for monetary conditions, what the NZ dollar is doing and, of prime importance, what all this means for CPI inflation. In the current environment it's hard to know where the neutral interest rate is so it's equally hard to identify just how stimulatory current interest rate settings are. That said, surely the neutral rate is somewhere above the current 3.25% cash rate, suggesting that interest rate settings are already stimulatory and already set for a deteriorating economy that hasn't yet arrived," says Toplis.
"What we can be a little clearer about, however, is the interplay between the NZ dollar and inflation and what that should mean for the Reserve Bank given its inflation mandate. As we write, the New Zealand TWI sits at 70.5. That's almost 6.0% below where the RBNZ had estimated the currency would be through the third quarter and is, in fact, 2.0% below the level assumed for the second quarter of 2017. All things being equal the reduction in the NZ dollar, if sustained, will have added somewhere between 0.6% and 1.2% to the RBNZ's published inflation peak of 2.1%. In order to offset this it will need reason to drop its non-tradables inflation forecast by between 1.2% and 2.4%. This means that the annual forecast for non-tradables inflation would need to drop to, say, somewhere between -0.2% and 1.0%," Toplis suggests.
This, he says, is conceivable because annual non-tradables inflation dropped to 1.0% in 1993, although this followed a fall in economic activity that led to the economy contracting at an annual rate of 2.2% off the back of a protracted downturn.
"Conceivable, yes, likely, no. We are sticking to our view that the RBNZ will cut its cash rate a further 25 basis points in July (to 3%). We also concede that the risk of further cuts, thereafter, is rising," Toplis says.
"But we can't caution enough that the decision-making process as to where interest rates eventually go must revolve around the RBNZ's forecasts for inflation. As at the last Monetary Policy Statement, CPI inflation was already forecast to rise to the mid-point of the RBNZ's target band. The recent slump in the exchange rate must surely push that forecast higher. As the risks around growth falling to zero coincide with the possibility that CPI inflation heads to 3, the RBNZ will most surely have a fun time ahead of it. And that's before it has to consider the macro stability impacts of a booming housing market."