RBNZ's Wheeler expects banks to pass on most of OCR cut; says RBNZ will send debt to income multiple limit plan to English in next week or two, but unlikely to be introduced this year; says migration putting downward pressure on wages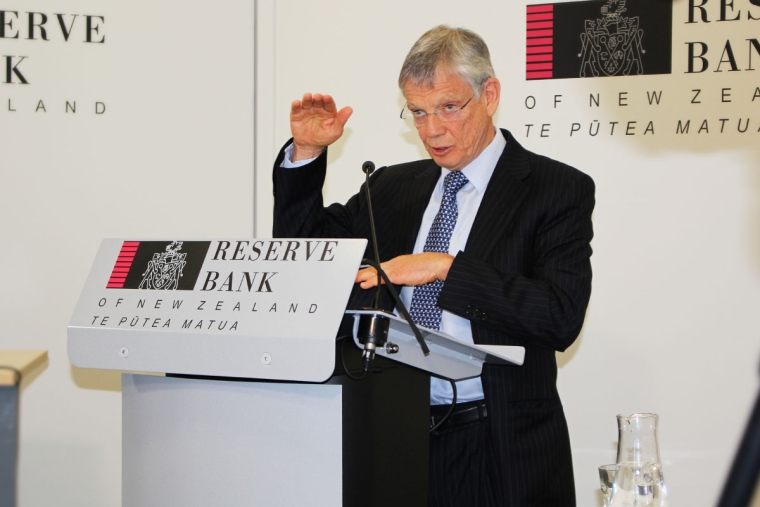 By Bernard Hickey
Reserve Bank Governor Graeme Wheeler said he expected banks to pass on most of today's 25 basis point cut in the Official Cash Rate (OCR) cut to mortgage borrowers, but agreed international funding costs had risen and that banks may need to keep term deposit rates up or even raise them to closer match their funding with their lending.
His comments followed ANZ's decision to pass on only 5 basis points of the cut this morning to its regular floating mortgage rate customers and to increase its term deposit rates. See more here in David Hargreaves' article.
Wheeler was asked about the ANZ decision and talk other banks would follow its lead at the Reserve Bank's news conference after his OCR announcement and the release of the August Monetary Policy Statement.
"We would like to see most of it passed on," Wheeler said.
The banks retained about 15 basis points of the 50 basis points of OCR cuts in December and March, while their Australian parents retained 11-15 basis points of last week's Reserve Bank of Australia 25 basis point rate cut. See more in David Hargreaves' piece last week and in David Chaston's call on Monday for new capital risk weighting rules for banks.
Wheeler said in the news conference he had said after the last cut in March that he also expected most of it to be passed on. Here's our March 10 report on Wheeler saying he expected all of the 25 basis points to passed on to floating rate borrowers and most of it to be passed on to fixed rate borrowers.
"Certainly you'd expect the floating rates to come down 25 basis points, and the fixed will depend on a lot of factors, but one would expect that most of that would be passed on," Wheeler told the Finance and Expenditure Select Committee on March 10.
Wheeler said in today's news conference he had not seriously considered cutting the OCR by 50 basis points, as some in the financial markets had expected. The New Zealand dollar jumped after the decision and after the Reserve Bank included one more cut in its central forecast for later this year. See more in our article earlier today.
'DTI limit news soon, but not introduced till next year'
Elsewhere, he said the Reserve Bank was about to send a report to Finance Minister Bill English in the next week or two formally requesting the inclusion of a new debt to income multiple limit in the Reserve Bank's Macro-Prudential tool kit, but cautioned it was unlikely to be introduced this year. 
"We shouldn't expect to see anything this year," he said.
Migration dragging on wage inflation
Meanwhile, Wheeler followed up Reserve Bank comments last month about the need for a migration review by saying the Reserve Bank was considering how record high net migration was putting downward pressure on wage inflation and whether skill levels of migrants have been a factor.
Treasury has previously warned in advice to ministers that a higher number of relatively low skilled temporary migrants may be dragging on wage growth, although the Government has said it has not seen evidence of that. Wage growth was at a 6 year low in the June quarter despite economic growth being over 3%. See more in my June 12 column.
Wheeler noted that the labour force had increased by around 4% over the last two years, largely due to record high net migration.
He said wage inflation had been surprisingly moderate and high net migration had played a role in that. He said the Reserve Bank was interested in the quality of the migration and whether it was a factor keeping wage inflation low.