After their Australian parents padded their margins by not passing on the RBA's full cut, what will their Kiwi subsidiaries do next week?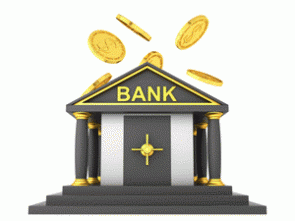 By Gareth Vaughan
The decisions by the Australian parents of New Zealand's big four banks to retain between 11 and 15 basis points of this week's Reserve Bank of Australia (RBA) cash rate cut will boost their margins by between 3 and 5 basis points, and their earnings by between 2% and 3%, according to analysts at Macquarie Securities.
After the RBA cut the cash rate by 25 basis points to a fresh record low of 1.50% on Tuesday, ASB's parent Commonwealth Bank of Australia, ANZ, BNZ's parent National Australia Bank and Westpac cut their standard variable, or floating, mortgage rates by between 10 and 14 basis points.  As Macquarie puts it, this means the four "announced 11-15 basis points [of] repricing."
"We see this as a positive earnings catalyst for the sector and estimate that it provides 3-5 basis points to banks' margins and 2-3% to their earnings," says Macquarie.
Or as The Australian Financial Review's Chanticleer column noted; "Australia's big four banks have shown their determination to hang on to their high return on equity for as long as possible with their half-hearted pass through to mortgage borrowers of the Reserve Bank of Australia's 25 basis point rate cut. As interest rates fall the banks will continue to hold back as much as possible of the lower official rates from mortgage borrowers in order to protect their net interest margins."
Although the big four banks were much more friendly towards savers, with term deposit increases for terms ranging from eight months to three years of between 45 and 85 basis points, expectations are much of this will be clawed back, as happened earlier this year after similar moves following the RBA's May cash rate cut. Indeed the Macquarie analysts note the deposit rate increases are "likely to be unwound over time with limited impact on profitability." Competition among Australia banks for deposits is, however, expected to be strong in the lead up to the implementation of the Net Stable Funding Ratio, which is similar to NZ banks' Core Funding Ratio requirements, in 2018.
So what will NZ banks do next week?
With the Reserve Bank of New Zealand widely expected to cut the Official Cash Rate by 25 basis points next Thursday, August 11 to 2%, this begs the question as to how much local banks will pass on to borrowers, and what changes will there be for savers?
As we reported earlier this week, ANZ's economists are suggesting borrowers should not expect to see their mortgage rates drop 25 basis points. This argument was made in ANZ's weekly Market Focus report. It was also set out in ANZ's NZ Property Focus report last week as below;
"While the RBNZ is set to cut the OCR again, we doubt the full 25bps will be passed on. Credit growth is outpacing deposit growth, a partial by-product of lower interest rates. Any shortfall needs to either be funded offshore (which is more expensive) or by shifting relative pricing, which means competing more aggressively for deposits and slowing credit growth. Banks' cost of funds continues to rise. Deposit rates are now into the territory where further reductions would negatively impact already falling deposit growth rates. For money to be going out the door (lending), it needs to be coming in as well, and continued falls in deposit rates is incongruous with that. So we appear to be approaching a point where borrowers will not get the full benefit of OCR cuts, but depositors will not receive the full pain either, and in fact may benefit if competition heats up."
ANZ likely to set the tone
ANZ, comfortably NZ's biggest bank, is generally the first major bank - if not the first bank fullstop - to react to Reserve Bank OCR changes. ANZ thus often sets the tone for those who follow. This is what happened in March when the Reserve Bank last cut the OCR. Then ANZ cut its floating mortgage rate by just 10 basis points. BNZ and Westpac also subsequently cut by just 10 basis points, while ASB and Kiwibank cut by 20 basis points.
The miserly cuts came even though Reserve Bank Governor Graeme Wheeler said he expected the full 25 basis points cut to be passed on to floating mortgage rates. The only bank in March to cut its floating mortgage rate by 25 basis points was the 100% retail funded The Co-operative Bank. Its CEO Bruce McLachlan said at the time there was no case to not pass on the full 25 basis points OCR cut to floating mortgage rate customers, and those borrowers shouldn't have to pay for pressure on bank margins elsewhere.
In March banks cut savings rates, with greater purpose than mortgage rates in some cases, whilst some dragged their heels in terms of passing on lower mortgage rates to hard pressed farmers.
Meanwhile, the latest quarterly KPMG Financial Institutions Performance Survey, out last week, shows - in the charts below - that whilst the major banks' net interest margins have been slipping, their funding costs have been falling faster.
Major banks' average cost of funding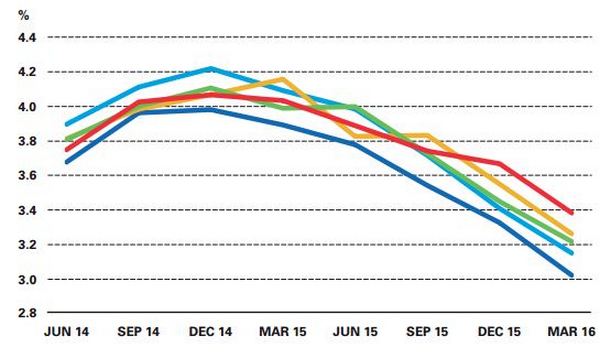 Major banks' interest margin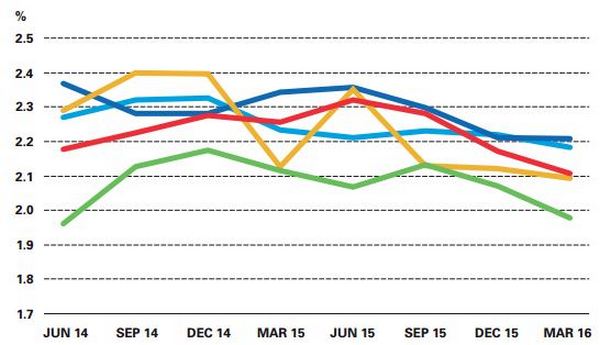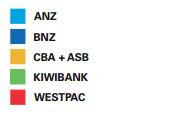 *This is an abridged version of a longer article that ran in our email for paying subscribers. See here for more details and how to subscribe.