David Hargreaves ponders the country's mountain of weighty mortgages, which, paradoxically, keep getting lighter and more affordable thanks to disappearing interest rates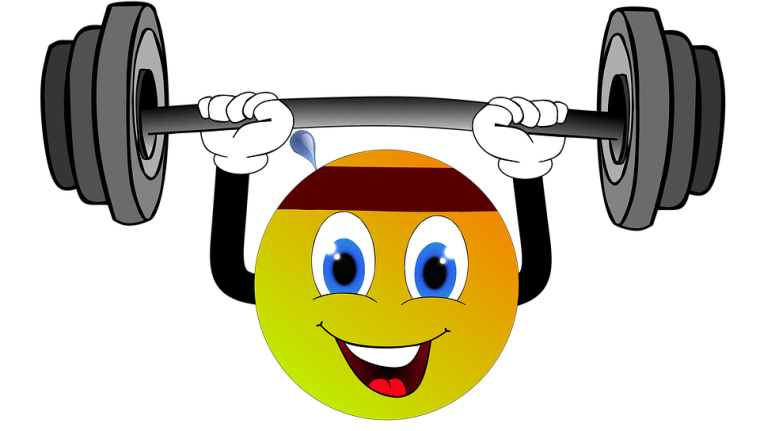 By David Hargreaves
When you really think about it, the whole thing is beyond odd.
Here we are still merrily clocking up seemingly ever more momentous-sized mortgages and yet the weight of these beasts is actually getting lighter - in terms of debt servicing requirements. The country's mortgage holders are becoming super heavyweight lifters. 
This is counter-intuitive and it's all down to falling interest rates, which are easing the monthly burden even as the amounts borrowed get bigger. Just don't think of how much you've borrowed. Or how long you'll be paying it off for. 
But these are strange times.
In the mid 2000s all seemed 'normal'. House prices shot up, borrowing shot up, and er, so did interest rates, leaving the populace up to its nostrils in debt that was, sure enough, getting markedly more expensive to service. And that's what's tended to happen previously.
Between 2001 and 2007 (according to Reserve Bank figures) the average floating new mortgage rate for new customers rose from 6.7% to over 10.5%. A lot of people saved themselves pain for a while by fixing for quite long terms, but it all caught up in the end.
On an annual basis and again according to RBNZ figures, interest payments on mortgages (including for ownership of rental properties) took 8.6% of household disposable income in 2001. By 2007 this was up over 12.5% and was to go higher than that still, peaking at 13.8% at the end of 2008.
After the Global Financial Crisis of 2008 though the world is a very different place.
We've now gone through another period of rapid house price appreciation. Very different reaction. Barring the erroneous hiking cycle by the RBNZ in 2014, which saw the Official Cash Rate lifted by a full percentage point to 3.5%, interest rates have stayed down and indeed continued to fall. One significant reason is that this time around there was little secondary inflation generated by the higher house prices. Not like the previous time.
In mid-2008 the OCR was 8.25%. It then fell to 2.5% by 2013, rose from 2.5% to 3.5% in 2014 and stayed at that level till into 2015 before it started falling again. Now it's 1.5% and likely to go a bit lower yet.
Over the same time periods, according to RBNZ figures, the average floating rate on new mortgages for new customers dropped from 10.88% in mid-2008 to 5.87% in 2013, before heading back up to 6.71% in 2014 and then falling back again, dropping to 5.73% as of May 2019.
It's worth noting that the RBNZ figures show a 0.12 percentage point drop (from 5.85%) in the floating mortgage rate since April, following the 0.25 percentage point cut to the OCR in May.
That's floating rates of course and they've been rather more tardy in dropping than fixed rates.
The more detailed latest figures on average new 'standard' lending rates from the RBNZ highlight some fairly marked drops even from the start of this year, with the five-year-rate for example having been cut by more than half a percentage point since January (from 5.58%) to 5.04% as of May.
And the figures for 'special' rates highlight the trend even more, with the five-year rate having eased from 5.07% in January to 4.46% in May. Just as some example, on a $400,000, 30-year mortgage, May's 4.46% rate would save the mortgage customer $47 a month compared with the January rate.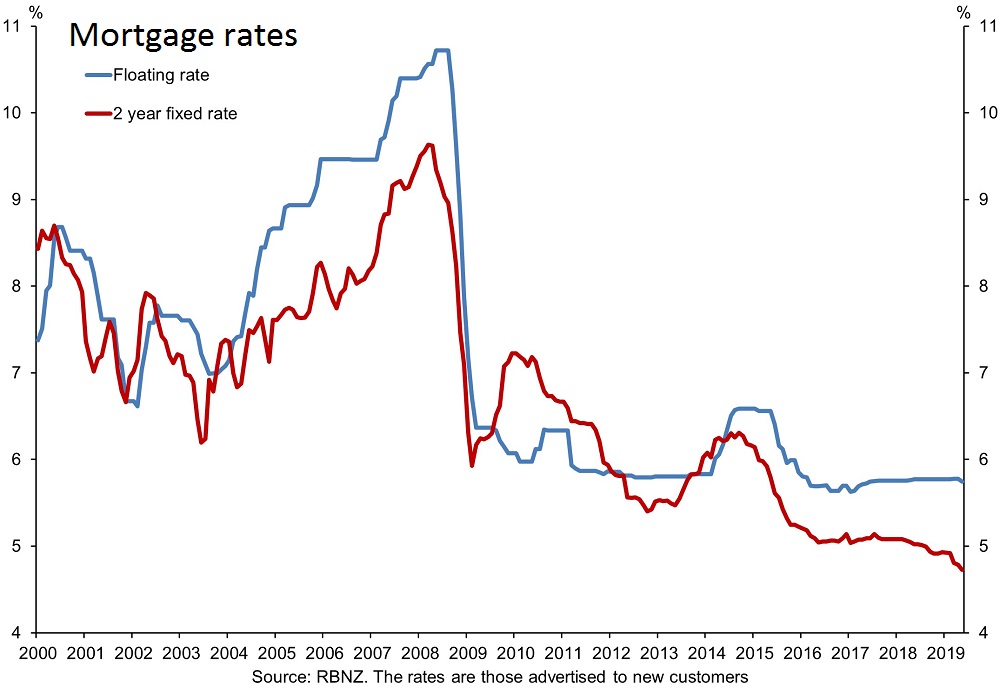 The RBNZ has also recently released its latest quarterly key household financial statistics. There's a bit of a lag on these figures and the latest ones are for the March quarter and so therefore don't include the impact of the RBNZ's recent OCR cut. It will be interesting indeed to look for the June quarter figures later this year and see how strong the impact has been.
The key household financial statistics series dates back to 1998. 
One of the statistics closely looked at is household indebtedness in relation to disposable income. There's two choices of figures there - either the percentage that includes rental properties owned by households or the percentage that excludes those, which of course is lower.
As of March, household financial liabilities, excluding rental properties, had risen to 125% of annual disposable income (a new record high) from 124% in the December quarter. At the start of this series in December 1998 the household financial liabilities equated to just 75% of annual disposable income.
Including rental properties owned, the percentage figure for financial liabilities to annual disposable income as at March 2019 was 164%, which is also a record high. However, the figure's now been the same for 12 months, which is good news if you can call it that. Sitting on a high plateau. Back in December 1998 the equivalent figure was just 99%.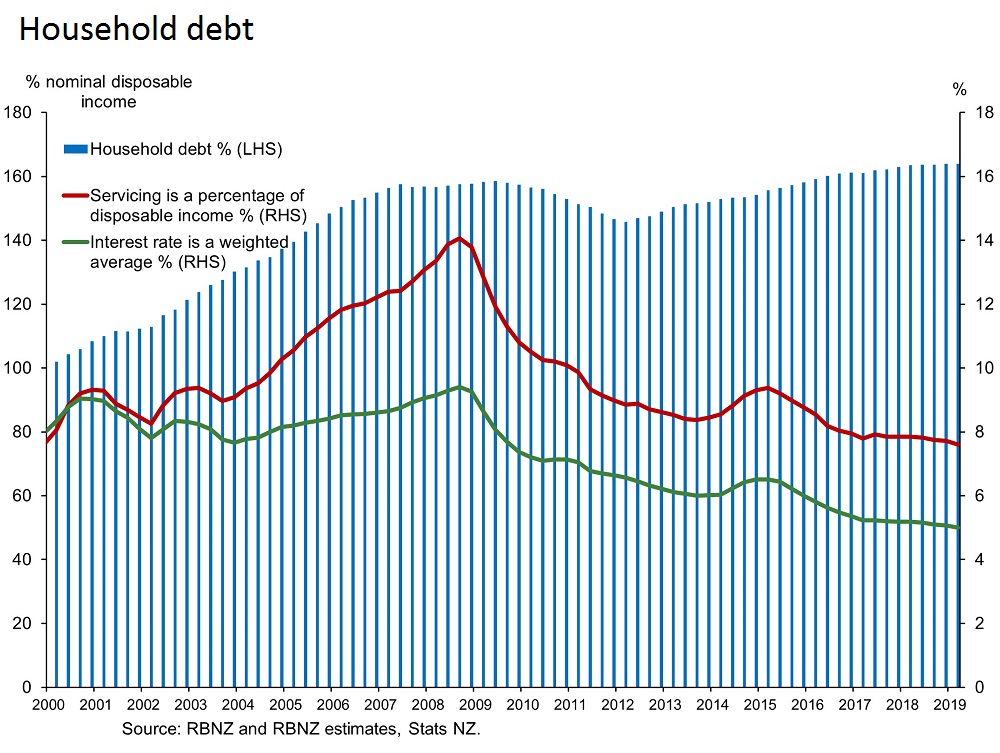 So, our households are apparently drowning in debt. And yet. They are not. Not in terms of what they can 'afford'. We do have to bear in mind, however, that these are AVERAGE figures generated by dividing a total of household disposable income nationwide by the total interest paid on mortgages. So obviously within those broad figures some people will be seriously pushing the boat out while others won't in terms of commitments.
If you look at the crucial figure (and I will use the annual one to March 2019) of how much of household disposable income is going toward mortgage interest (and this includes rental properties owned) the latest figure is just 7.7%. So on average just 7.7% of disposable income going on interest payments. That's actually the lowest this percentage figure has been for exactly 19 years. Only in December 1999 (when the figure was 7.6%) has that figure been lower since the RBNZ started this data series.
I go back at this stage to how things were looking when the GFC bit hard and things were looking a lot more stretched on the disposable income to interest payments front - with that proportion of annual disposable income required for interest payments hitting 13.8% by December 2008. Remember around that time floating mortgage rates on new mortgages had been close to 11%. Yes, the monthly mortgage bill was looking a bit chunky.
So, what a difference the low interest rates make and thank goodness for them at the moment. (Though investors aren't saying that, and therein is a different story). 
The fact remains though that there's a lot of debt. People, particularly first home buyers, are having to borrow heroic amounts of money. According to RBNZ monthly mortgage figures, the average sized mortgage taken out by FHBs is running at over $400,000.
How comfortable can and should we be that we are almost now in a situation where people could be encouraged to get even deeper into debt based on what the current debt servicing costs are?
Rates are still going down
Interest rates are down and likely to be down for the foreseeable future. Indeed, I'm convinced the RBNZ has not finished cutting the OCR this year and will, probably in August, cut again, to a new low of 1.25%. And who knows there may be another cut on top of that early next year. Certainly the ANZ economists think so.
For how long though should any would-be borrower rely on interest rates staying down? Well, there's a question. And I would not even begin to hazard a guess - which is all it would be.
What if the house market does show some signs of turning up again? Remember it's still ticking over okay anyway in some parts of the country. Auckland of course is flat though.
If people see house prices getting away again then the temptation will be to get into the market at all costs, with costs being the word.
A 'new normal'?
The key question is, do we believe interest rates at this level or only slightly higher are now a 'new normal'? If so then at current levels of serviceability it actually makes sense to borrow to the hilt to get a house. It's borrowed money that's as near to free as we've ever seen. 
But, ohhh. It wouldn't take long for any even fairly small rises in rates to start causing real pain. Just as a very quick example if you added two percentage points to the current floating mortgage rate for a $400,000, 30-year loan, this would add $530 to the monthly interest bill. THAT would be noticed by the customer.
The trick for particularly first home buyers at the moment would surely be, okay, if you think it's what you really want, get on to the ladder, and enjoy the low interest rates. But stash every extra cent you can and start paying that mortgage down as soon as possible so you can start raising your equity in the house.
Generally I don't think anybody should plan for serendipity. Therefore it still worries the hell out of me that the current low interest environment potentially sets us up for big problems later if we do at some point start to see interest rates revert back to what we used to regard as 'normal' levels.
Planning for the worst may seem a rather joyless way to go about life, but it tends to alleviate nasty surprises. Here's hoping for a surprise-free few years. But I'm certainly not counting on it.