David Hargreaves says the willingness or otherwise of Kiwis to keep spending in coming months will be a key factor in how well our economy recovers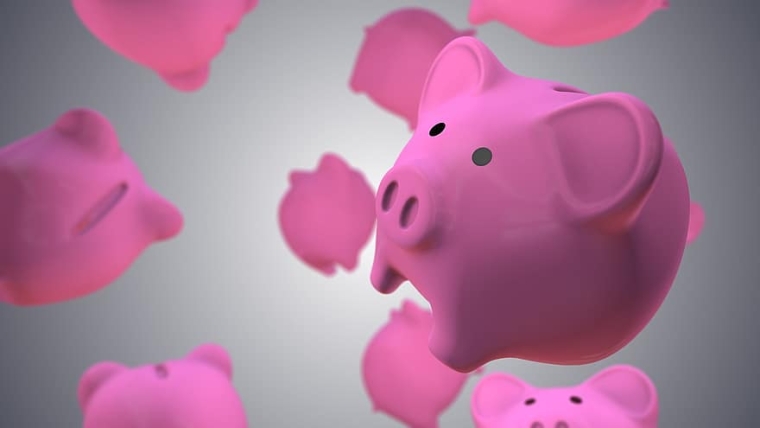 Well, we've had the big save-up. 
Will this be followed by a big spend-up? Or perhaps more to the point, will people be confident enough to at least keep spending reasonably 'normally'?
It matters. With no inbound tourism to fuel the economy the extent to which New Zealanders are prepared to now get out there and spend money will be important in getting our economy up and running again.
There's clearly been some 'relief' spending since we reverted to the near normality of Level 1 from June 9. But economists doubt that the spending will continue. 
And so do I.
What is clear is that, denuded of ways to spend money in and around lockdown time, Kiwis have been stashing the cash. And how. 
Credit cards were largely put away. Big time. 
Reserve Bank figures show that, remarkably, advances outstanding on NZ credit cards plummeted from $7.368 billion as at the end of February to just $5.788 billion by the end of April. That's a 21.4% reduction in just two months and it took the outstanding advances figures back to levels last seen eight years ago.
There was a bit of a bounce back in May - as we started emerging from lockdown - with the outstanding balances topping $6 billion again.
Obviously, it will be real interesting to see what happened in June as the shackles were fully released. We will find out in due course.
Save, save, save...
And we weren't just reducing our debt while in lockdown. Oh, no. Save was the word. And when you are locked up, saving it seems is surprisingly easy to do.
As the latest RBNZ deposit figures for May showed, in that month we snuck away the most ($417 million) in term deposits since May of last year.
But that's not the even the half of it.
As at the end of May the total amount in deposits (including term deposits, savings and transaction accounts) stood at  $194.046 billion, up by $1.363 billion in the month. This gave an annual growth in the total amount held in deposits of 7.6%, which was the highest annual growth rate since late 2017.
But that's not half of it either. In reality a vast portion of that growth was in just three months. 
In the months from March to May a massive $9.56 billion (which loosely equates to around $1900 for every man, woman and child in the country) was added to deposit balances. Ker-ching.
Put another way the $9.56 billion rise in total deposits is a 5% increase in the total. And put another way again, this means deposits over those three months were growing at an annualised rate of 20%. So far as I can see, this would appear to be the fastest pace of increase in a three month period we've seen since the RBNZ started publishing such information in the late 1990s. Certainly in dollar terms the $9.56 billion increase in that three months is much the most for a three month period.
A big turnaround
And it all followed a time in which savings had been drying up noticeably.
In fact earlier this year the rates of increases in deposits were languishing at nine-year lows, with the annual rate of increase getting down to as low as just 4.3% in February - just before the March, April and May spike. 
The low rates of increase in deposits were at that stage potentially a problem for the banks, as they were required by the RBNZ to maintain fairly high rates of deposits as part of their overall funding (the core funding ratio). In late March the RBNZ considerably relaxed these requirements giving the banks much more freedom to source funds from elsewhere, including overseas.
With deposits having poured into the banks since, this would seemingly put the banks in a pretty happy place in terms of their funding. It's probably worth bearing that in mind when dealing with them.
The question is when and if all this extra money Kiwis have been stashing will get spent. Saving is 'sensible' but it doesn't fire up an economy.
The economics team at Kiwibank have been putting together some interesting data based on the recent card spending of Kiwibank customers. 
As the Kiwibank economists say once out of lockdown there was a clear release of some pent up demand (and spending of lockdown savings). 
"We took a good, hard, LONG, look at our backyards, and decided we needed more. More of us ordered pools, fixed fences, laid pavers, and even bought pets. I guess we're better prepared for more (forced) time at home."
Here's a couple of the accompanying graphs I found most interesting: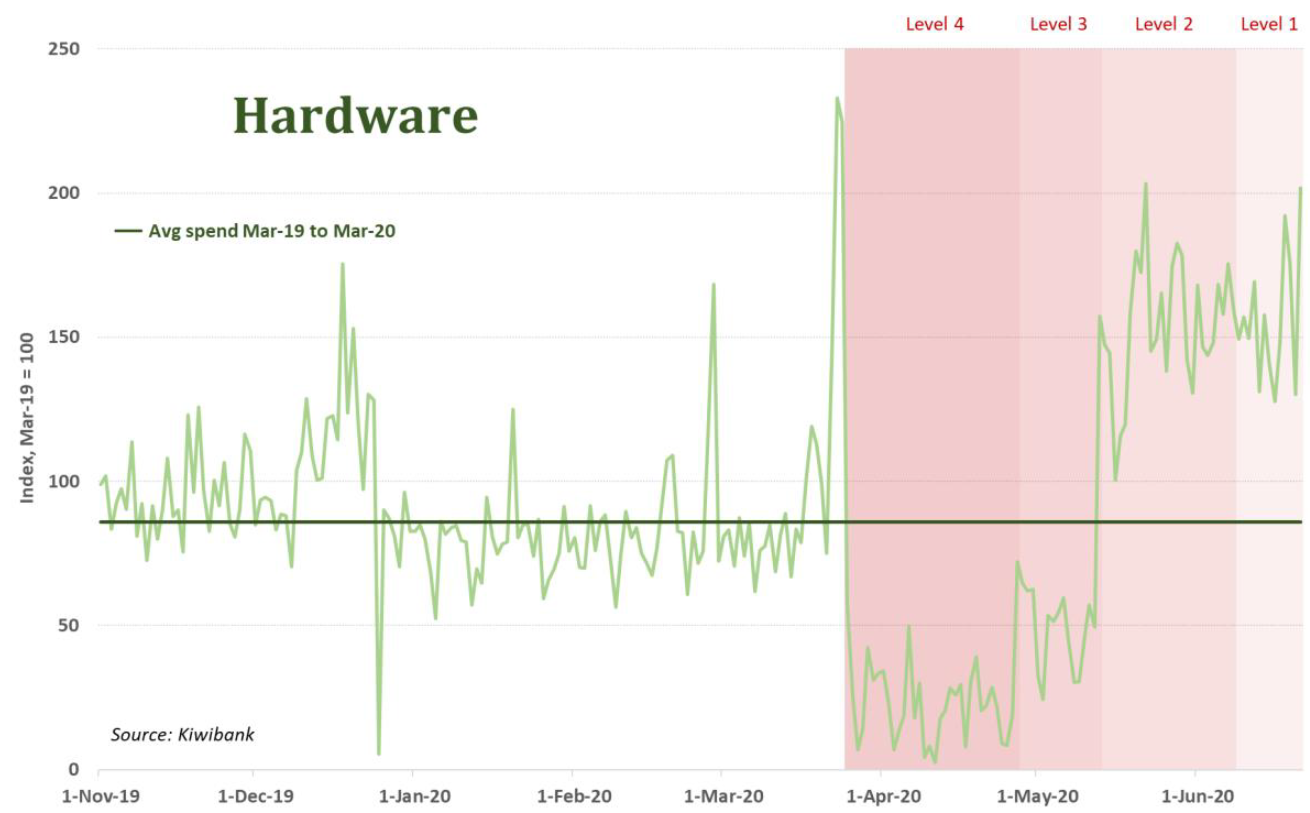 As the economists put it: "Out of lockdown, we got handy with a hammer. DIY is up with a surge in home renovations. And with our overseas trip now cancelled, we could do with a new pool, and couch."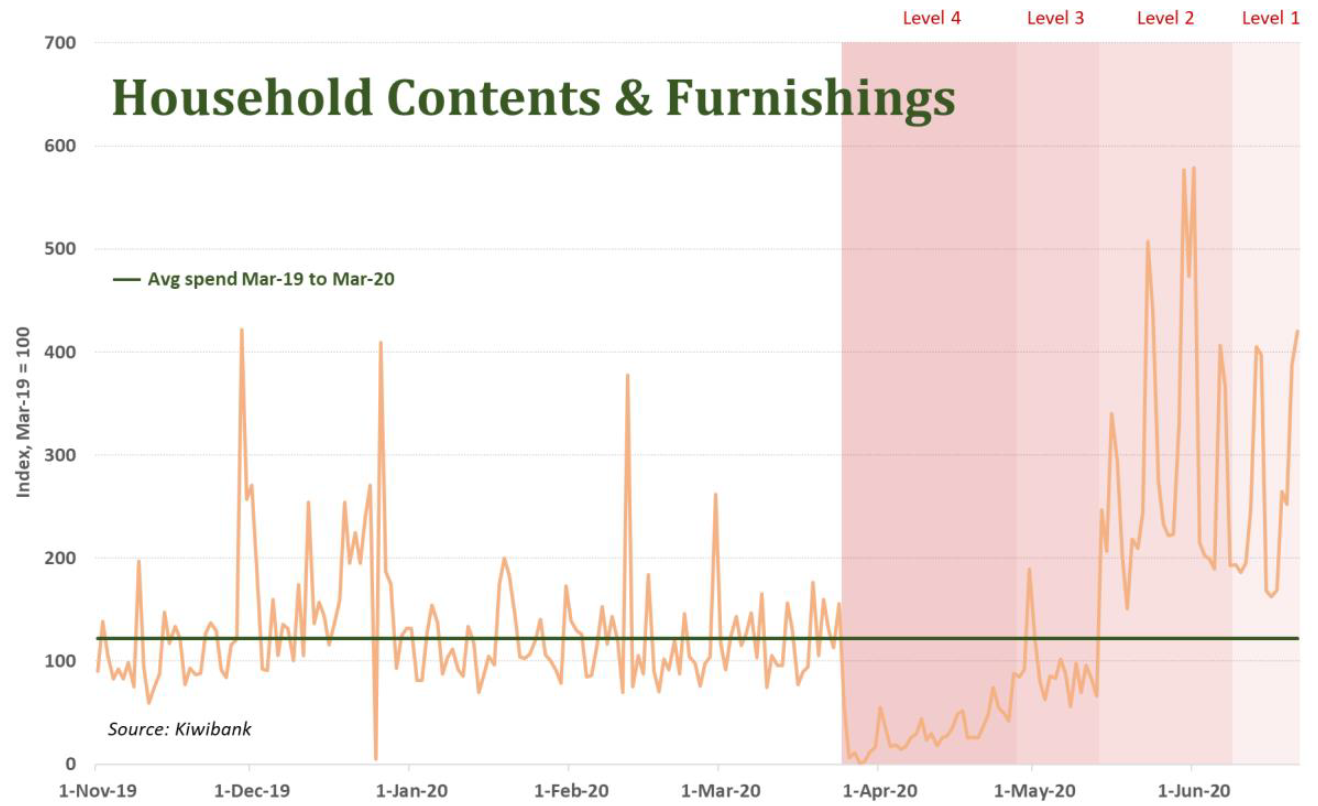 The economists then pose the question, which is the question of this article. Can the spend up continue?
"We're still wary of the damage done and the impact to activity," they say.
"The drawbridge into NZ won't be let down anytime soon. Greater domestic tourism goes some way. But foreign tourism is a hard void to fill. And overshadowing all of this, is the rise in unemployment. The rise in unemployment may dampen future spending, and investment."
Well, exactly. 
I do think we've done a great job, both of holding the pandemic in check (fingers still crossed) and in managing our finances during, let's face it a most turbulent and worrying time.
What happens next is vital
We are in good shape right now, but the next month or two will be crucial.
With the wage subsidy now coming off for many businesses and workers, now is the time when we'll get a clearer impression of just how many people are going to lose jobs.
If the next wave of job losses is particularly heavy then that will knock confidence and spending.
Then of course, in one of those not-nice feedback loops, if businesses (particularly retail and hospitality, perhaps) that have recently re-opened find that the spending dries up then they may well have to look subsequently at lay-offs, or even closing.
The reality is, it would be in the best interests of all of us if we do keep (within reason of course) spending. But that's easier said than done if you are worried about losing your job.
So, as I say, I think the next month or two will be very crucial. I'm certainly going to be keeping a close eye on the saving/spending figures for June and July as they become available.
Much as it is with the pandemic itself, it's a case of fingers crossed and maybe it all doesn't have to be as bad as we feared. A lot depends on us.  
*This article was first published in our email for paying subscribers early on Friday morning. See here for more details and how to subscribe.