Jenée Tibshraeny considers what would happen if house prices fell by nearly 20% - to where they were one year ago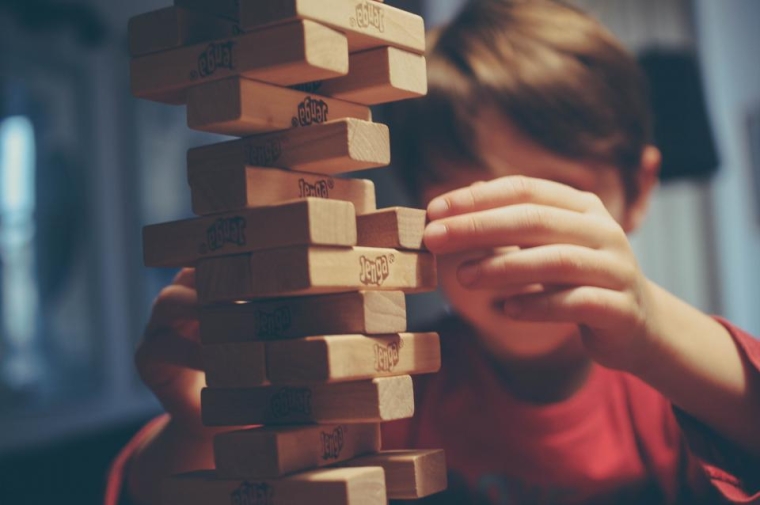 By Jenée Tibshraeny
2020 has been a year of reassessing our values.
Nature has reminded us humans are not at the top of Earth's pecking order. We have a new-found appreciation for being able to spend time with loved ones - in person, and we've come to plan for changes of plan.
But there's one area we're yet to move on: property.
Too big to fail
The message from the Government and Reserve Bank (RBNZ) is effectively, the residential property market is too big to fail.
With housing equity accounting for two-thirds of households' net wealth, both Prime Minister Jacinda Ardern and Finance Minister Grant Robertson have commented New Zealanders can "expect" house prices to keep climbing - ideally at a more moderate rate than at present.
No Members of Parliament have committed "political suicide" and called for a moderate or controlled decline in house prices.
The Labour Government is too scared of even exploring the counterfactual to its unsubstantiated policy of house price growth, even though its decision to pursue this goal is worth 10s of billions of dollars in the immediate-term and will affect generations to come.
House price growth is the unchallenged status quo that's possibly been the only thing immune to reassessment in 2020.
The Government has of course been stuck between a rock and a hard place, as the RBNZ has been slashing interest rates, in part to support the wider economy via the property market. Neither it nor Treasury earlier in the year expected house prices to sky-rocket.
Nonetheless, the RBNZ's been open from the start, it would rather risk over-cooking than under-cooking its response.
While the likes of former investment banker, Raf Manji, called it earlier, this writer has been urging Robertson from at least June to start considering policies that take into account the fact, historically, cheap new money has seen asset prices balloon to the benefit of the wealthy.
Early in the new year Robertson will reveal the advice he's received from Treasury on what to do to cool demand for housing.
A policy mix aimed at a controlled decline in house prices shouldn't automatically be written off as an option.
So, what would actually happen if the country's median house price fell by 18.5% to where it was a year ago at $632,000?
1. Someone wishing to make a 20% deposit would have to save $23,400 less.
If a buyer paid 4% interest over 30 years, their monthly repayments would be $447 lower than what they'd be now.
The total value of their principal and interest would be reduced by $160,920.
Lower house prices would help more people into homeownership, giving them stability, security and social connectedness.
It would also reduce the transfer of inequality between generations, as poor and middle-class kids wouldn't have to risk changing schools and then struggle to buy a house without access to a 'Bank of Mum and Dad'.
2. Rents would likely stabilise.
The need for rents to become more affordable is acute. Boosting wages won't do enough.
There are 3,653 transitional housing places, like motel rooms, for people in urgent need of temporary accommodation.
Separately, 2,853 households received an Emergency Housing Grant in the week to December 11.
There are 70,889 households in public housing and 21,415 households on the waitlist - a 44% increase from a year ago.
The Government is working towards building 6,000 public homes and 2,000 transitional places. This won't be enough.
There are a whopping 372,235 households receiving an Accommodation Supplement - a weekly payment to help cover rent or mortgage payments. There has been an 18.3% increase in the number of households receiving this support year-on-year.
According to Statistics New Zealand, renters are about twice as likely as homeowners to spend 40% or more of their household incomes on housing costs.
In the June 2019 year, just over a quarter of renting households spent 40% or more of their household incomes on rent and other housing costs, compared to about 1 in 8 people who owned, or partly owned their home.
Lower rents would also support younger people, who have been most affected by Covid-19 job losses, yet haven't benefited directly from the RBNZ's stimulus lowering debt servicing costs and boosting asset values.
3. Homeowners would feel less wealthy.
RBNZ research done pre-Covid suggests on average people spend an extra 3 cents each time the value of their house goes up a dollar.
So, the $117,000 increase in the median house price over the past year should've been accompanied by a $3,510 increase in spending on consumer goods and services.
However, it would appear currently those who aren't buying property and/or shares are putting their money in the bank.
Households put an additional $17.8 billion in the bank over the past year - a 9.7% increase from this time last year.
4. A 20% fall in house prices would put 7.7% of mortgage debt ($22.3 billion) in negative equity, according to the RBNZ.
Negative equity occurs when the value of a property falls below the outstanding balance on the mortgage used to purchase that property.
This would become a problem if a mortgage holder had to sell before the market had time to recover and they couldn't afford to pay the outstanding amount on their loan.
If house prices fell by 30%, the portion of mortgage debt in negative equity would jump to 33% ($95.6 billion).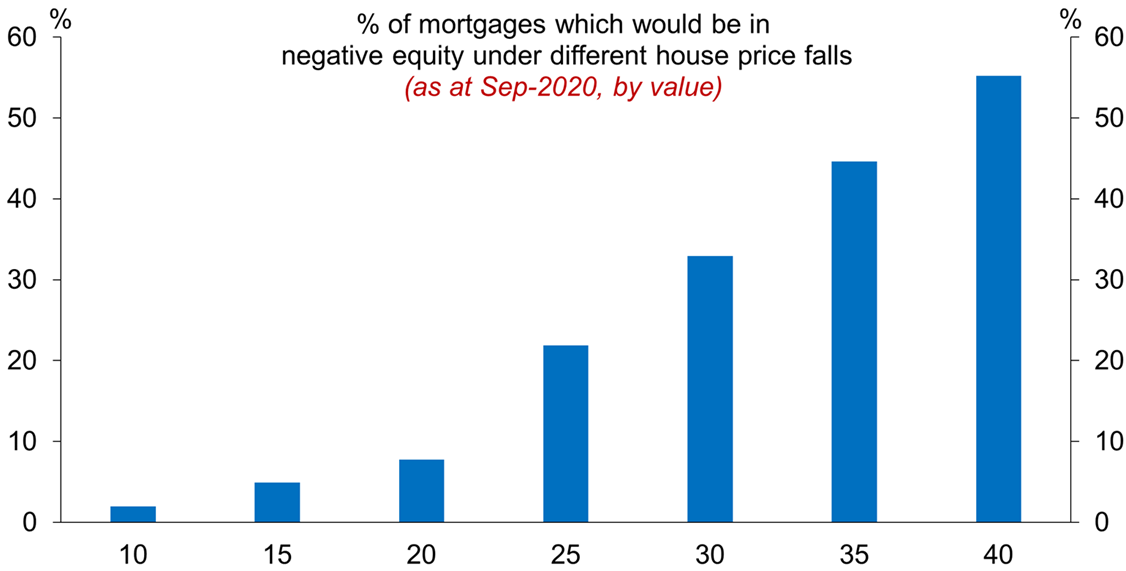 5. Businesses - particularly small ones - with loans secured against residential property would get nervous, threatening people's jobs.
There is $5 billion of business debt completely secured against residential property. This is equivalent to 1.7% of all the country's mortgage debt.
The RBNZ doesn't collect data on business loans only partially secured against residential property.
Both the RBNZ and Government have rightly and successfully prioritised keeping people employed in their economic responses to Covid-19.
6. Business confidence would take a knock, with a question mark over the degree to which this would stymie investment.
Business confidence in December hit its highest level since before Labour came into government in 2017, according to the latest ANZ Business Outlook Survey.
This is despite Covid-19 continuing to plague the world, disrupt supply chains and cause job losses.
The resilience of the housing market is bound to have influenced this reading.
It's worth noting low business confidence didn't translate to high unemployment pre-Covid.
Conclusion
New Zealand's economy and financial system are precariously built on the housing market. It is for this reason policymakers would rather protect than risk damaging this market.
But what we need to realise is taking a block off the top of the game of Jenga that is the housing market, and sliding it back into the foundation, is possibly lower risk than taking another piece out from the bottom to keep building an increasingly shaky tower.
More research needs to be done around the trade-offs surrounding changes in house prices from inflated levels.
2021 needs to be the year of challenging the narrative that house prices must always keep going up.