Roger J Kerr says there are a number of handbrakes adversely impacting on the NZ economy
Summary of key points: -
Care needed in interpreting US and NZ employment trends
Bond and FX markets more forward-looking than lagging jobs data
Many positives and some avoidable negatives for the NZ economy
No ructions expected from next RBNZ statement
---
Care needed in interpreting US and NZ employment trends
Employment trends in the US and in New Zealand have been a dominating influence over the Kiwi dollar's value against the USD over recent weeks.
Much weaker than expected US jobs growth over the month of April released on Friday 7th May sparked a US dollar sell-off against all currencies, as the financial market's immediate reaction was that any signal from the Federal Reserve to taper back their monetary stimulus levels would now be much further away.
The USD weakened to $1.2160 against the Euro and the tracking NZD/USD rate jumped up to 0.7275 from the 0.7220 area.
The general expectation before the US jobs numbers was that an increase well in excess of 1,000,000 was more than likely as businesses reopened following Covid restrictions.
A strong jobs increase was seen as a catalyst to propel the EUR/USD rate below $1.2000 again and in turn send the NZD/USD rate lower.
As it transpired, US jobs only increased by 266,000 in April, leaving the markets scratching their combined heads as to how they got the forecast so massively wrong.
One explanation for the surprisingly weak result was the fact that many American schools have yet to fully reopen and that hindered many people from returning to work. What we do know is that the monthly Nonfarm Payroll jobs statistics are sometimes extremely volatile and prone to large revisions the following month.
All other lead indicators for the US economy in the form of consumer/business confidence, building permits and manufacturing surveys point to a very strong surge in activity occurring across the US economy. The April jobs number therefore appears to be a "rogue" outcome that should dramatically reverse next month.
Aiding the higher Kiwi dollar move was a stronger than expected increase in NZ employment levels in the March quarter.
Prior consensus forecasts were for a modest +0.20% increase, however it came in at +0.60%, lowering the unemployment rate from 4.9% to 4.7%. The increase in jobs was across industry sectors and indicated the business firms are still able to hire new workers despite skills shortages and no immigration inflows.
On the surface, the "double-whammy" employment results (negative US, positive NZ) suggest a stronger NZ dollar value, based on superior NZ economic performance.
However, as any half decent economist will explain, employment data/trends always lag economic activity and therefore they are not a good lead-indicator for forward-looking currency markets. What is much more important for future exchange rate direction is how the respective economies will perform over the next six months. Historical, and thus backward looking, employment numbers do not tell us that.
Bond and FX markets more forward-looking than lagging jobs data
One financial market indicator that is solely forward looking is long-term bond interest rates.
It is instructive to observe what the US bond market reaction was to the shock US April jobs result. After an initial push down in yield to 1.53% following the employment release, the 10-year Treasury bond yield rapidly returned back up to its previous trading level of 1.58%.
In other words, the US bond market does not see the April employment disappointment signalling a peaking or softening in the US economic recovery. The US bond market continues to price stronger GDP growth and higher inflation over coming months.
The EUR/USD exchange rate has been closely tracking US 10-year Treasury bond yields, with the increase in yields this year from below 1.00% to 1.77% in March sending the USD stronger to $1.1800 from $1.2300 against the Euro. Expect that close correlation to continue and should US bond yields return to their upward trajectory towards 2.00%, the EUR/USD rate will be trading well below $1.2000.
Higher than forecast inflation outcomes in the US will be one development that sends US 10-year bond yields back up again.
US inflation numbers for the month of April are released on Thursday May 13th. Consensus forecasts are for a 0.20% increase, lifting the annual inflation rate to +3.60%.
A higher result and/or any hint in the make-up of the inflation numbers that price increases are more permanent in nature rather than "transitory" (the Fed's current view), will propel bond yields higher and in turn lead to US dollar gains.  
Many positives and some avoidable negatives for the NZ economy
In scoring New Zealand's current economic health and performance, there are certainly a number of very positive factors i.e. higher dairy prices, higher log export prices and increases in house prices driving stronger consumer spending through the "wealth effect".
Given the dramatic increases in all three prices, there is a question as to whether the gains are sustainable and downward corrections from here are a likely higher probability than further increases. On the flipside, there are a number of handbrakes adversely impacting on the NZ economy in the form of shortages of containers (shipping disruptions) and shortages of skilled labour (no immigrants).
Unfortunately, there appears to be third and fourth handbrakes holding back our economic recovery and growth at this time.
The third handbrake relates to a risk that is inherent in a largely agriculturally based export economy. Dry climatic conditions down the eastern side of both islands have reduced grass growth and stockfeed levels, which in turns leaves sheep and cattle in poorer condition and thus future agriculture production/output levels lower.
Most of New Zealand's economic recessions can be sourced back to drought weather conditions and nothing has changed in that respect. Increased rainfall is now too late for grass growth as soil temperatures decrease in the winter months. As a lead-economic indicator, our current weather patterns for agriculture production are not a positive. Thankfully and mitigating the risk, dairy and horticulture production relies on irrigation.
The fourth handbrake is not determined by the weather gods. The Labour Government's clear intent to implement their political ideology on the economy was again demonstrated last week.
Industrial relations are being turned back 50 years with collective wage bargaining laws that will enforce yet another cost on SME's, on top of minimum wage and holidays increases.
Despite Government Ministers lauding their own achievements in bringing the NZ economy back to growth from the Covid shock, the reality is that all they have done is borrowed money and mortgaged the future.
The Finance Minister's claim that it was a positive that the Government had borrowed an extra $6.6 billion more than was required and thus the funds were available to spend tells it all.
New Zealand's combined Government and private sector debt levels as a percentage of GDP are not pretty reading compared to the rest of the world.
Astute international observers will be looking at Grant Robertson's 20 May budget statement and analysing how he is going to grow the economy (with new economic policy initiatives) to repay the Covid debt, rather than borrow more.
Another potential handbrake stemming from the Government themselves, is the PM taking the opportunity at a recent China/NZ trade and investment symposium to deliver an overtly political speech aimed at China's human rights record.
Every country we export to has current or historical human rights issues, but we do not constantly remind them of these as it could damage our trading relationships. The PM should remember that our own treatment of Chinese immigrants in the gold rush years of the 1880's wasn't that flash either!
Chinese retaliation to the PM's comments in the form of difficulties for our export products across Chinese import wharves does nothing to help our exports to our largest trading partner and therefore the overall economy.
No ructions expected from next RBNZ statement
The Reserve Bank of New Zealand will be taking all the aforementioned positives and negatives for the NZ economy into account in formulating their next Monetary Policy Statement on 26th May.
Do not expect the RBNZ to waiver from their existing stance that current inflation increases are temporary, not permanent, the NZ economy still faces global risks and that it is far too early to be indicating when and how monetary stimulus will be unwound.
The RBNZ statement therefore will be neutral for the NZD/USD exchange rate at the time. The future direction of the Kiwi dollar over coming months appears totally reliant on US dollar movements globally. It is extremely difficult to sustain an argument that the USD will be weakening in the face of rising US bond yields and stronger US economic data.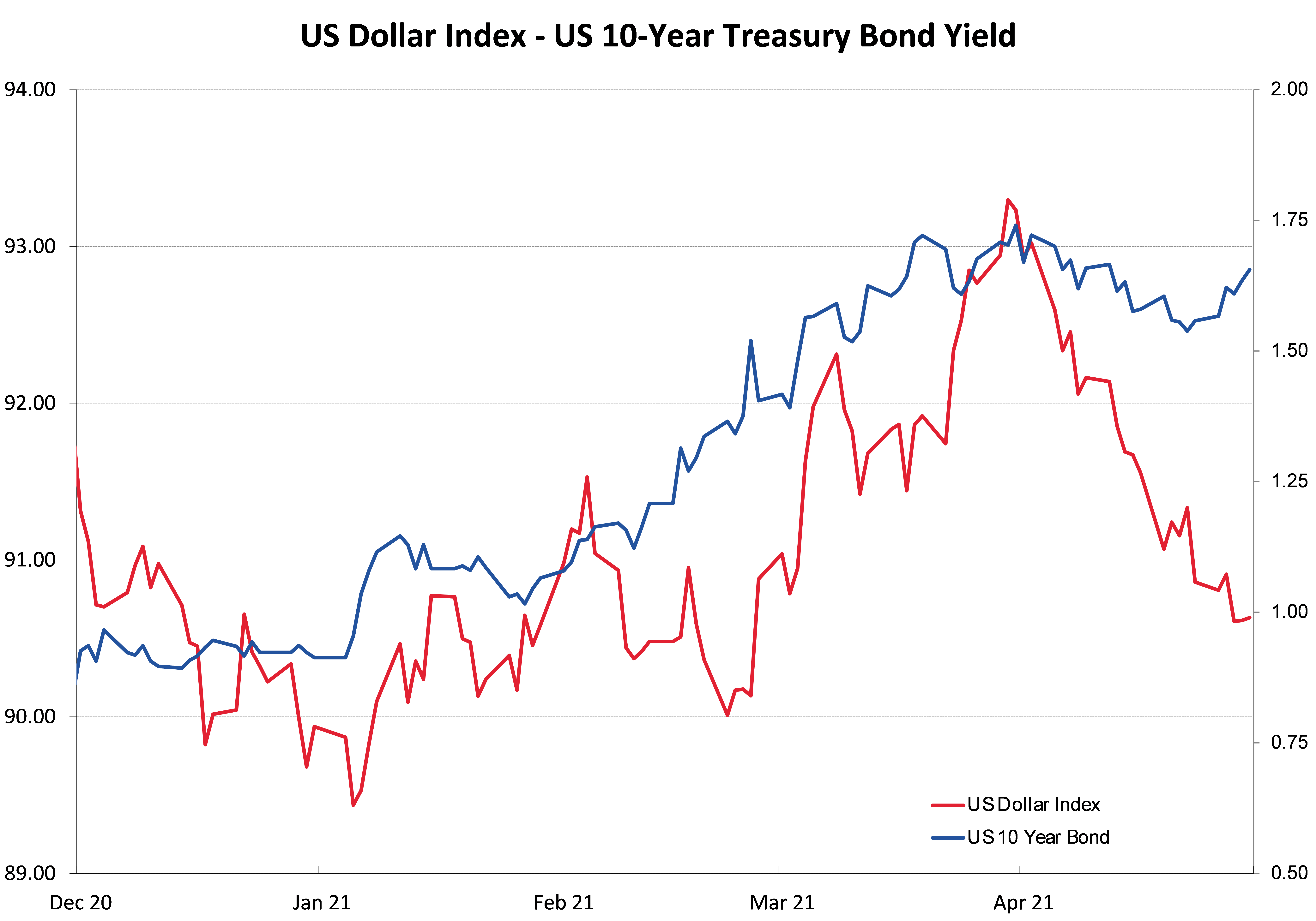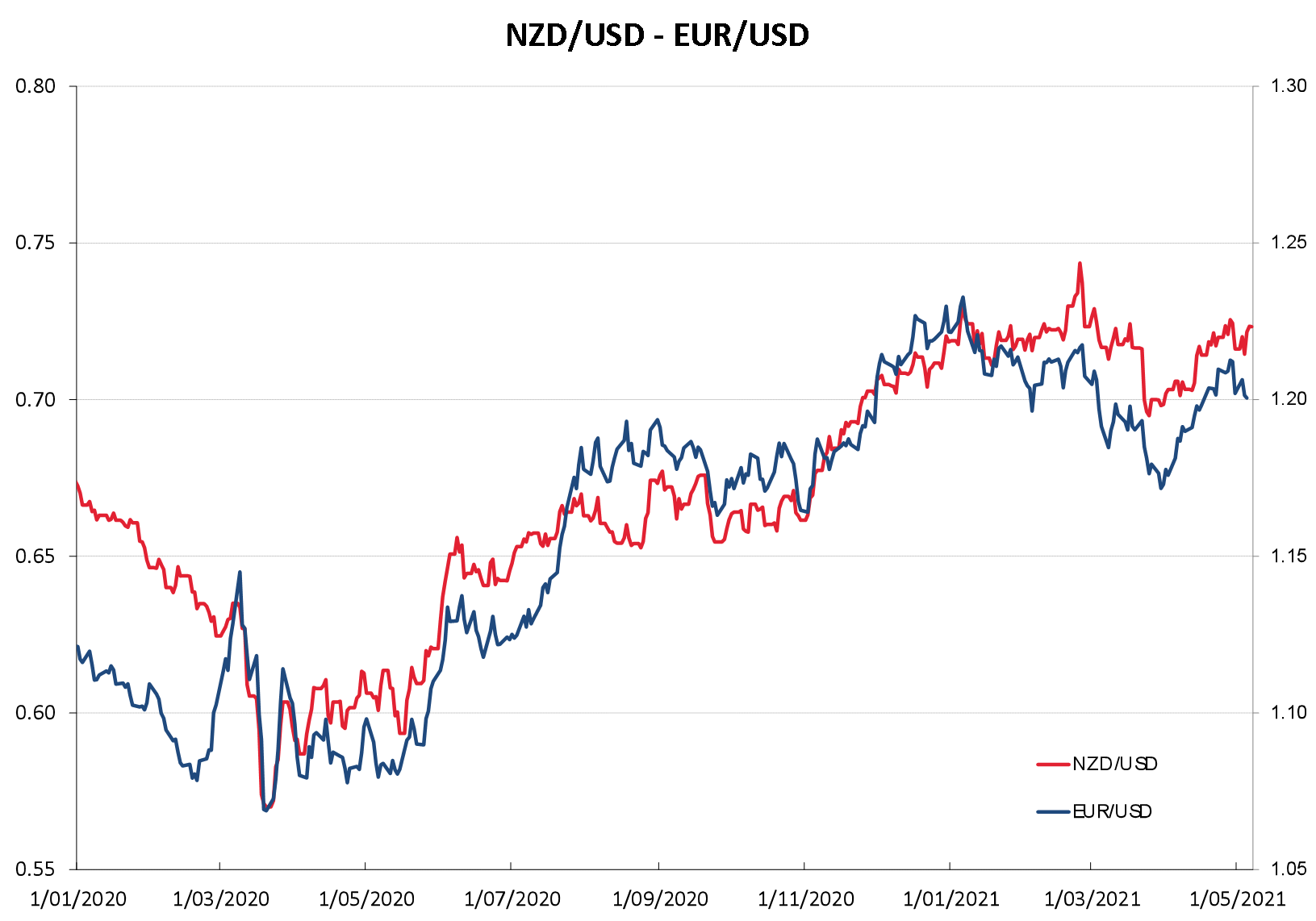 ---
---
*Roger J Kerr is Executive Chairman of Barrington Treasury Services NZ Limited. He has written commentaries on the NZ dollar since 1981.