Roger J Kerr says the Labour Government are implementing their ideological programmes without any real understanding of the drivers at the coalface of the economy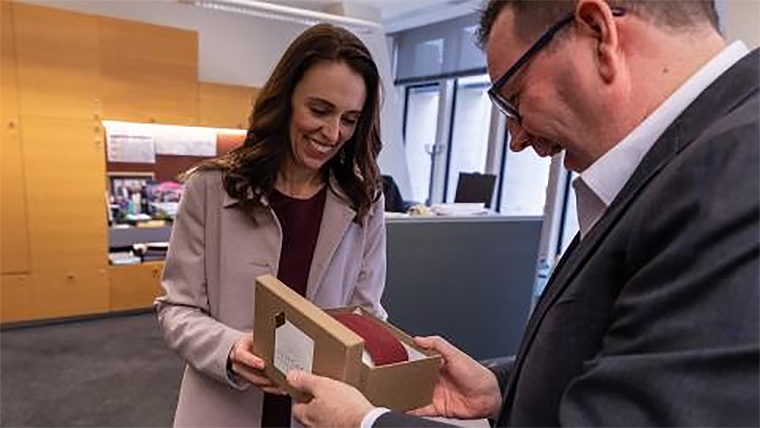 Summary of key points: -
Federal Reserve hint and Chinese directive set to move NZ dollar direction
Sudden change in NZ's economic policy direction will impact on the NZ dollar
---
Federal Reserve hint and Chinese directive set to move NZ dollar direction
Rising uncertainties in global equities and cryptocurrency markets over this past week has pushed the NZD/USD exchange rate to the bottom end of its 0.7150 to 0.7300 trading range.
Growth and commodity linked currencies such as the NZ dollar and the Australian dollar typically suffer from speculative selling pressure when the investment markets move into a "risk-off" mode. The sentiment and direction in US equity markets has remained consistently positive over most of the last 12 months as massive monetary and fiscal stimulus measures have fuelled equities as a one-way bet. However, the prospect of the candy being removed now have the markets much more on edge and the up-down swings and volatility over recent weeks reflects that growing unease.
Two development have caused the latest elevation in uncertainty and volatility in investment markets: -
Minutes from the last meeting of the US Federal Reserve meeting revealed that under certain conditions and eventualities the Fed will be looking at reducing their money printing volumes (i.e. taper back their monthly bond buying amounts). The equity, bond and FX markets had not been expecting this signal or hint from the Fed to come out this early. The US dollar had been sold off from $1.1800 to $1.2200 against the Euro through April and May on the strong expectation that it would be much later in the year before the Fed change their rhetoric and hinted at tapering.
The Chinese Government authorities have clamped down on Bitcoin mining activities (that use enormous amounts of electricity to drive the computers) and also clamped down on speculation in not only cryptocurrencies, but also commodity futures markets that have seen metal/mining prices for iron ore and copper soar to fresh highs.
Time will tell as to whether these two events are gamebreakers to push US bond yields and the EUR/USD exchange rate out of their sideways movement patterns of the last few weeks. So far, there has only been a muted response by bond and FX markets to these developments, the EUR/USD exchange rate trading just under $1.2200 and the US 10-year Treasury Bond yield stable at 1.62%. However, over coming months as Americans return to their jobs and spend less time in front of the laptops at home punting shares and Bitcoin as a way to make some money on the side, the "risk-off" investment mode looks more likely than one-way bets to higher prices.
As always, US market participants will be dissecting upcoming economic data releases as confirmation that the economy is resurging across the board to the point that it will no longer need such high levels of monetary policy support from the Fed. There is considerable confidence from this side of the keyboard that future US employment, consumer confidence and inflation measures will provide that verification, resulting in higher bond yields, a stronger USD against the Euro to below $1.2000 and consequentially the NZD/USD exchange rate returning to below 0.7000.
US consumer confidence figures this Wednesday should be sharply higher again as they return in droves to their shopping malls. The US dollar value has a high historical correlation to consumer sentiment trends (both up and down) and the current trajectory of consumer confidence is one of rapid increases (refer chart below) Also confirmation of more permanent increase in US inflation should come though the Personal Consumption Index (PCE) inflation gauge being released for April on Friday 28th May.
Sudden change in NZ's economic policy direction will impact on the NZ dollar
As anticipated, there was absolutely no FX market reaction to Finance Minister Grant Robertson's budget last week as there were no new economic policy initiatives that would change the dial for the economy or business investment.
The Treasury GDP growth forecasts for the NZ economy, which the budget numbers are based upon, are at risk of being overly optimistic at +3.20% for the year the June 2022 and 4.40% to June 2023. It would only need residential property, dairy and log prices to come back from lofty highs over coming years to render those GDP growth forecasts considerably short of reality.
Finance Minister Grant's constant claims that "the economy is doing much better than expected" is becoming pretty tiresome as he compares current trends against the doomsday (and woefully out of date) economic forecasts of last June.
The Minister also claims that the NZ economy will outperform Australia this year with GDP growth and a lower unemployment rate. He may well be in for a rude shock when our GDP data is released for the March quarter on 17th June. A recent Infometrics regional growth survey concluded that the NZ economy contracted by 0.30% in the March quarter. Coming on top of the 0.60% contraction in the December 2020 quarter, the double-dip economic recession 12 months on from when PM Jacinda told us that the "best health outcome is the best economic outcome" from the Covid shock, should be an economic reality check for the borrow, spend and tax Labour Government.
Instead of recognising and mitigating the several risks facing the NZ economy at this time and supporting an environment for strong business investment, the Ardern Government continue on their "Fortress New Zealand" economic policy pathway. They are no longer constrained by a minority coalition partner as they were from 2017 to 2020. Economic and social policy settings in New Zealand are currently taking a "hard left turn" as the majority Labour Government implements their ideological programmes without any real understanding of the drivers at the coalface of the economy. Collective bargaining employment laws and centralised/compulsory wage arbitration is just one example of the direction.
Since the economic reforms of the late 1980's and 1990's the benefits to the NZ economy of being more internationally competitive, flexible and responsiveness to the world have been evident in higher GDP growth rates and lower unemployment. International observers and investors have lauded praise on our achievements, particularly our disciplined monetary and fiscal policy frameworks. Over the last 20 years global investor confidence in New Zealand has remained high as the successive Clark and Key governments did not alter those successful settings. Over the last 10 years our previous "brain drain" of educated young people reversed. The current Ardern Government immigration, employment and investment policies (oil and gas exploration, livestock export, tax, water, carbon etc) are reversing all the previous gains.
Due to the Covid shock, the previous economic control and guidance from the disciplined monetary and fiscal policies no longer apply. International investors into New Zealand are already reducing their allocations in the local bond and equities market as they recognise the sudden change in New Zealand's economic policy direction. It seems that it is only a matter of time before the global currency markets vote with their feet and reduce their NZ dollar exposures/positions as well. The observation today is that the global players have not as yet fully recognised or understood the seismic economic policy shift taking place in New Zealand, however inevitably they will.
One real measure of how well an economy is travelling is the trend in private sector fixed capital formation i.e. business investment. Sadly, business investment levels in New Zealand have been steadily declining since 2018. Both Covid related uncertainties and Government policy direction are contributing to that downward trend continuing in 2021 and 2022. Corporate New Zealand is hesitant to approve new capital investment and business expansion, whether funded by equity or debt. The result is that the banks are awash with cash they cannot lend. Offshore companies will not be investing in New Zealand if they observe that we do not have the confidence to invest in ourselves. There is a strong correlation between business investment and GDP growth, New Zealand's current trend in this respect has to be worrying.
You will not see any analysis of the "hard left turn" in economic policy and its implications outlined above in this week's RBNZ Monetary Policy Statement. The RBNZ's updated prognosis for the economy will guarded with global risks still elevated and thus the impact on the NZD/USD exchange rate should be fairly neutral.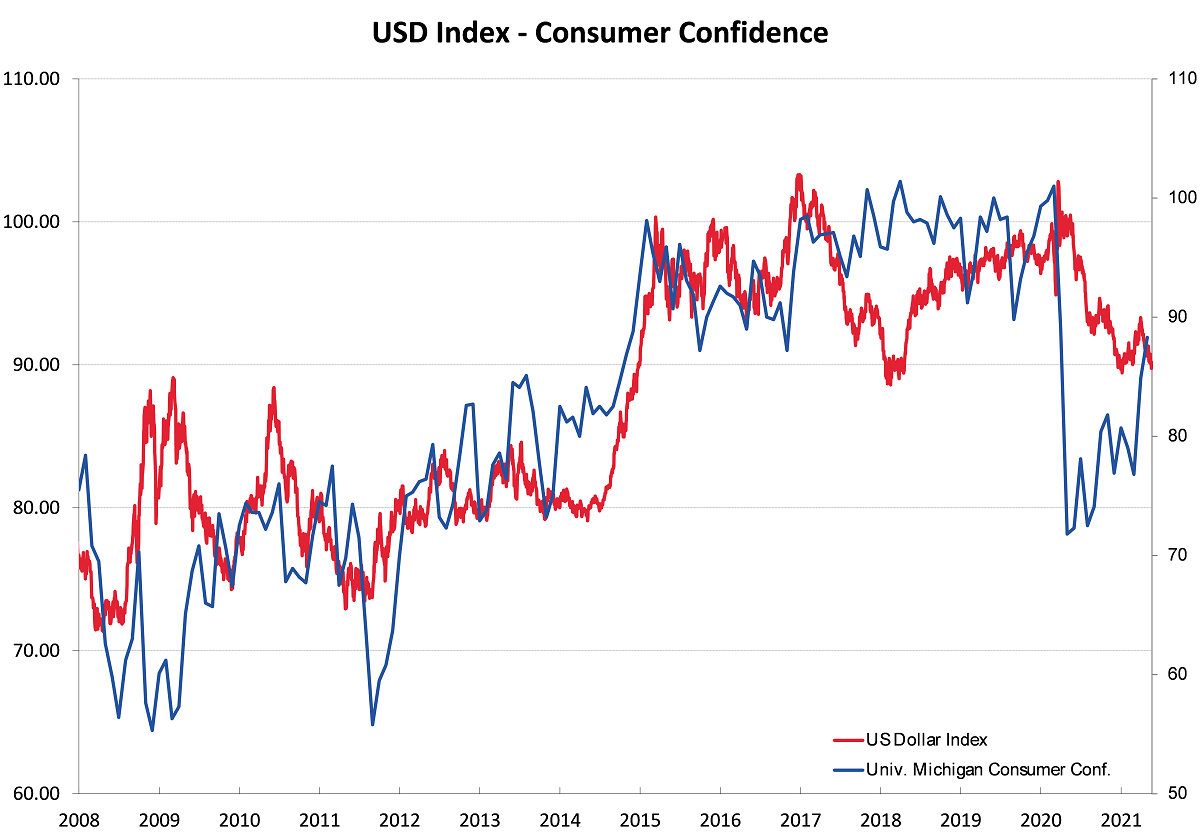 ---
---
*Roger J Kerr is Executive Chairman of Barrington Treasury Services NZ Limited. He has written commentaries on the NZ dollar since 1981.